These stunning watches are competing to win one of the prizes that will reward the best horological creations of the year 2017 in the High Jewellery category. The 2017 list of prize-winners of the Grand Prix d'Horlogerie de Genève will be announced on November 8th on the occasion of the 17th award ceremony that will be held at the Théâtre du Léman in Geneva.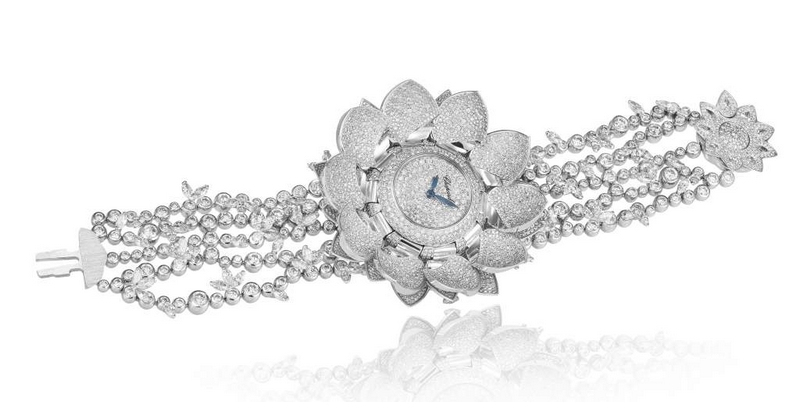 The prestigious competition is open exclusively to watches launched on the market after March 2016 and at the latest before November 30, 2017. The jury will convene at the start of November for the final selection.
The official GPHG 2017 pre-selection has been announced on September 1st, 2017 – opening therefore the opportunity to worldwide aficionados to follow the World Tour and join in the various locations : Milano, Mexico (SIAR), Taipei (private event), Geneva and Dubai.
At the 2017 edition of GPHG, Bulgari came with a master of High Jewellery artistry, created in over 6 months of work, while Audemars Piguet's trilogy of one-of-a-kind Haute Joaillerie timepieces is completed with the introduction of Audemars Piguet Diamond Outrage – an explosion of stalactites on the wrist.
For the third consecutive year, CHANEL presents new Fine Jewelry watch models, "LES ÉTERNELLES DE CHANEL."Emblem of victory and an ode to Apollo, the evergreen laurel is celebrated by Chaumet in Frise Divine Watch. More than 1250 hours of work were required for Chaumet jewellers and stone-setters to complete this precious timepiece. Embodying the encounter between the watchmaking know-how and the jewellery expertise cultivated by the Maison, the Chopard Lotus Blanc watch unfurls to reveal the secret of its exceptional beauty.
All the presented watches are "Limited Edition to 1 exemplaire".
CHANEL Les Eternelles de Chanel Camélia Secret Watch (PRICE EXCL.VAT 723'796 CHF)
Limited Edition to 1 exemplaire
At the heart of a chain of Chanel pearls, transformable into a bracelet, a watch is concealed by a bouquet of 18-carat white-gold camellias and 503 diamonds, including a 10-carat Fancy Brown Yellow.
Conceived as a capsule collection, these "secret" watches, which embody all the creativity and savoir-faire of CHANEL Fine Jewelry, are enriched year by year. In 2017, the Fine Jewelry Studio of Creation at CHANEL reinterprets the lace, ribbon and camellia so dear to Mademoiselle Chanel with three unique pieces.
AUDEMARS PIGUET DIAMOND OUTRAGE (PRICE EXCL.VAT 1'238'000 CHF)
Diamond Outrage is the third and final design in the Audemars Piguet's trilogy of one-of-a-kind Haute Joaillerie timepieces. After 2015's Diamond Punk and 2016's Diamond Fury, Diamond Outrage is a cuffwatch of rare, explosive style that marks a shift in artistic Haute Joaillerie watch design.
Audemars Piguet Diamond Outrage's distinctive glittering spikes in varying sizes (ranging from 29.30mm to 40mm) arecreated using the snow setting technique, where diamonds are set so carefully close together that thejewel's white-gold frame is rendered almost invisible, creating a spellbinding, luminous effect.
"Invisible setting, another rare technique, is used for each of the three distinctive baguette-cut diamond points featured on the full diamond version. Here, linear-cut diamonds appear to float, held perfectly in place as if no setting were required. It takes many years of training for an expert jeweler to acquire the necessary skills and master invisible setting," says Audemars Piguet.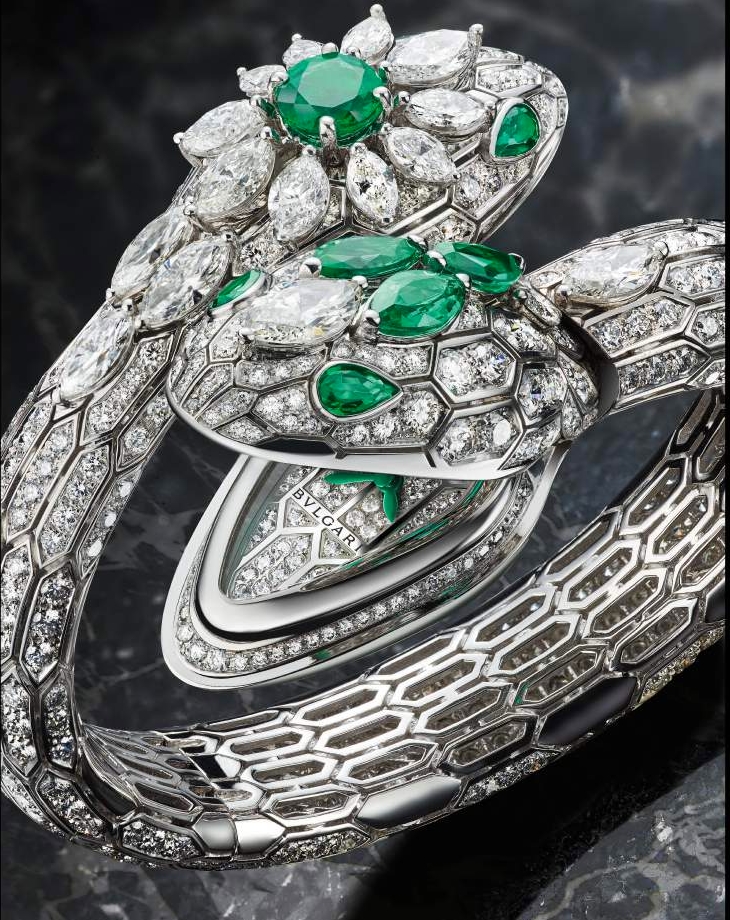 BVLGARI Serpenti Misteriosi High Jewellery "secret" double-headed bangle-watch (PRICE EXCL.VAT568'000 CHF / 491499 Euro)
This stunning one-of-a-kind, white gold, quartz-driven, "secret" bangle-watch called BVLGARI Serpenti Misteriosi High Jewellery is introducing for the first time a double-headed snake design that celebrates the dangerously beautiful part of the serpent – the luxury Maison's trademark symbol.
Feminine and joyful in its sensual detailing, the first head presents a gemstone flower made of a central round faceted emerald of over 2 carats encircled by nine marquise-cut diamonds culminating in a jaw opening to reveal the dial.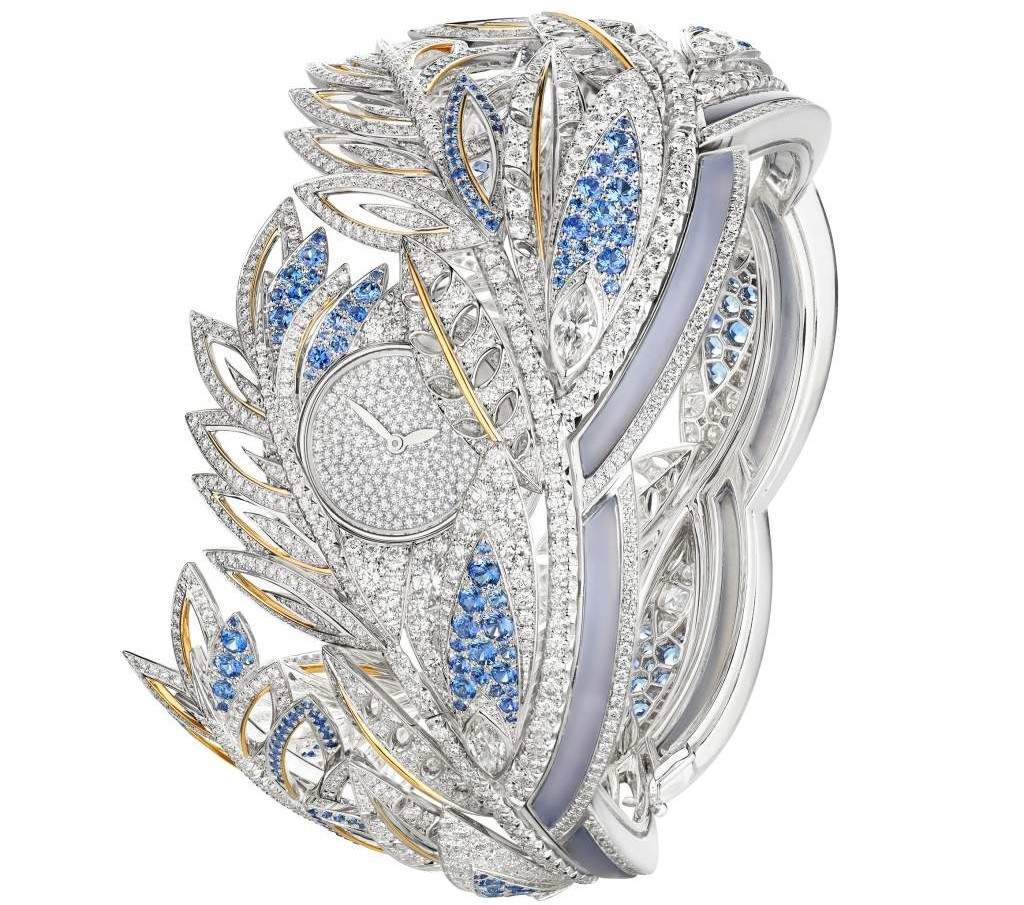 Chaumet Frise Divine Timepiece (PRICE EXCL.VAT 610'000 CHF)
Limited Edition to 1 exemplaire
This transformable cuff watch was imagined and created following the grand tradition of Chaumet's High Jewellery craftsmanship, combining technical virtuosity, wonder and emotion. In a jewellery metamorphosis, the watch transforms into a bracelet. The timepiece element at the center of the cuff is replaced with the brooch that accompanies the piece.
The suppleness and movement of this creation evokes Apollo and Daphne's love chase. The sculpted chalcedony, sapphires and diamonds of the Frise divine ensemble create a gradation of lavender, blue and white tones. Repeated motifs of bending leaves are subtly enhanced by the finest Chaumet yellow gold threading.
Chopard Lotus Blanc High Jewellery Watch (PRICE EXCL.VAT 798'000 CHF)
Limited Edition to 1 exemplaire
Lotus' corolla closes every night, before blooming once again at sunrise. To express this perpetual renewal, Chopard has dreamed up a gorgeous secret watch that can be uncovered at will.
Set with 25.66 carats of white diamonds, this precious timepiece reflects the meticulous work of the in-house artisans. From designer to watchmaker and from jeweller to micro-gemsetter, the prestigious HighJewellery crafts have patiently combined their talents in giving life to this daring dream. Its petals sparkleas if dotted with dewdrops open in one smooth move; while the flowing bracelet composed of fine rows ofdiamonds evokes the undulating waters on which the flower bobs gently up and down. The effect is trulystriking, as the plant gracefully awakens and slips into slumber once more, surrounded by magnificent haloof light.
A true jewellery artwork distilling a blend of precision and excellence, this unique piece with its ingenious opening mechanism has been selected by Chopard to compete in the upcoming Grand Prix d'Horlogerie de Genève.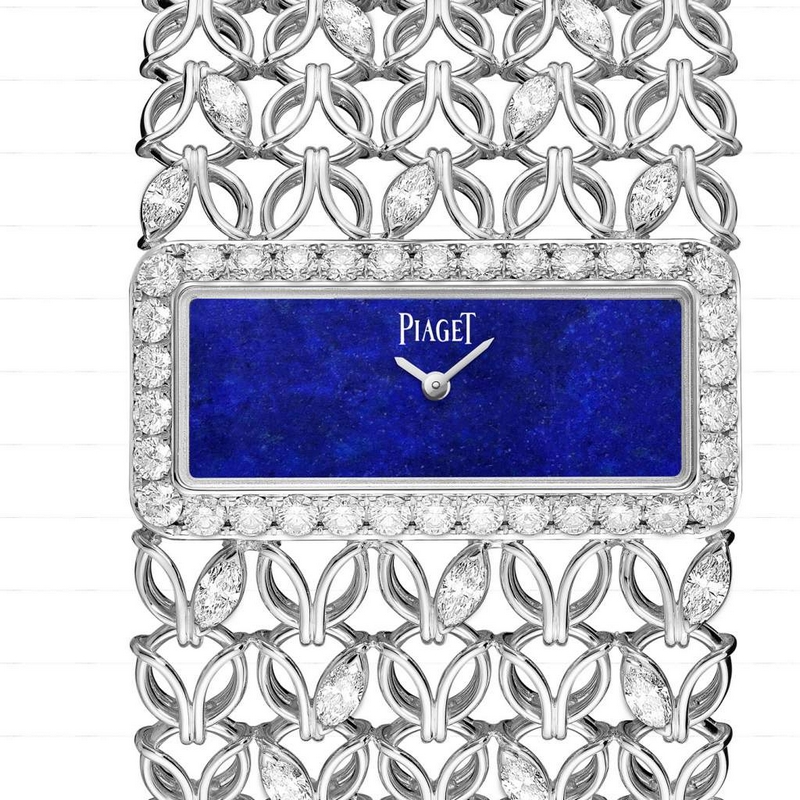 Piaget Hide & Seek Manchette Luxury Watch (PRICE EXCL.VAT135'000 CHF)
Cuff-watches have been part of Piaget's DNA since the 50's. This creation in white gold with a hard stone dial in lapis-lazuli recalls the emblematic Piaget blue color with a signature Piaget bracelet set with 36 marquise-cut diamonds. Piaget Hide & Seek Manchette is part of the Sunny Side of Life collection launched in 2016.