You know you're in love when you can't fall asleep because reality is finally better than your dreams.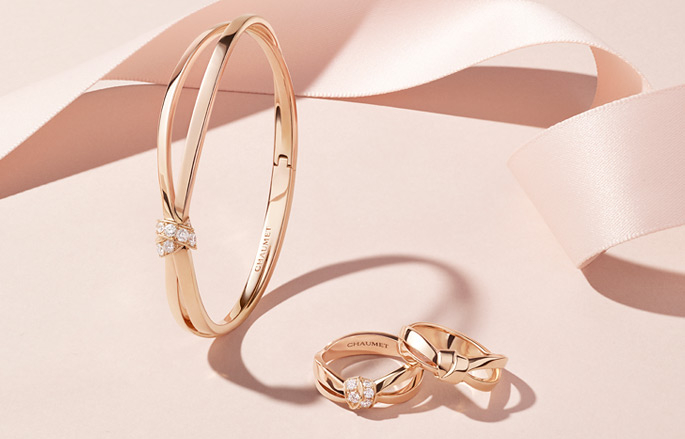 Chaumet is reinventing a light-hearted playful selection, evoking a ribbon that unrolls and loosely ties according to whimsy. Where there is love, there are rings, diamonds, and beauty.
Liens Séduction enriches the collection with a new chapter to reveal a different facet of emotions. A ribbon of diamonds that unrolls and is tied with the lightest touch, set with diamonds, in rose or white gold, the sixteen Fine Jewellery pieces – slender and wide rings, bracelets, hoop earrings, ear studs and pendants – evoke a world of carefree and joyful seduction. The New Liens Séduction pendant, in pink or white gold, is
adjustable to suit the wearer's whims and fancies.
"Symbolically, the "lien" is this thread that attaches two beings and draws their destiny closer. It surprises us in its relation to the other, the others, to the world and even to itself. The affective and sentimental dimension of the jewel emerges here, marking the important stages and experiences of a life," chaumet explained the inspirations behind the new 2017 Liens collection.
The Liens de Chaumet are a universal expression of love, a talisman that binds us to the world and to others. In a film directed by Matthew Brookes built around a mosaic of six short scenes, Chaumet's stories evoke the universality of the Liens creations. The black and white portraits come to life in colour, one by one, inviting us to follow them in their story and discover their connection with the others.