The innovations from Kitchen and Bath Industry Show (KBIS) 2018. The most sophisticated food preservation tools for luxury consumers.
2018 Kitchen and Bath Industry (KBIS) is North America's premier annual event dedicated to the kitchen and bath industry. The event attracts more than 600 exhibitors and coincides with Design & Construction Week in Orlando. Nearly 80,000 attendees were anticipated for this year's event, on par with KBIS 2017. Signature Kitchen Suite and LG Electronics captured the coveted 'Best Booth' Award at KBIS 2018.
Dacor reveals World's First 30-Inch Refrigerator and Freezer Column Built-Ins
This luxurious design from Dacor Raises Food Preservation Standards with Porcelain Interior Walls, Door Liners and Drawer Fronts
Dacor, a leading American luxury home appliance brand, unveiled Project Blanc – 30-inch porcelain refrigerator and freezer columns – at the Kitchen & Bath Industry Show (KBIS) 2018 in Orlando, Florida. This is the world's first 30-inch porcelain built-in solution. The immaculate porcelain cavity of the columns – which elevates purity and durability benchmarks – is fully illuminated by 3DLighting Plus and complemented by a variety of cutting-edge technologies. The premium white porcelain interior walls, door liners and drawer fronts not only offer stunningly exquisite aesthetics, but also establishes superior hygienic standards. The ultra-low porous surface prevents contamination, while eliminating odor transfer and discoloration from spills.
The Project Blanc 30-inch Porcelain Refrigerator and Freezer Columns are the most sophisticated food preservation tools for luxury consumers. Due to a higher heat capacity than common cooling materials, porcelain minimizes temperature fluctuation. Interior porcelain walls, door liners and drawer fronts ensure temperature consistency, allowing food to retain original textures and flavors longer. An integrated FreshZone Drawer features adjustable temperature settings and has the capacity to accommodate fish, meat, chilled drinks and more. At the core of the columns, a dedicated digital inverter compressor powers an ENERGY STAR-qualified cooling system which helps maintain high refrigerator humidity levels or dry freezer conditions.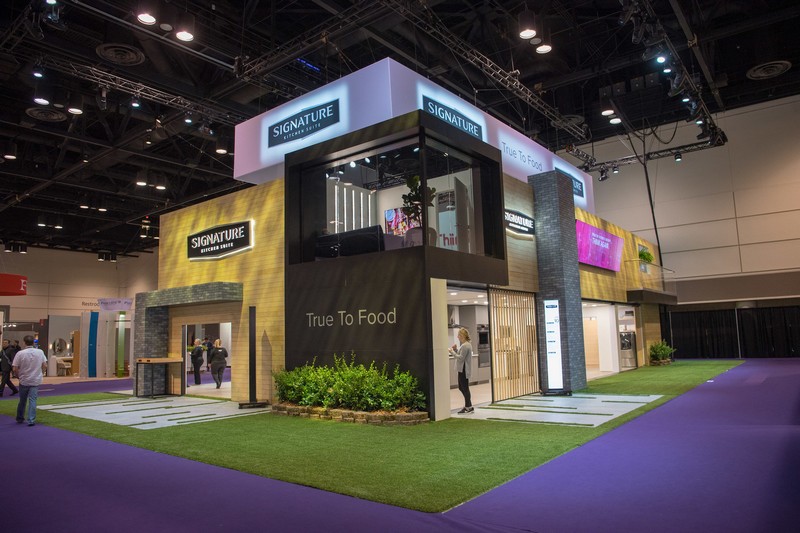 Signature Kitchen Suite and LG Electronics were recognized for "Best Booth" in the large booth category
This year, Signature Kitchen Suite featured its complete portfolio of ranges, wall ovens, cooktops, ventilation, refrigerators, microwaves and dishwashers in three stunning kitchen vignettes, each showcasing a different lifestyle, including Traditional, Transitional and Modern.
The brand debuted its ultra-versatile range with built-in sous vide, which offers the ultimate in precision cooking, featured directly on the
cooktop and delivering professional style results every time. Signature Kitchen Suite is backed by global appliance leader LG Electronics and supported by its advanced R&D and production capabilities.
New Elkay sink allows homeowners to change the color and appearance of their sink in minutes without the fuss of a renovation.
Elkay's Stainless Steel Farmhouse Sink with Interchangeable Apron Front debuted at the 2018 Kitchen & Bath Industry Show. This sink, launching later this year, allows homeowners to change out the apron front in a matter of minutes, transforming the kitchen with a new look without the major expense of a full kitchen remodel.
Elkay's newest sink, the Stainless Steel Farmhouse with Interchangeable Apron Front, takes iconic design to the next level with a sink that is both timeless in appearance as well as versatile and fashion forward. This new sink blends the worlds of classic stainless steel with non-traditional, modern materials, giving designers and consumers the option to change the apron look, color and material without having to replace or reinstall the sink itself – a true industry first. The changeable apron front is available in a carefully curated selection of materials and colors including colored stainless steel, white fireclay and more to match your ever-evolving décor.
Perlick Showcases Stunning Design, Commercial-Grade Performance with Introduction of First Full-Size Appliance Collection
Luxury brand's next generation of residential kitchen appliances expands to include column refrigeration, cooking units. Perlick's innovative column refrigerator and freezer are just two of the stunning units in the company's line of 10 brand new, full-size luxury residential appliances. Perlick's first-ever line of full-size luxury appliances builds upon the company's success in undercounter refrigeration with the introduction of 84-inch-tall column refrigerators, freezers and wine reserves. With the product launch, Perlick alsoexpands into the residential cooking appliance category with exclusively engineered ranges and rangetops.
Even before the official launch, the industry has been abuzz: Perlick's new Column Wine Reserve was selected as a 2017 AD Great Design Award winner by Architectural Digest in fall 2017, among a limited number of new products recognized by the publication for truly best-in-class design.
Perlick's new column refrigeration units embody the company's history of professional-grade performance, facilitating the ultimate restaurant chef experience at home with numerous industry-exclusive offerings. The columns showcase a stunning mix of slate-black and brushed-stainless-steel interiors and LED theatre lighting, creating a dramatic backdrop that beautifully showcases food and drink.
Zone Flexibility – Dual-zone reserves allow users to set either zone for serving reds or whites, use it as a single zone—setting both zones for the same type of wine, or put the entire reserve into cellar mode at 55 degrees Fahrenheit.
Humidity Control – Advanced technology monitors humidity levels in the reserve, and if necessary, pushes moisture into the compartment
to maintain 60-70 percent humidity, which preserves corks and prevents oxidation.
Carbon Air Filtration – Natural carbon filtration maintains optimal air quality by absorbing damaging odors. This, along with an integrated humidity system, ensures ideal conditions for proper maturation.

Automated cooking programs: Innit Partners with Home Connect to Revolutionize the Smart Kitchen
Eating technology company Innit announced a partnership with Home Connect – to help families plan, shop, prepare and cook delicious meals. Innit will send automated cooking programs to Home Connect smart ovens and ranges, making meal preparation more enjoyable and convenient for home cooks. Home Connect allows home appliances from different brands to be controlled with a single app. The Innit app was showcased with Home Connect enabled Thermador ovens at the 2018 Kitchen & Bath Industry Show (KBIS).
Innit's automated cooking programs include cooking temperature, mode and timing all customized to each dish being prepared – and Innit will interface with Home Connect enabled Thermador ovens, launching later this year, for delicious results every time. Innit recommends personalized meals based on diet, allergies, and preferences. Then, it allows them to customize elements of their meal, empowering them to experiment with flavors and ingredients.
Once consumers design the perfect meal, Innit's "culinary GPS" system sequences multiple steps from several dishes simultaneously – ensuring all components of the meal are finished at the same time. Innit's adaptive cooking program sends customized cooking instructions for the selected dish directly to a Home Connect enabled Thermador oven – delivering a more seamless cooking experience. The Innit app is available for free in the Apple App Store and Google Play Store.
Liebherr Unveiled the impressive Monolith
For more than 60 years, Liebherr Appliances has been bringing outstanding quality, timeless design, and state-of-the-art innovation to the refrigeration industry. The company continues to challenge the status quo with the introduction of Monolith, a groundbreaking new refrigerator that is a literal tower of achievement in cooling technology. Monolith, an impressive 84-inches from top to bottom, features superior energy efficiency, whisper quiet operation, new food-saving advancements and a sleek design to integrate seamlessly into the kitchen.
Monolith is built for the kitchen of the future. Smart Device Box lets customers connect to their network and control certain settings from their smartphones, tablets or Alexa-enabled devices. The owner can activate the refrigerator's SuperCool and SuperFrost technologies that help consumers preserve the cold chain by temporarily drastically lowering the temperature within the refrigerator or freezer compartments.
Liebherr's superior energy efficiency and intelligent features such as BioFresh Plus technology takes Monolith's advanced food preservation to a new level. Monolith BioFresh Plus drawers add another dimension of climate control to the BioFresh system by allowing you to set temperatures inside the third drawer to as low as 28 degrees Fahrenheit. When food is stored in these drawers, the precision technology kicks in to ensure the temperature is consistently maintained, which has proven to extend the freshness and flavors of exotic fruits and delicate seafood.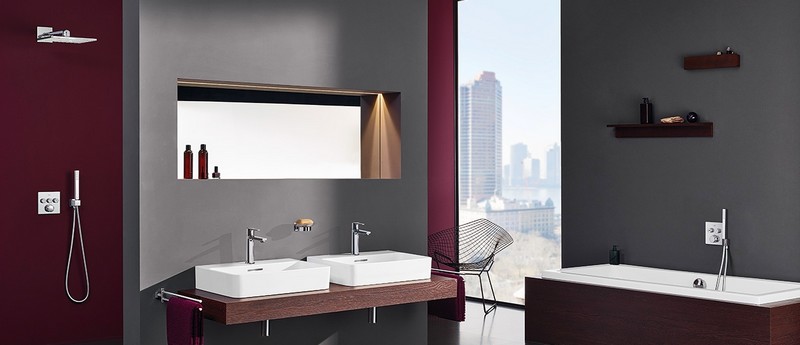 American Standard, DXV and GROHE Introduce a Minimalist Modular Bath Collection, Plus Customizable Shower Systems, SmartToilet and Bidet Seats
LIXIL Americas, a division of LIXIL Corporation, a global leader in the housing and building industry, is launching innovative new products and advanced technologies here today. The new products are under the region's flagship water technology brands American Standard, DXV, and GROHE, bringing unforgettable style and performance to today's bath and kitchen environments.
Key product highlights, outlined below, include two new revolutionary shower collections that offer advanced performance and appealing style, a versatile luxury bathroom suite distinguished by unique materials and functional modern geometries, and new, technologicallyadvanced toilets and bidet seats that transform the daily ritual of visiting the bathroom into a pampering and rejuvenating experience.
Employing first-to-market technology, the new Spectra+ Touch and Spectra+ eTouch showerheads from American Standard change spray patterns with a simple fingertip touch on the outside ring of the showerhead, making it easy to customize the shower experience, even with wet hands. Taking advanced touch technology one step further, the Spectra+ eTouch showerhead includes a remote control to mount on any shower wall to provide a stylish and ergonomic solution for users who have trouble reaching the showerhead due to age, height, or mobility restrictions.
Highlighting minimalist urban design, the new DXV Modulus collection of bath fixtures, faucets, furniture and accessories creates simple, yet functional spaces with a selection of on-trend materials and artful lines. The elegant products in this suite are modular in concept to provide maximum flexibility in installation to bring high design to any project, from master bathrooms to compact powder rooms.
GROHE expands its popular SmartControl shower system with the elegant new GrohTherm SmartControl thermostatic trim. While using the same intuitive push-and-turn buttons, it features a contemporary minimalist design. Available in square and round designs, as well as in chrome, brushed nickel or moon white finishes, this shower control system is an optimum solution for any bathroom ambiance and installation setting.
Redefining personal comfort and hygiene, the DXV SpaLet AT200 LS smart toilet features innovative new odor control functions that enhance its current two-nozzle water-spray system, air dryer, hands-free flushing, automated lid opening/closing, and seat heating performance: the Air Shield deodorizer with a replaceable charcoal filter, and Room Refresh, which utilizes pioneering Plasmacluster ion technology to purify the air in the room after use.