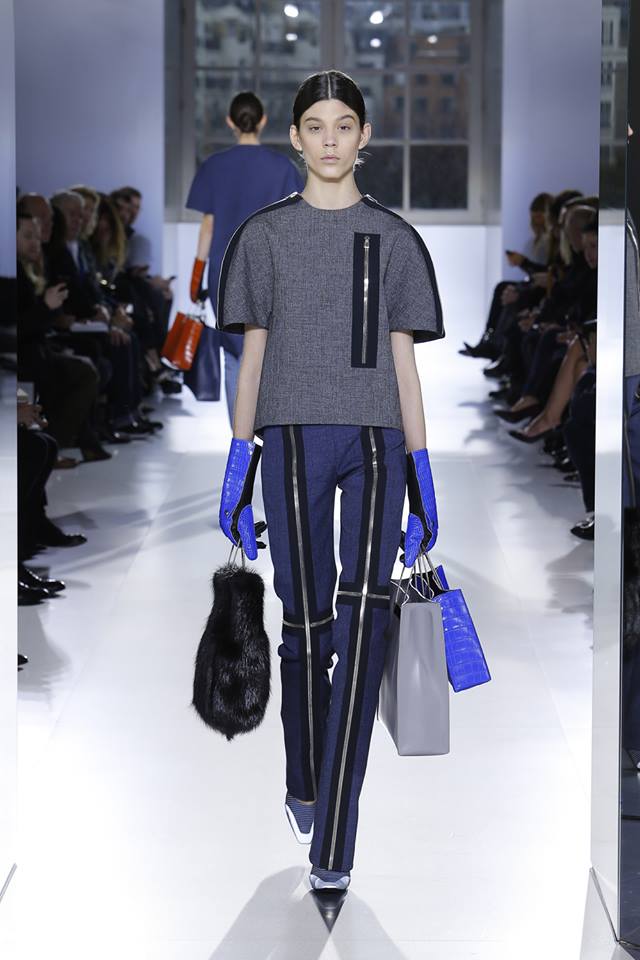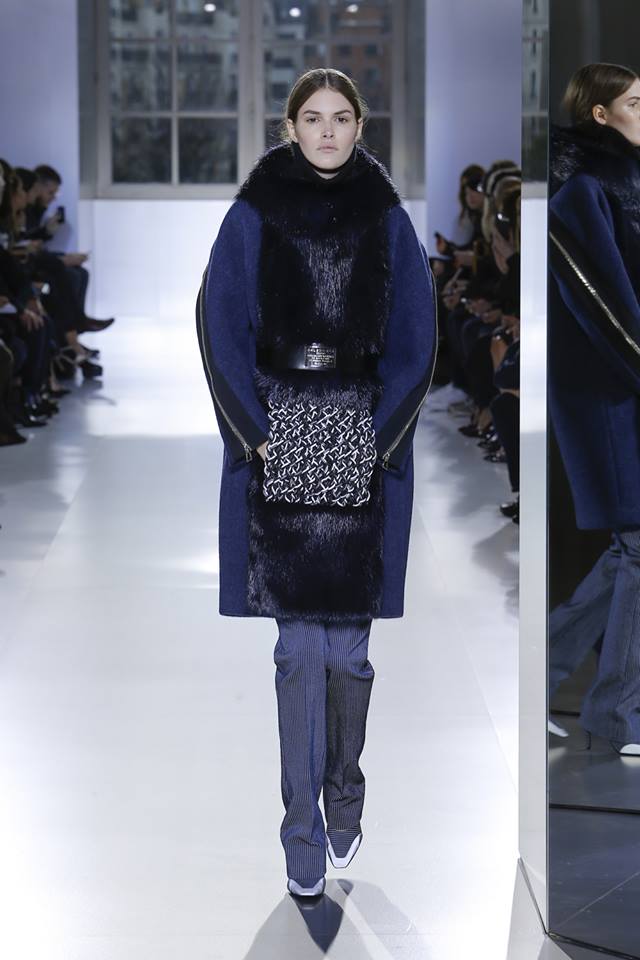 ---
This article titled "Wang scores for Balenciaga as fashion house takes game to rival at Vuitton" was written by Jess Cartner-Morley in Paris, for The Guardian on Thursday 27th February 2014 19.57 UTC
To put the significance of this Balenciaga catwalk show in context, try imagining it as the first leg of a double-header Champions League football fixture.
Balenciaga, perhaps the most elite and refined house in the history of Paris fashion, finds itself locked in battle – for cash and for glory – with Louis Vuitton, a name whose modern glamour and commercial muscle has succeeded in making a lack of couture pedigree irrelevant to the 21st-century customer.
Just one year ago, all eyes were on the Balenciaga debut of Alexander Wang, but that thunder has been well and truly stolen by next week's much-anticipated Louis Vuitton debut of Nicolas Ghesquière. It is an intriguing contest: Wang is an affable 30-year-old Californian who gets name-checked in Jay Z songs; Ghesquière is a 42-year-old Frenchman with an instinct for the pure lines of haute couture. Wang is openly commercial, Ghesquière fiercely avant-garde. Balenciaga is owned by the luxury group Kering; Louis Vuitton is the jewel in the crown of rivals LVMH.
Oh, and Ghesquière happens to be embroiled in a court case with his previous employers, a glorious 15-year run there having ended with such a spectacular falling out that the house is suing Ghesquière, their former creative director, for €7m (£5.7m). He is charged with breaking a contract not to speak negatively about the brand. And the name of that previous employer? Balenciaga.
The questions being asked of this Balenciaga collection were therefore a little more nuanced than: are the dresses pretty?
What was most striking about this Balenciaga show was that Wang, as it were, took the game to the opposition. He could have played it safe, aiming for a modest draw – he is, for all his success, a relatively inexperienced player in the fashion industry compared with Ghesquiere, whose very name makes fashion critics weak at the knees. Instead, he presented his punchiest collection yet.
Having begun at Balenciaga a year ago in a humble mood, with clothes that showcased a respectful study of the archives, Wang added a little more of his own personality for his second collection, with the introduction of American sportswear shapes. With this, his third collection, the ratio of Wang-to-Balenciaga content seemed to be approaching parity.
Backstage after the show, he told reporters that he "started with the idea of the sweater, because I noticed an absence of knitwear in the Balenciaga archives. And knitwear was where I started out in my own label, so I wanted to build that. I was thinking about how to bring the cosiness of knitwear together with Balenciaga, which has such rigour and perfection in its lines."
This was a collection asserting design intelligence and signalling brand ambition. When Wang says mildly he wanted to do knitwear, note that what this meant on the catwalk was a patent leather coat embossed to give a trompe l'oeil cable-knit effect, a modern take on chainmail, and Gisele Bündchen closing the show in a round-shouldered sweater with a necklace of crystals knitted into its structure. The codes of Balenciaga were celebrated in a series of exquisite cocoon-shaped coats, given a sports makeover with go-faster stripes of silver zips.
There was a futuristic slant to the presentation of the collection that suggests Wang is not prepared to cede any aesthetic ground to his predecessor.
Ghesquière's reign at Balenciaga was renowned for a sci-fi aesthetic, which had been nowhere in evidence during Wang's first two collections. But with Ghesquière back on the scene, Wang had the walls and floor of the Paris Observatory clad with matt silver panels, which emphasised the modern mood of the sleek high white polonecks, the boxing-leather gloves, and the bold zippered crosses stamped on coats and tunics.
In a direct opening shot at Vuitton, historically a luggage house, Balenciaga handbags were given top billing. Many models carried three bags: one leather, one fur, one crocodile, all in a simple tote shape with twisted steel-wire handles.
The stage is set for next week's fixture on Louis Vuitton home turf, half a mile away on the other side of the Seine.
guardian.co.uk © Guardian News & Media Limited 2010
Published via the Guardian News Feed plugin for WordPress.