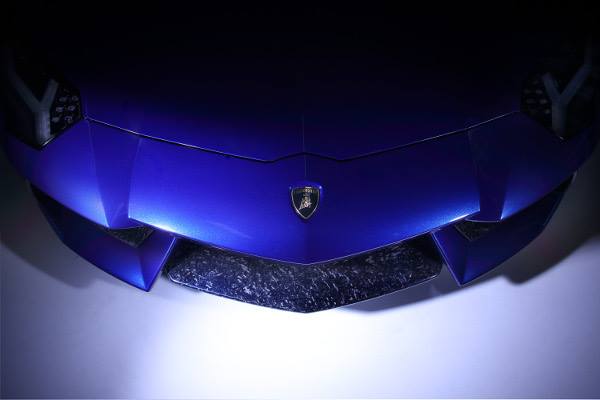 Personalization is the big luxury automotive trend of the years to come. Along with Ferrari's and Rolls-Royce's bespoke customization services and announcements of a record year for client customization requests, Automobili Lamborghini is the next automotive brand to present its personalization program at the 2014 Geneva Motor Show. The renewed Lamborghini Ad Personam program allows fans to create their own made-to-order Lamborghini. Till recently it was available only on \ flagship Aventador, but now it ill be extended to the new Huracán LP 610-4.
The new options increase the ability to commission a new Lamborghini right down to the smallest details. The program also extends to the most extreme levels of personalization: from hand-stitched seat emblems and monograms inside the passenger compartment, right through to requests for custom colors.
A concrete example of the infinite range of combinations offered by Ad Personam is the special Aventador Roadster displayed at the next Geneva Motor Show. The vehicle has a range of high customizations to both its interior and exterior: it is the first vehicle with Forged Composite inserts on the front spoiler, air intake, rear spoiler; and, in the interior, on the door sills, instrument cluster cover, infotainment controls and screen trim. The mirrors and transparent engine hood details have been further personalized with the choice of a matt silver paint instead of black.  Even the bodywork color is Ad Personam, a shimmering blue (Blue Sideris) matching the dual-color rims and the Forged Composite roof with blue highlights and special Y-shaped livery.
A further refinement for those visiting the Geneva Motor Show is the creation of the Ad Personam Studio. The Studio is a fully-functional and highly-exclusive design studio where customers are assisted in the process of creating their very own, made-to-order Lamborghini Aventador. The procedure of defining the new vehicle's specification is further aided by color and material samples and by a car configurator, which gives a preview of the result on the finished vehicle.