Cristallo Resort & Spa in Cortina, Italy Joins the Luxury Collection.
Located in Northeastern Italy and nestled within the spectacular Dolomites mountain range, a UNESCO World Heritage site, the dual-season Cristallo hotel will reopen after a redesign of the hotel's rooms and suites, as well as the hotel's lobby. This month, the historic hotel located in the renowned Italian town of Cortina d'Ampezzo, will join The Luxury Collection, the world's premier portfolio of upscale destinations, this June. The rates for Cristallo, a Luxury Collection Resort & Spa, start from EURO 320 ($358 USD).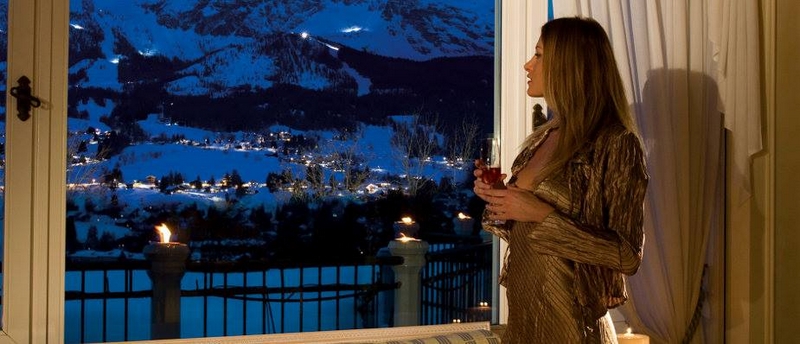 Owned and managed by the Gualandi family, the new Luxury Collection Resort & Spa, marks the brand's first hotel in Cortina, and first ski resort worldwide.
The iconic property, which first opened in 1901, has a storied history that includes hosting The Winter Olympics, Hollywood film crews such as The Pink Panther, and celebrities such as Frank Sinatra. Cortina is one of Italy's most sought after destinations for skiing, summer activities such as hiking and mountain biking, as well as one of the region's top epicurean destinations
A second phase of renovation will be complete by December when the property will celebrate its first ski season as  part of The Luxury Collection. With this reopening, The Luxury Collection expands to eight hotels in Italy.
Boasting majestic views across Cortina and the monumental Dolomites, the hotel's 74 guestrooms, including 20 suites and two Presidential suites, have been distinctively furnished to complement the property's Italian heritage. Pale wood panels are offset by intricate wild flower detailing and delicate cornicing
The Cristallo ULTIMATE SPA, a Transvital Swiss Beauty Center, focuses on locally-sourced, exclusive therapeutic treatments that provide signature detox, anti-ageing, relaxation and après ski rituals. Equipped with a rejuvenating Hammam, sauna and oversized Romanesque indoor pool, the 1600 square meter spa (5,200 square feet) also includes a spacious FitWell Club that offers cutting-edge fitness equipment, a virtual trainer, and spectacular views of the
Dolomites.
The resort also has a private event space, and a golf course, in partnership with Golf Club Cortina, where guests can compete on the nine-hole course framed by the Dolomites.
The hotel's four restaurants offer guests a choice of diverse Italian recipes and cozy atmospheres. La Stube 1872, with its wood-covered walls and antique majolica stove, provides an intimate fine dining experience and incorporates local produce and tradition. Il Gazebo is set in a circular room with spectacular 360-degree views of the surrounding landscape, providing the best of regional Italian fare. La Veranda is an authentic Italian restaurant, open for breakfast and lunch, with a Chef's Private Table experience that combines culinary passion with local recipes. During
the summer months, La Terrazza opens its doors to offer al fresco dining within the immersive setting of the striking Dolomite Mountains.