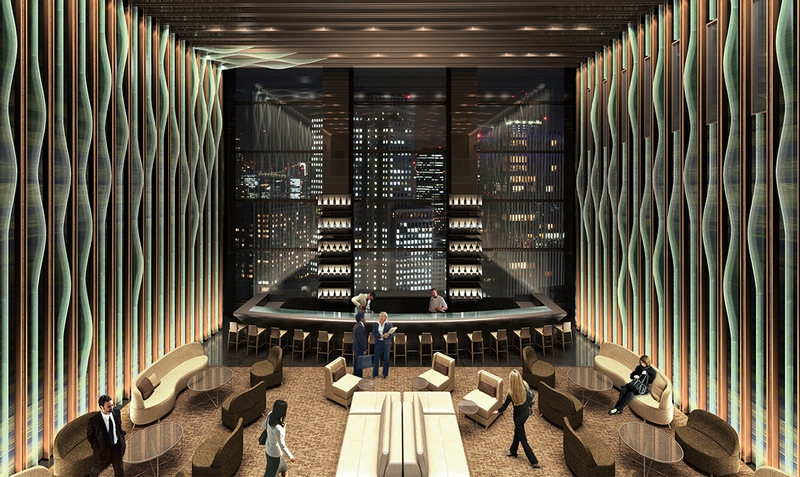 Kioicho is a historic area located nearly at the center of Japan's capital, Tokyo. During the Edo Period, from 1603 to 1867, it was the site of many of the homes of Japan's ruling aristocracy, the daimyo lords, who served as the shogun's lieutenant. Prince Gallery Tokyo Kioicho, the first luxury collection branded hotel in Tokyo is set to embark on a new path here on July 27, 2016.
This new hotel will offer spaces that combine views from heights of upwards of 140 meters with elegant interiors that transmits "the sensation of being in an art museum."
This new property is sited within Tokyo Garden Terrace Kioicho, a multi-use facility that combines office space, a hotel, homes, commercial properties, and conference facilities, under development by the Seibu Group, a conglomerate that also includes Prince Hotels.
"From the service perspective, the aim will be to provide a seamless service experience through the improved acquisition, maintenance, and sharing of our guests preferences, using advanced information technology. In addition, there will be the adjacent Akasaka Prince Classic House, a western building completed in 1930, in which guests will find restaurants, cafés, bars, and banquet facilities to meet the demand for celebratory spaces, while taking advantage of the uniquely historical atmosphere," explained Prince Hotels officials.
The hotel will offer 250 guest rooms, a Japanese restaurant that will offer the delights of Japanese culture, western restaurants with a focus on Italian cuisine, as well as two bars and lounges, a spa and a fitness center.