Looking for a gift for a traveler?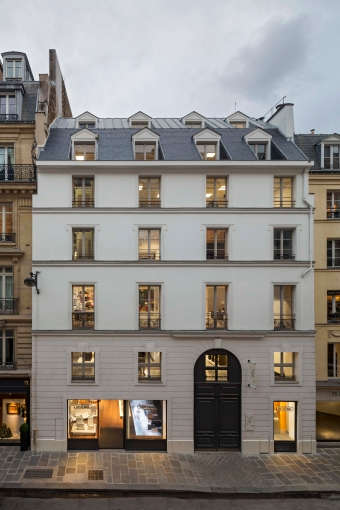 Last October, RIMOWA, one of the leaders of the high quality luggage, joined the LVMH luxury Group, the European multinational luxury goods conglomerate, owner of Dior, Bulgari, Louis Vuitton, and Veuve Clicquot among other 60 subsidiaries.
RIMOWA, the first high-end German Maison to join the LVMH Group, has inaugurated its first flagship store at 73 rue du Faubourg Saint-Honoré, opposite the Hotel Bristol. The store will feature the entire range of RIMOWA high-end luggage and its rich manufacturing savoir-faire.
With 600 square meters on five levels, the store includes retail space, an exhibition space, customer service, a repair shop and a projection room featuring the film of the Junkers F13 project by RIMOWA.
Inspired by the golden age of commercial aviation and the fuselage of the Junkers F13 in Duralumin, Swiss designers Atelier oï created a space marked by the iconic aluminum grooves of RIMOWA suitcases.
Rimowa has also devoted a special area to its new RIMOWA Electronic Tag, a digital check-in solution launched in 2016 in partnership with Lufthansa and Eva Air. The first system in the world that allows travelers to check suitcases using a smartphone and deposit them at automatic baggage-drop machines, the RIMOWA Electronic Tag saves considerable time at the check-in counter.