"The acceleration: Relentless. The sea handling: Exact. The speed: Breathtaking. The detail: Remarkable."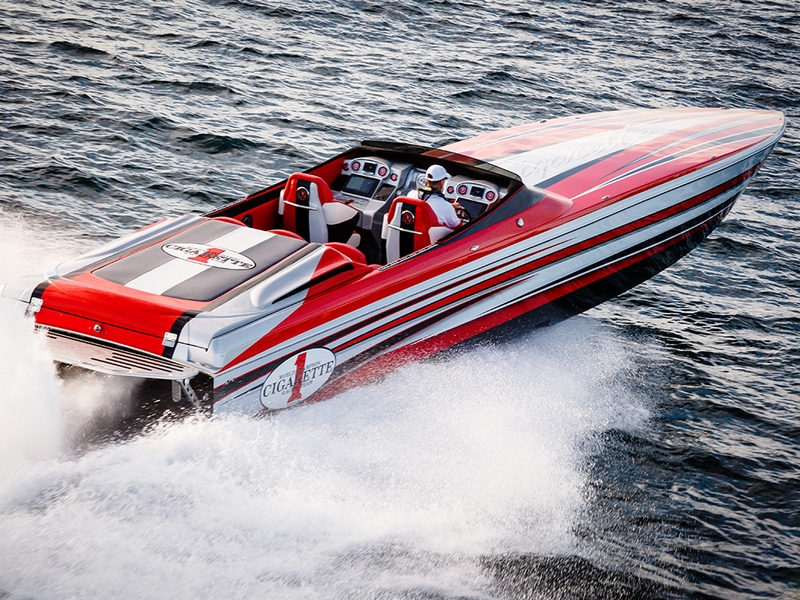 The cockpit was moved back, extending the deck to coincide with the latest Mercury Racing powerplants-the 1350 HP QC4v with M8 drives. The hull and deck lines are smoothed for improved aerodynamics and the hatch has been completely redesigned to optimize the airflow to the high- horse powered, dual turbocharged Mercury Racing engines.
The consoles, the upholstery, the details-are all new, yet completely Cigarette. The result is awe-inspiring glamour in a performance boat.
"Specifically designed for Mercury Racing's 1350 HP QC4v and 1100 HP QC4v twin-turbocharged engines, the acceleration and speed are ruthless. Yet at all rpm's, the vessel feels comfortable, never struggling, never hesitating. In rough seas, the Marauder SS gracefully cuts through the water in a surreal fashion. It's among the newest in the Cigarette line-up, and yet it has already achieved legendary status," explains Cigarette Racing Team.
The current Cigarette lineup not only shows dramatic technical advancements, but also addresses the diverse customer needs that are not served by mass production boat builders. Other companies make "go-fast boats," but only Cigarette Racing Team can create a Cigarette powerboat.
During last year's annual Lake of the Ozarks Shootout, the nation's foremost top-speed contest for powerboats of all shapes and sizes, Cigarette Racing Team's Cigarette 41 SD AMG GT3 performance center console reached 104 mph on the liquid-mile course. That didn't just make the 41-footer, the latest successful marketing collaboration between the iconic Opa-Locka, Fla.- based center console and sportboat builder and Mercedes-AMG, the luxury performance automobile
leader, the fastest center console in the two-day event. It made the elegant yet functional V- bottom, which is powered by twin state-of-the-art Mercury Racing 1100 engines, the fastest center console in history.