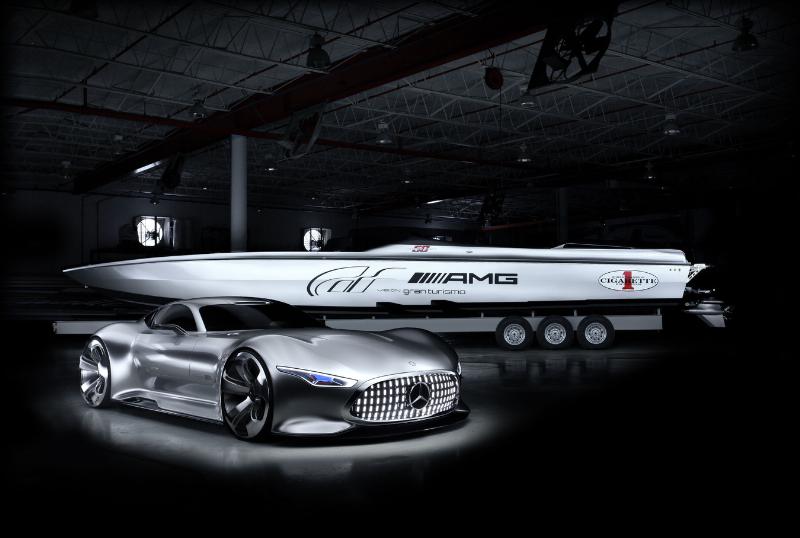 Cigarette Racing and the Mercedes-Benz high-performance brand AMG joined forces for the fourth consecutive year to present futuristic visions of the Mercedes-Benz AMG Vision Gran Turismo Concept car and the floating fantasy called Cigarette Racing 50′ Vision GT Concept, the most powerful production twin engine performance boat ever developed and built by Cigarette Racing.
Realized as a 1:1-scale model, the Mercedes-Benz AMG Vision Gran Turismo celebrated its world premiere on November 19, 2013 at the opening of the new Mercedes-Benz Research & Development Center in Sunnyvale, California. The super sports car with its hallmark Mercedes gullwing doors made its auto show debut in Los Angeles on November 20, 2013 and then took to the virtual racetrack when the new racing game went on sale in December 2013 – as the first of the "Vision Gran Turismo" series of vehicles.
To mark the 15th anniversary of the popular Gran Turismo series in 2013, Kazunori Yamauchi, creator of Gran Turismo and president of Polyphony Digital Inc., called upon the world's leading automotive manufacturers and design studios to look forward into the future. Using the theme "Vision Gran Turismo," these creative teams were to develop concept models which give a unique insight into the further development of the automobile.
Virtually simultaneous to the development of the Vision Gran Turismo was the special development of the Cigarette Racing 50′ Vision GT Concept.
As virtual vehicles that nonetheless function just like a real car, the visionary concepts will be gradually unveiled in and integrated into the new game Gran Turismo 6 through online updates. The Mercedes-Benz AMG Vision Gran Turismo was the first concept of the "Vision Gran Turismo" series to be integrated in the game, released in December.
Presented at the 2014 Miami International Boat Show, the Cigarette Racing 50′ Vision GT Concept has twin 1650 hp Mercury Racing engines, which roar at 300 hp per engine higher than the standard engines used in the 50′ Cigarette Marauder. Lightweight construction has allowed for approximately 1000 lbs to be removed from the standard spec weight, thereby allowing the boat to have an estimated top speed of more than 140 mph at a length of 50′ and a width of 8′.
The crafted interior is black with black alcantara accents, and uses carbon fiber dash panels inside the boat with silver face gauges. User interface technology is also maximized with Bluetooth, computerized controls, four high-definition displays, and the next generation integration of Garmin and Cigarette navigation and audio.The price of this one-of-a-kind boat from Cigarette Racing Team is USD $1.5 million.