Businesses discovered long ago that conference rooms and offices do not always provide the most propitious atmospheres for winning new clients or building client relationships. Today, a number of sports and sporting events are used as an alternative. Golf has been a favourite due to the serene atmosphere and the possibility of uninterrupted conversation, at least before the advent of the cellular telephone. Tickets to box seats at major sports matches is another popular choice, especially if it is a sky box lounge where the noise level can be controlled. Perhaps the best venue of all, however, is attending a polo match.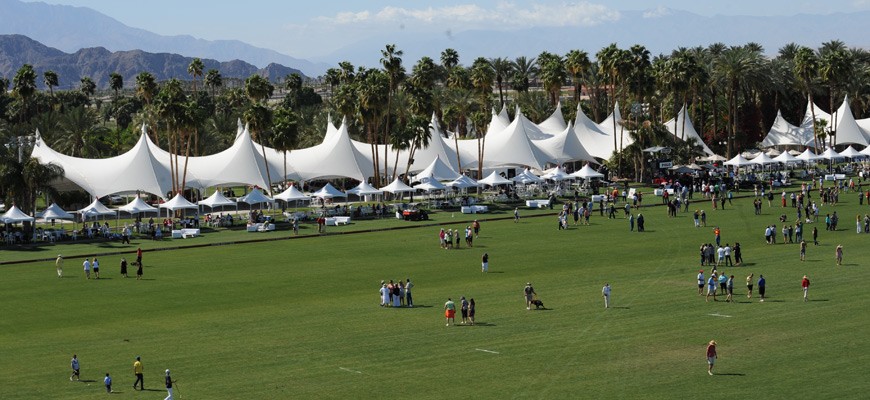 What makes a polo match the perfect venue for conducting business?
There are multiple reasons. The setting is usually tranquil, at least before the game begins. The field is a large expanse totalling 12 acres or more of green lawn, giving it a country club atmosphere. Tournaments often have tents and VIP lounges, offering refreshments and food, and private tables in which to enjoy them.The attendees are usually wealthy. This is a sport that attracts wealth. Whereas the crowds may be enthusiastic, they tend not to be boisterous and crude, which allows for conversation among spectators. Many tournaments are held as charitable events. This tends to get certain persons out who might not have come just for the sports aspect.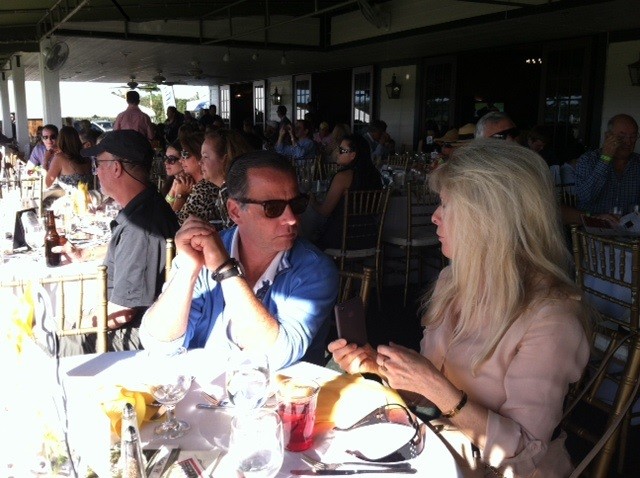 Photo above : Sidelines TV producer Rob Jordan talks with Sidelines Magazine National Sales Rep Joyce Jones at the International Polo Club in Florida
Some polo clubs offer their facilities for business meetings on a hire basis. The Dubai Polo & Equestrian Club's website writes, "Our meeting spaces offer timeless elegance and tasteful décor. For small to mid-size business meetings, the Clubhouse offers two private meeting rooms which can accommodate between ten to sixty attendees."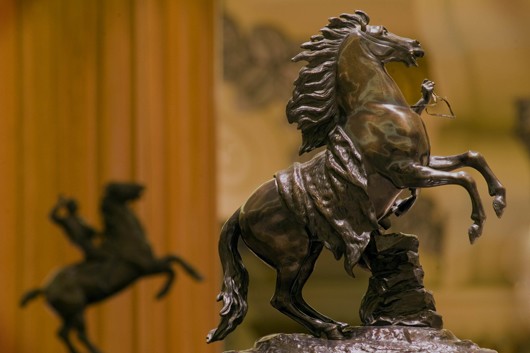 Photo above : Detail at Palace Of The Golden Horses Hotel Kuala Lumpur – Polo Lounge
Sarasota Polo at Lakewood Ranch covers most any occasion by offering their club for "Weddings, Banquets, Estate Auctions, Receptions, Fundraisers, Sporting Events, Holiday Events, Awards Dinners, Musical Events, Baby Showers, Anniversary Parties, Charity Events, Birthday Parties, Business Seminars, Walkathons, Bar/Bat Mitzvahs, Corporate Events and Festivals."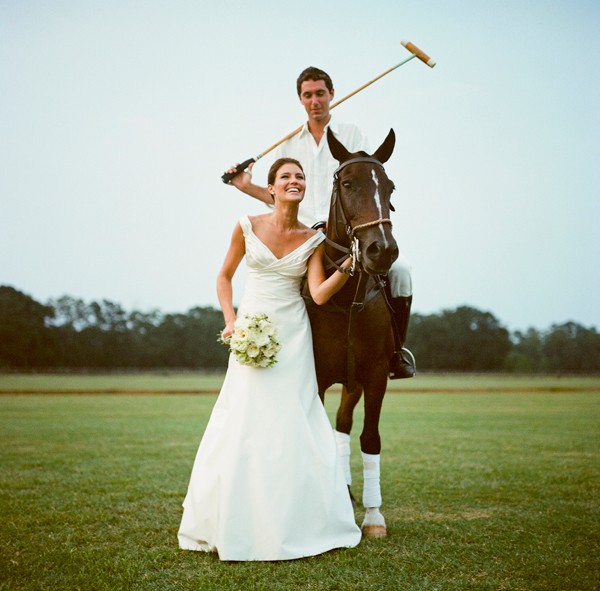 Photo above : photo shoot by Southerweddings.com
Vladimir Rivkin, a real estate developer, has found a way to combine his passion for polo with his business. Not content with just using one club, he also created PoloSF, a polo school which runs out of five locations – two in northern California , the Empire Polo Club and the Eldorado Polo Club both in the southern California desert, and at La Martina in Argentina. He says, "The game provides an opportunity to network with some of the world's top entrepreneurs, CEO's and even royalty."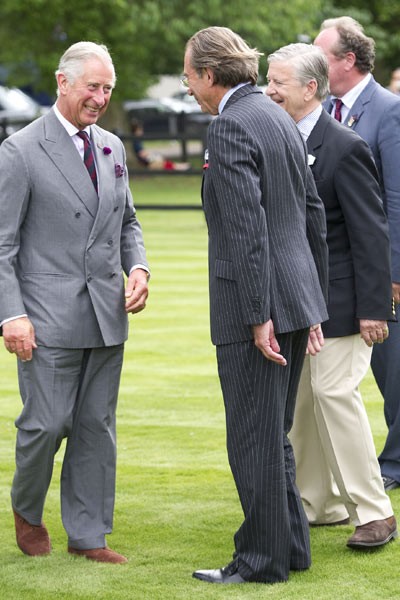 Photo above : Prince Charles surprised fellow spectators at the Audi International Polo event when he walked onto the field to join in the tradition of stamping down the divots made by horses during the match.
Peter Brandt utilized the "Royalty" card last year when his Greenwich Polo Club in Connecticut welcomed Prince Harry for a charity polo match to benefit Harry's children's charity in Lesotho. The day was highly exclusive. Guest tickets were not opened to the public. Sometimes it is precisely an occasion like this that could win over a new prospective client who you bring along with you. Also, the crowd that attends such an affair undoubtedly contains numerous potential business contacts.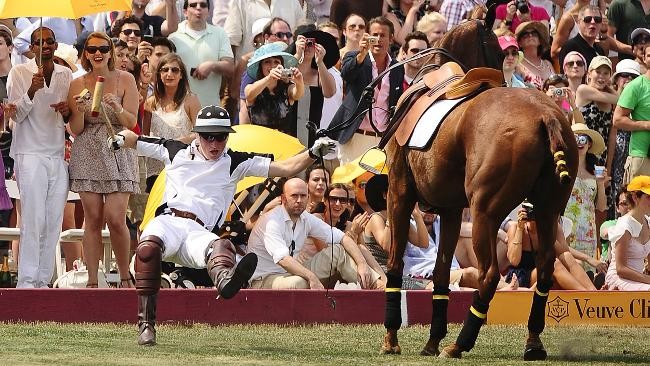 Photo above : Prince Harry falls off his horse while competing in a charity polo event in New York
Sometimes you may need exclusivity at a meeting, either to protect the person you are entertaining or to narrow down the playing field. Certain polo tournaments can offer this. Wikipedia reported, "In 2008, (glamour celebrity Katie) Price was refused admission to Guards Polo Club (England) for the most prestigious day in the international Polo Season and a highlight of the British Social Season, the Hurlingham Polo Cartier International match for the Coronation Cup, presented by Prince Charles. She attempted to circumvent this by buying a table at the Chinawhite marquee for £6,000 through her agent, but this was refused as well. An anonymous source said "Jordan (Price's former modelling moniker) has been told she is not welcome. Polo is very prestigious and there are certain names they want there and others they definitely don't. Jordan is still too 'chavvy' as far as Cartier is concerned. Having Jordan there just wouldn't be in keeping with Cartier's image. If she turns up she will not be allowed access".
Photo above : polo clubs make exclusive venues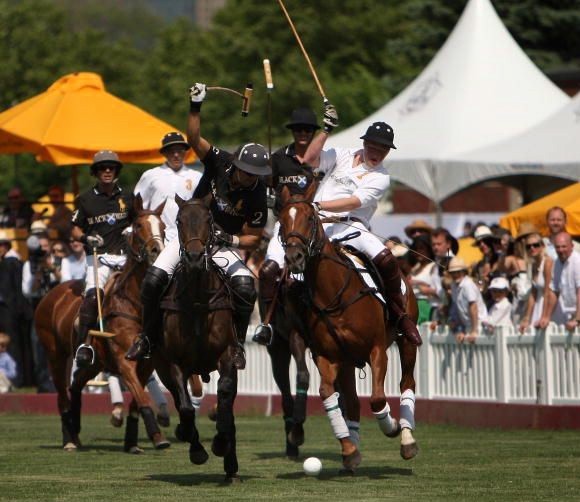 The next time you are considering where to entertain that special client, or if you are looking for new areas to prospect for clients, consider checking your local polo clubs. If they do not already offer the types of programs mentioned here, suggest that they might want to try them to meet your needs. A polo club could very well become your "office away from the office."
More of these ideas will be revealed in the following articles found here at Polo & Business. Make sure to follow the series.
An article by John Francis Jackson
About the author :
The author, John Francis Jackson, is an American living in Argentina. Although he works as a business advisor, his passion is polo, a game he both plays and writes about. He also raises and sells polo ponies. You can find more about him at LinkedIn or at http://maltesecatpolo.wordpress.com/