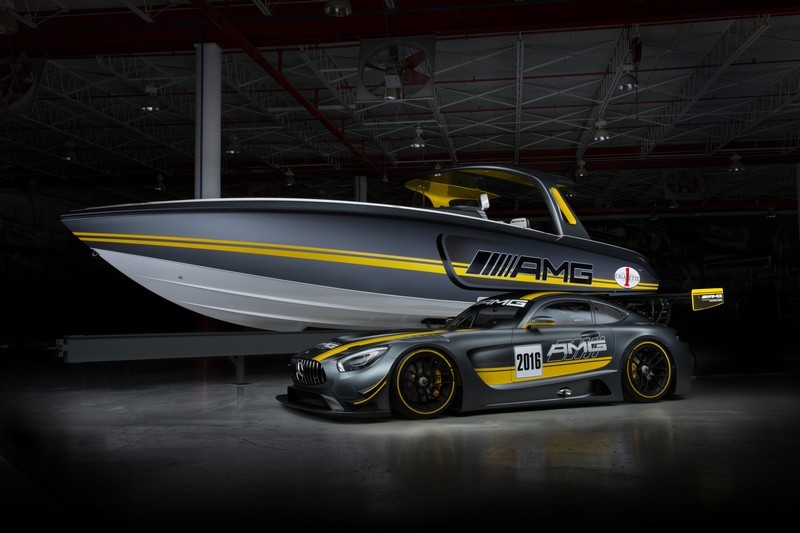 Cigarette Racing Team has partnered with Mercedes-Benz to design Cigarette's fastest open performance center console powerboat yet. Mercedes-AMG GT3 inspired the creation of 41' SD GT3 boat with design, fittings and cockpit featuring signature AMG elements. The two legendary brands united once again at the Miami International Boat Show (from February 11-15 at the Miami Marine Stadium Park & Basin).
Similar to its Mercedes-AMG super sports counterpart, the powerboats from the American specialists are among the world's fastest and most exclusive machines. These boats feature custom-made, handcrafted quality and are tested under the most extreme conditions.
The design and fittings of Cigarette Racing Team 41' SD GT3 boat reflect the dynamic characteristics of the Mercedes-AMG GT3. The handcrafted interior and exterior, featuring matte components, a complete teak wood floor and a full extreme marine grade leather interior – a first for Cigarette – was designed by Gorden Wagener and his team.
"Designing the 41' SD GT3 we used some unexpected design elements from our Mercedes-AMG GT3 to create another racing icon, the most powerful "open performance" boat ever produced by the Cigarette Racing Team," said Gorden Wagener, Head of Design Daimler AG.
User interface technology is also maximized with Bluetooth, computerized controls, three high-definition 17" displays, and the next generation integration of Garmin and Cigarette navigation and audio.
The Cigarette Racing Team 41' SD GT3 is powered by a pair of Mercury Racing 1100 HP engines with NXT6 Drives. The 41' long and 11' beam boat is able to achieve an estimated prop limited top speed of more than 100 mph with a focus on big water performance and weight of just over 20,000 lbs.
The price of this one-of-a-kind boat from the Cigarette Racing Team is available upon request.
Developed to comply with the FIA's GT3 race rules, the Mercedes-AMG GT3 competes in the world's most hotly contested customer race series. The GT3 racecar is based on the Mercedes-AMG GT S, which was launched in spring 2015 and established a new benchmark in the segment. The Mercedes-AMG GT S provided the ideal prerequisites for the GT3 racing model with its low centre of gravity, perfect distribution of weight and wide track width.