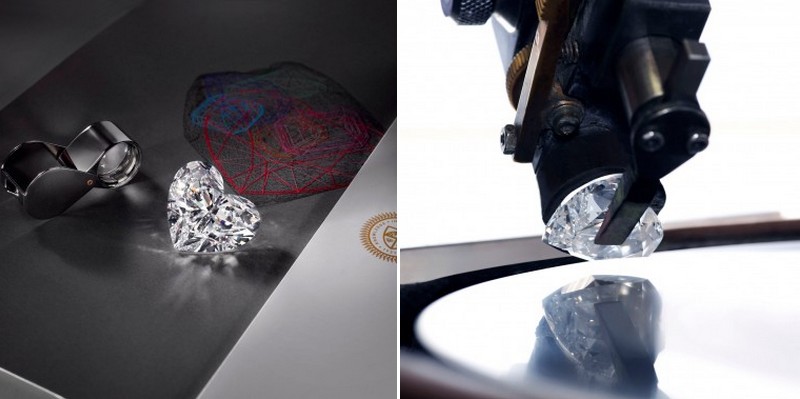 Named in celebration of the Roman goddess of Love, The Graff Venus is the largest D Flawless heart shape diamond in the world
The creation of a heart shape diamond is exceptionally demanding and can only be undertaken by the elite of the world's diamond cutters, it must be perfectly faceted and entirely symmetrical to ensure a perfect silhouette and exquisite scintillation.
It took over 18 months for Graff's master craftsmen to analyse, cut and polish the magnificent type IIa 118.78ct diamond from a 357ct rough diamond discovered at the famous Letseng mine in Lesotho.
Laurence Graff, Chairman of Graff Diamonds said: "We were given a once in a lifetime opportunity and we created absolute perfection. I am proud to say that we delivered the very best . The Graff Venus is beyond words. It is the most beautiful heart shape diamond I have ever seen."
Last June, Graff Diamonds opened its first Parisian salon, located adjacent to the recently renovated Ritz Paris and overlooking the iconic Place Vendôme.The luxurious salon references the palatial aesthetic of 18th-century Paris, features a feminine and verdant colour palette, and houses the world's most fabulous jewels.
Named in celebration of its new store in prestigious Place Vendôme, Graff revealed the 105.07-carat D Flawless pear shape Graff Vendôme diamond. The diamond was initially cut using lasers from a 314-carat rough sourced in Lesotho, then polished by hand in a process that employs all the senses and immense courage.
The process took many months to execute and required the skills of a very select team, who applied their highly guarded secrets learnt over many years – as well as their natural instinct for proportion and symmetry.
The rough yielded a further 12 satellite stones, with the largest comprising 17.10 carats, however the Graff Vendôme itself, at 105.07 carats, is the largest cut and polished diamond of its kind in Graff's history.
In one month from today, the new creations and innovations of the global watch and jewellery industry will be exclusively presented to the world at Baselworld 2017. Stay tuned for more news from Graff Diamonds.