Baselworld 2015: An encounter between Haute Horlogerie and Haute Joaillerie @ Graff Diamonds.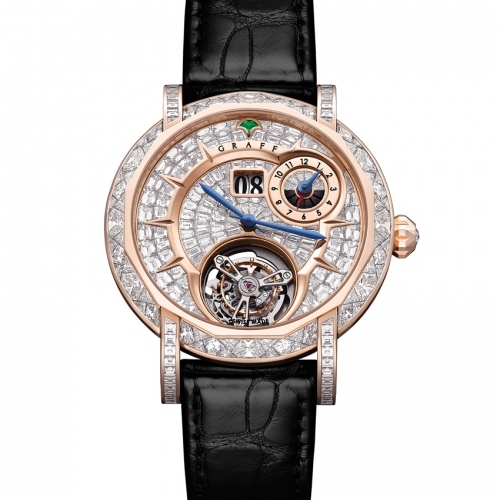 London-base British jeweller Graff, the maker of the world's most valuable watch, presents a new encounter between Haute Horlogerie and Haute Joaillerie. For Baselworld 2015, Graff Diamonds presents mechanical hand-wound Diamond MasterGraff Grand Date Dual Time Tourbillon with an invisibly-set mosaic crafted using an exclusive technique resulting from a full year's research.
The Diamond MasterGraff Grand Date Dual Time Tourbillon combines three magnificent complications – a flying tourbillon, dual time function and grand date which features an instantaneous date change at midnight.
"The Diamond MasterGraff Grand Date Dual Time Tourbillon is a truly iconic timepiece, combining the craft and skill of our gem-setting experience, with haute horology and the finest Swiss complications," commented Michel Pitteloud, Chief Executive Officer at Graff Luxury Watches.
"The Graff Calibre 5 took an expert team over 2,000 hours to develop – a perfect example of our commitment to pushing the boundaries of innovation, taking our collections to the next level with every new release," added Pitteloud.
Showcasing a meticulous attention to detail an emerald Graff Icon is positioned at 12 o'clock, and to the reverse of the watch a transparent sapphire case back ensures the Graff Icon motif on the movement can be viewed by the wearer.
Graff's signature setting technique, which replicates the facets of a perfectly cut diamond took over a year for Master Craftsmen to develop, requiring the finest expertise in diamond sourcing, design and setting – for which the House of Graff is renowned.
At the 28th edition of The European Fine Art Fair (TEFAF) in Maastricht (from 13th to 22nd March 2015), Graff unveiled a magnificent collection of rare jewels. The house showcased an exceptional display of jewellery pieces celebrating 'stone-led' design, whereby unique, rare and often famous diamonds and precious gemstones dictate the design of the jewel itself.
On March 9, Graff announced the celebration of the opening of its newest store in Japan. Situated on the 3rd floor of the luxurious Takashimaya department store in Nagoya, Graff's newest location features the distinctive outline of the Icon motif, a design element synonymous with the House worldwide.