New Swiss watches. Part IV: ULYSSE NARDIN, FREDERIQUE CONSTANT, CARL F. BUCHERER, HYT, ZENITH, BREITLING, DE GRISOGONO, TUDOR, HUBLOT, HERMES, and many more.
The city of Basel, Switzerland is hosting 100th edition of Baselworld – the biggest international watch and jewellery show. Once again this year, the Swiss delegation is out in force with around 300 brands, mostly representing the watch segment, but also jewellery and related sectors. This is an event of the utmost importance for the Swiss watch industry, which was faced in 2015 with a more complex and fragile economic environment.
The world's biggest watch and jewellery fair, BASELWORLD is open March 16 to 24.
Three hundred Swiss brands from the watchmaking, jewellery and related sectors arepresent at the heart of this global fair, which draws 1,500 exhibitors from across the world.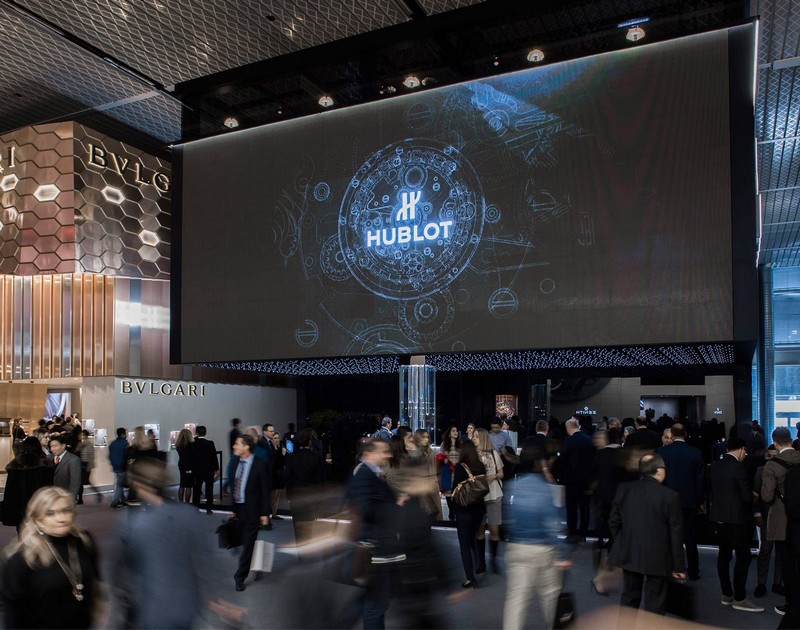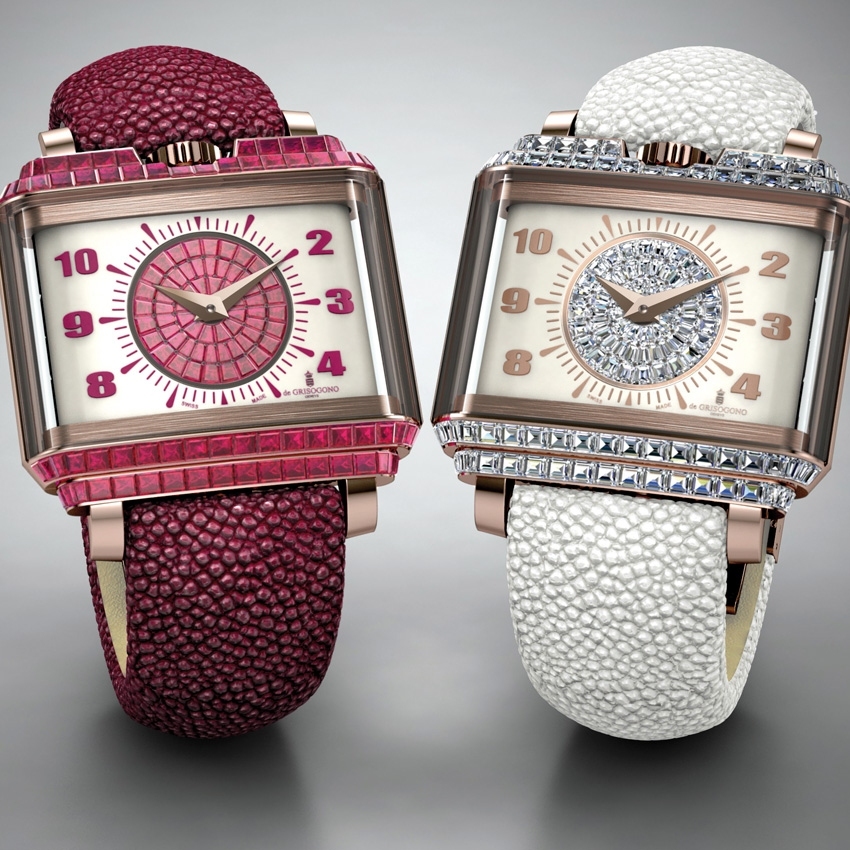 Inspiring new watch trends
Ladies' watches are in the spotlight for a good many Swiss brands, with complications and chronographs joining gemset models. Classic timepieces for men make room for uncluttered dials and elegant cases, while new designs for complications and tourbillons can be seen at the high endof the market. Sport watches, and chronographs in particular, play a prominent role this year. Also, an increase in the number of steel watches enables brands to propose products at more attractiveprices than in previous years.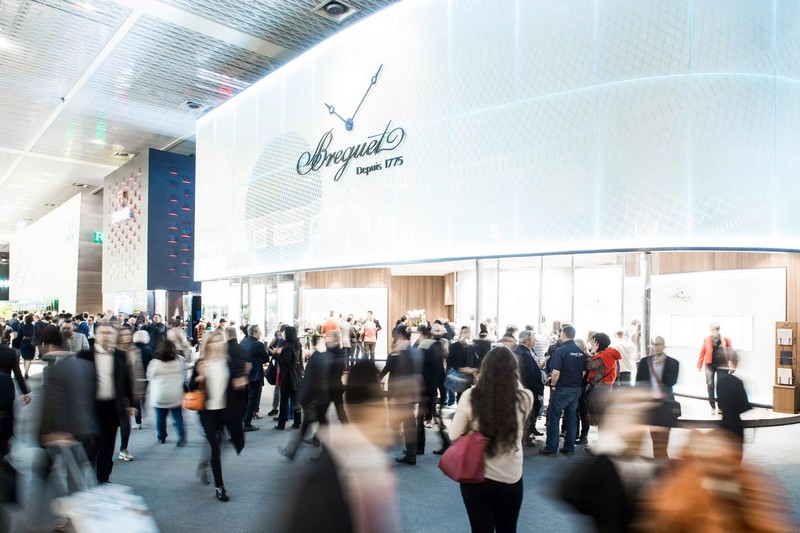 Swiss watch exports fall slightly
2015 figures show a slight decrease of 3.3% in value, ending the year at CHF 21.522 billion. It isimportant to point out that Swiss watch exports increased by a considerable amount over the five years leading up to 2015, gaining almost 70% in value terms over that period. This means that the annual result was virtually back on a par with the level of 2012, following two consecutive years of consolidation.
The general context was not particularly propitious to the sector. Overvaluation of the franc, the suddenreadjustment affecting Hong Kong, the economic slowdown and political decisions in China,tensions in the Middle East, the low level of the rouble and terrorism were all factors which undermined the forecast of stability announced a year ago. This situation will continue to influence results for the Swiss watch industry in the first part of 2016, which will also suffer from a generally unfavourable base effect. Consequently, watch exports are likely at best to achieve the same value this year as in 2015. Nonetheless, the evolution of exchange rates as well as the economic and geopolitical situation of severalmarkets will need to be carefully monitored.
Watches generated a value of 20.2 billion francs,accounting for nearly 95% of all exports. Theyregistered a decline of 3.6% compared to 2014. Involume terms, the downturn was more moderate at -1.6%. With a total of 28.1 million timepieces exported, volumes reverted to their 2013 level. In total, 460,000 fewer watches left Switzerland in 2015.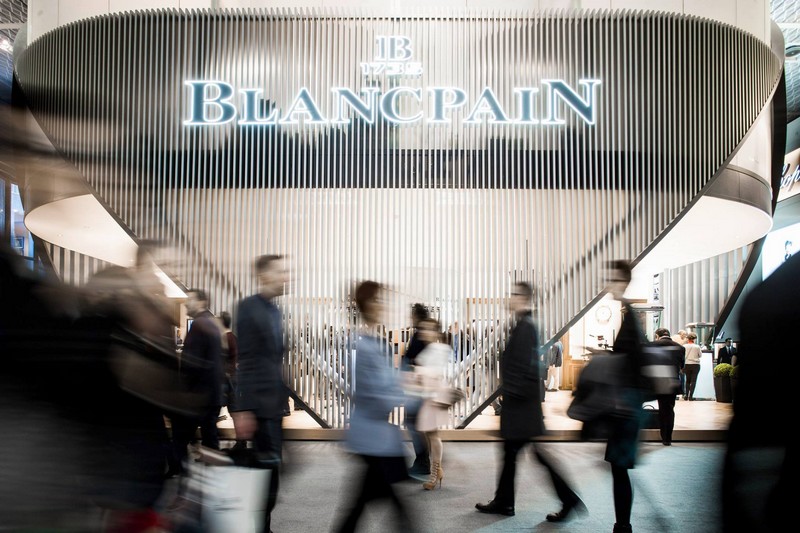 Here are some notable Swiss watch novelties unveiled at 2016 Baselworld. Browse also our previous articles and new watch presentations:
ULYSSE NARDIN Marine Chronograph Annual Calendar watch
The "Annual Calendar" is a standout feature of Ulysse Nardin luxury watches. Whereas traditional mechanismscomprise around 30 components, the Manufacture from Le Locle has succeeded in developing one containing only around a dozen. The time and calendar indications of this new Marine Chronograph Annual Calendar may
be adjusted either forwards or backwards without any risk of inadvertently damaging the in-house movement.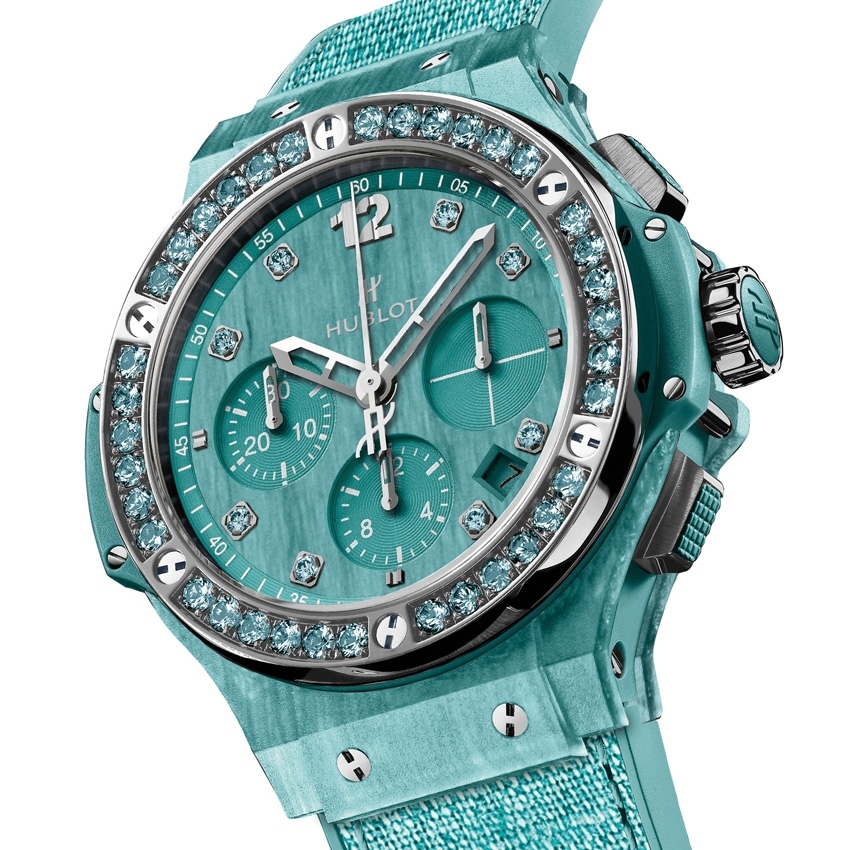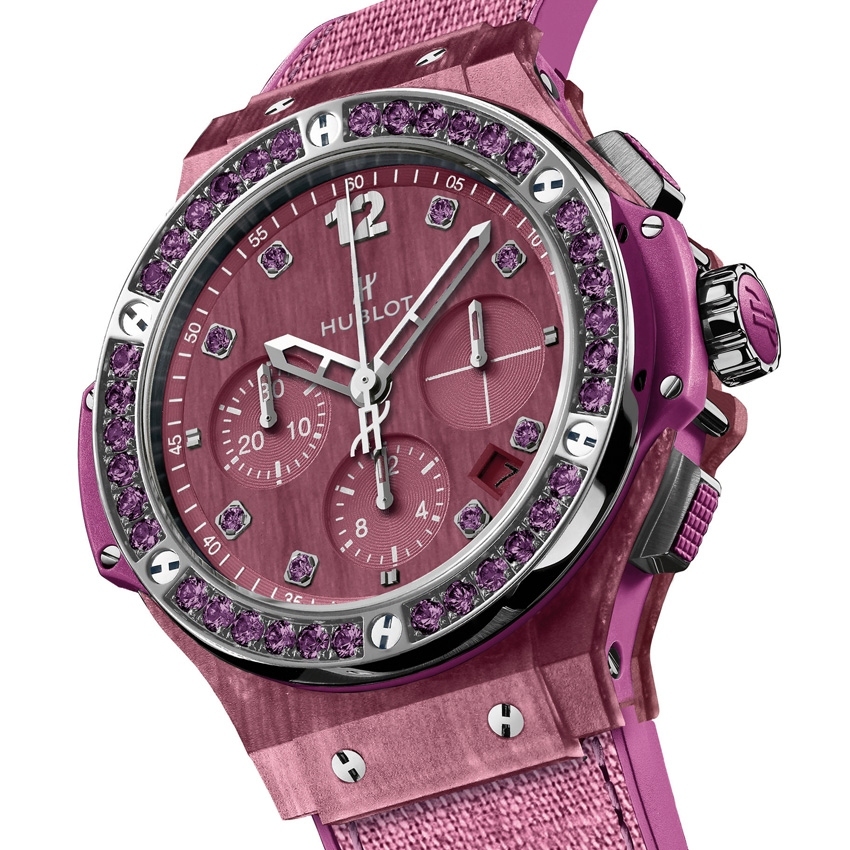 HUBLOT Big Bang Tutti Frutti Linen watch
To shape the case and dial of this Big Bang Tutti Frutti Linen, Hublot has developed a unique hand-crafted linen fibre weave, dyed and coated with a transparent composite material. Linen fibre offers an innovative alternative to carbon fibre with which it shares the property of excellent mechanical resistance, while being distinctly lighter.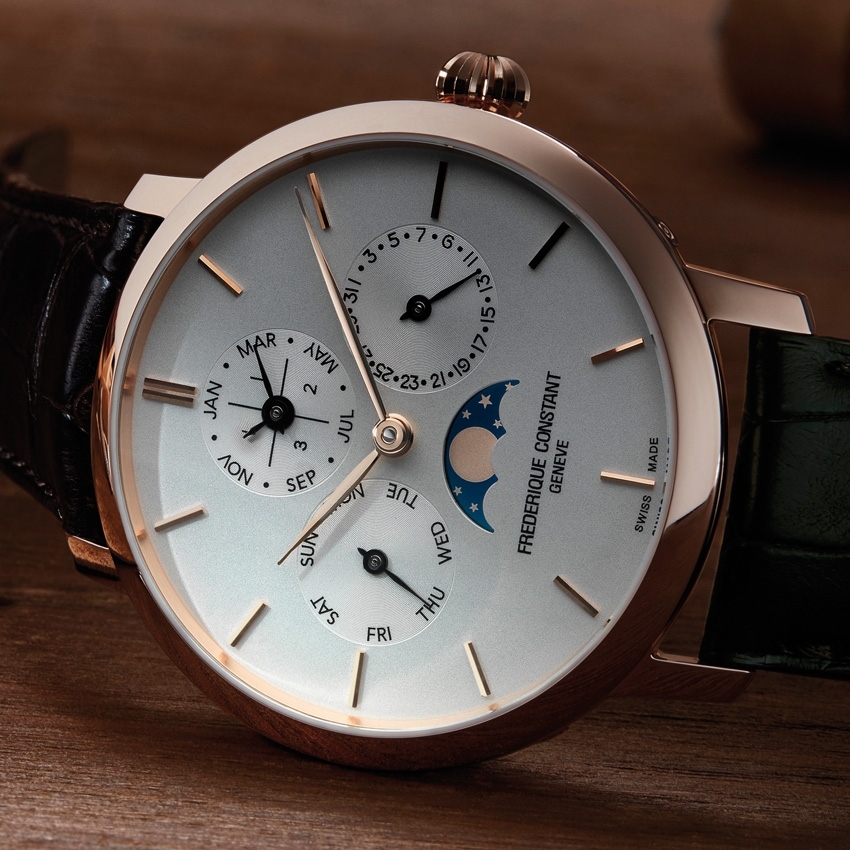 FREDERIQUE CONSTANT Manufacture Perpetual Calendar watch
This highly sophisticated model takes account of alternating 30- and 31-day months, of the 28 days in February, as well as the leap-year cycle and the moon phases. All these indications can be easily adjusted by means of inset push buttons on the sides of the case.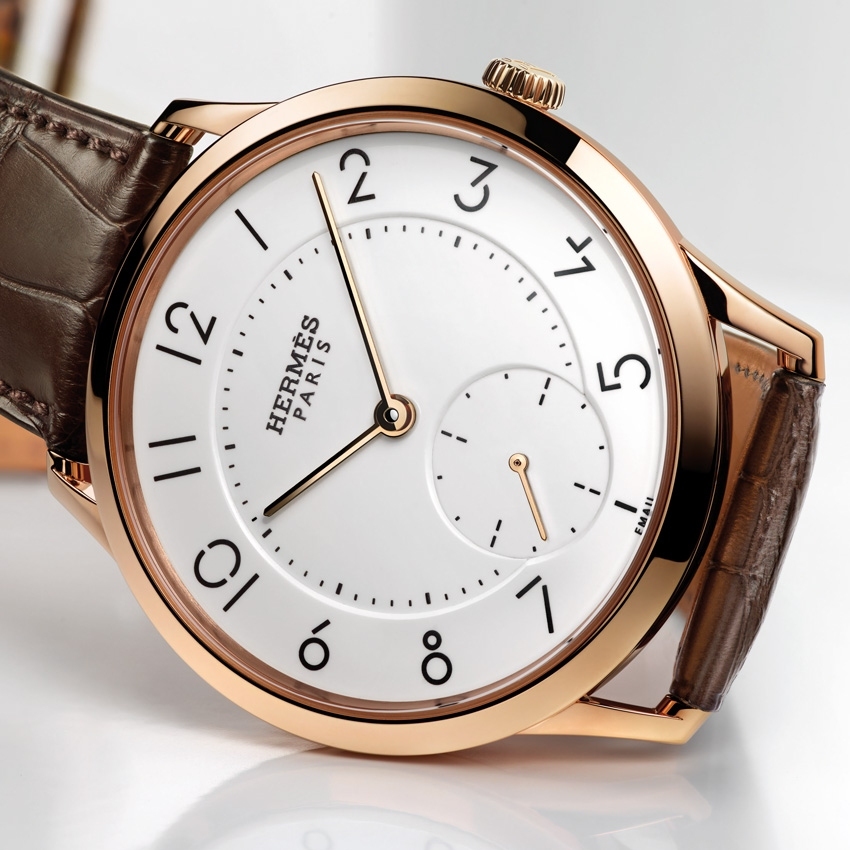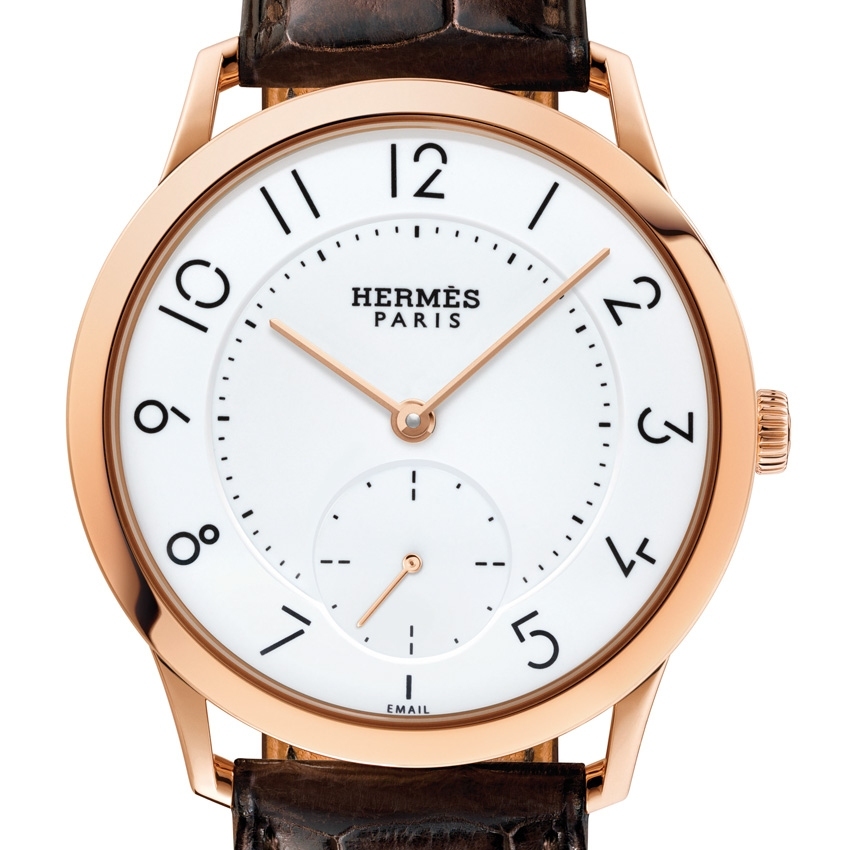 HERMES Slim d'Hermès Email Grand Feu watch
The well-established Hermès penchant for the graphic arts is illustrated through the typographic sophistication of the Arabic numerals. Designed by the artist Philippe Apeloig as geometrical shapes freed from any superfluous elements, these figures mark off time with refined elegance, admirably offset by the
elegantly understated Grand Feu enamelled dial.
CARL F. BUCHERER Pathos Swan jewellery watch
No fewer than 922 diamonds and sapphires in different shades for a total 12.5 carats adorn this extraordinary timepiece, crafted from pink or white gold. Regarded by many cultures as a symbol of purity and love, a swan encrusted with pink and blue stones appears to glide gracefully over the still waters of a white mother-of-pearl lake, in the centre of the dial.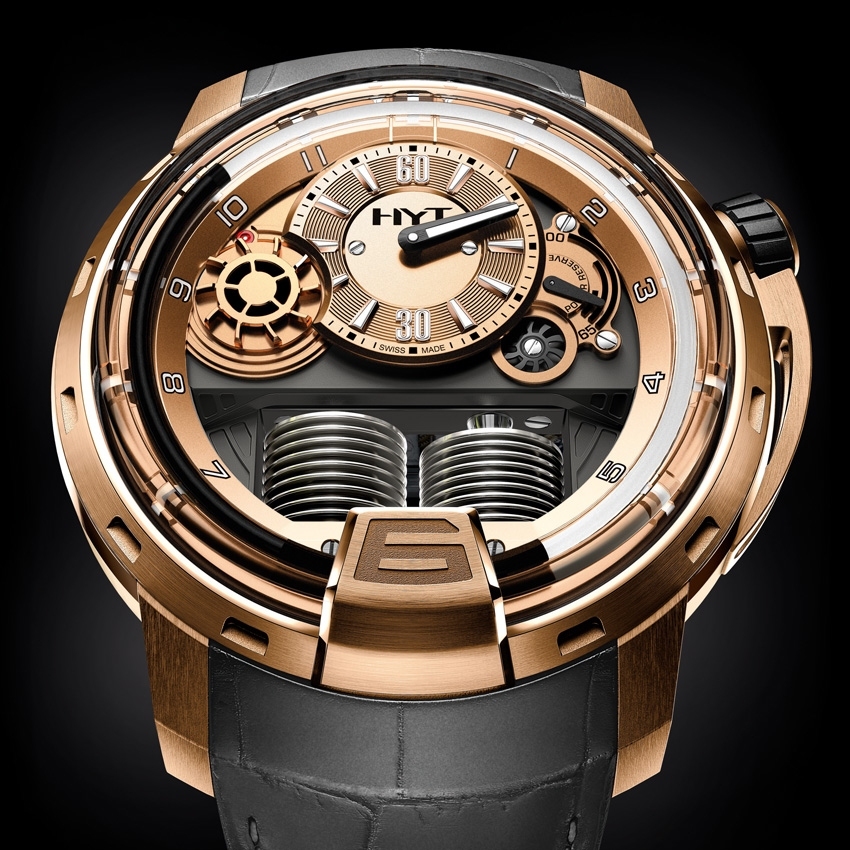 HYT H1 Full Gold watch
After using high-tech, outstanding and classic designs and materials, HYT is now exploring noble metals, by presenting its first ever case made in 18K pink gold. This colour in fact dictates the entire design of this H1, with its dial displaying pleasing contrasts between the warmth of gold and distinctive black indications. For the first time, the fluid hours indicator of the H1 Full Gold is also black. The central concept of the HYT brand consists in replacing the hours hand by a coloured fluid that moves up and down in a capillary: a less than one-millimetre glass tube.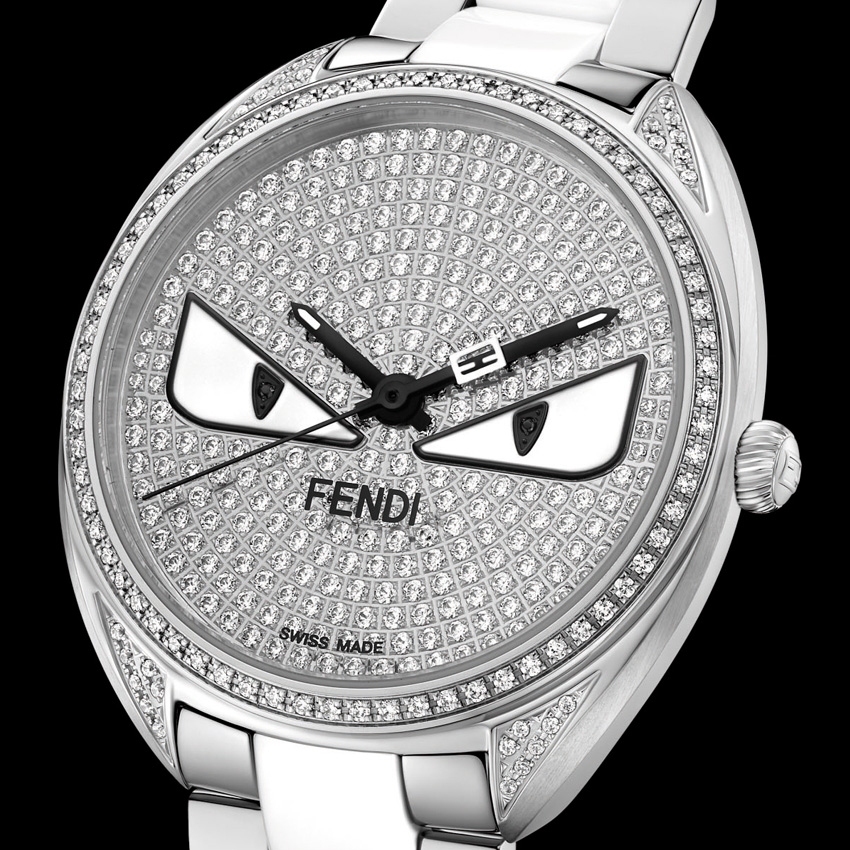 FENDI TIMEPIECES – Fendi Momento Fendi Bugs Limited Edition watch
Issued in a 50-piece limited and numbered edition, this stainless steel model is adorned with a total of382 diamonds – of which 286 for the dial. The pupils set at the centre of the Momento Fendi Bugs'mischievous and angry-looking eyes are depicted by two black diamonds.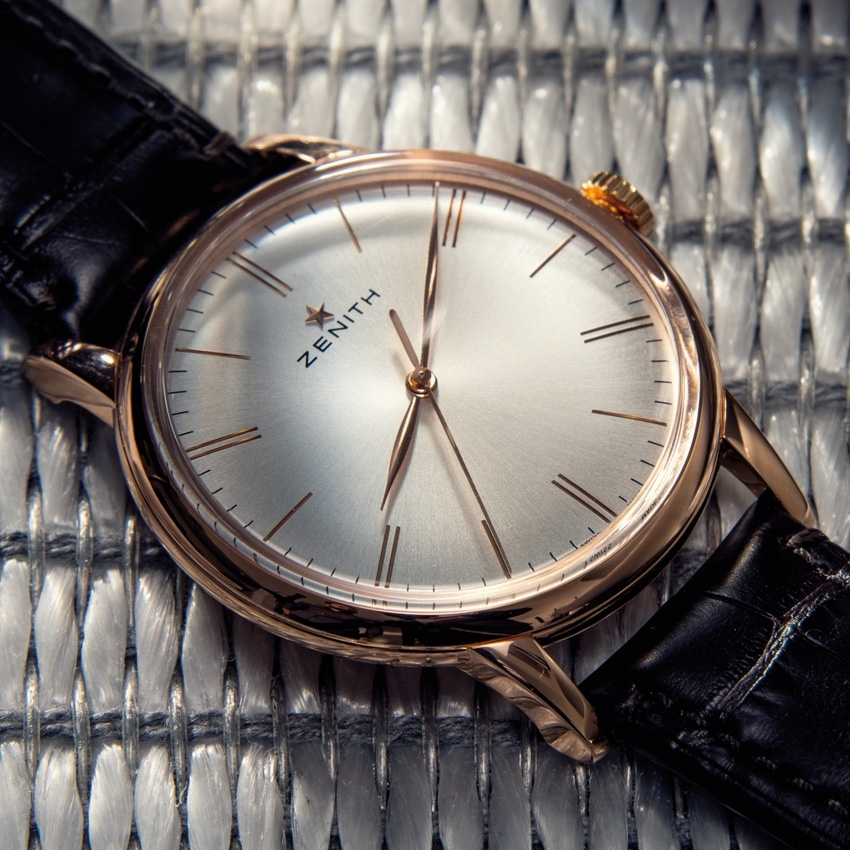 ZENITH Elite 6150 watch
To steadily mark off time, Zenith has equipped the ultra-thin case with the latest-generation Elite 6150 in-house calibre endowed with an over four-day power reserve: a modern version of the famous Elite that was named "Movement of the Year" in 1994.
LONGINES The Longines Equestrian Pocket Watch Jockey 1878
This replica of a model fitted with Longines' first ever chronograph, produced in 1878, will delight modern-day dandies, collectors, and horse-racing enthusiasts with its classic exterior and mechanical heart. Opening the pink gold cover, which is engraved with a jockey and his mount, reveals in all its splendour the hand-wound movement complete with column-wheel chronograph mechanism. It is operated by a single pusher on the winding crown, allowing the large, central chronograph hand to sweep the elegant white lacquered dial.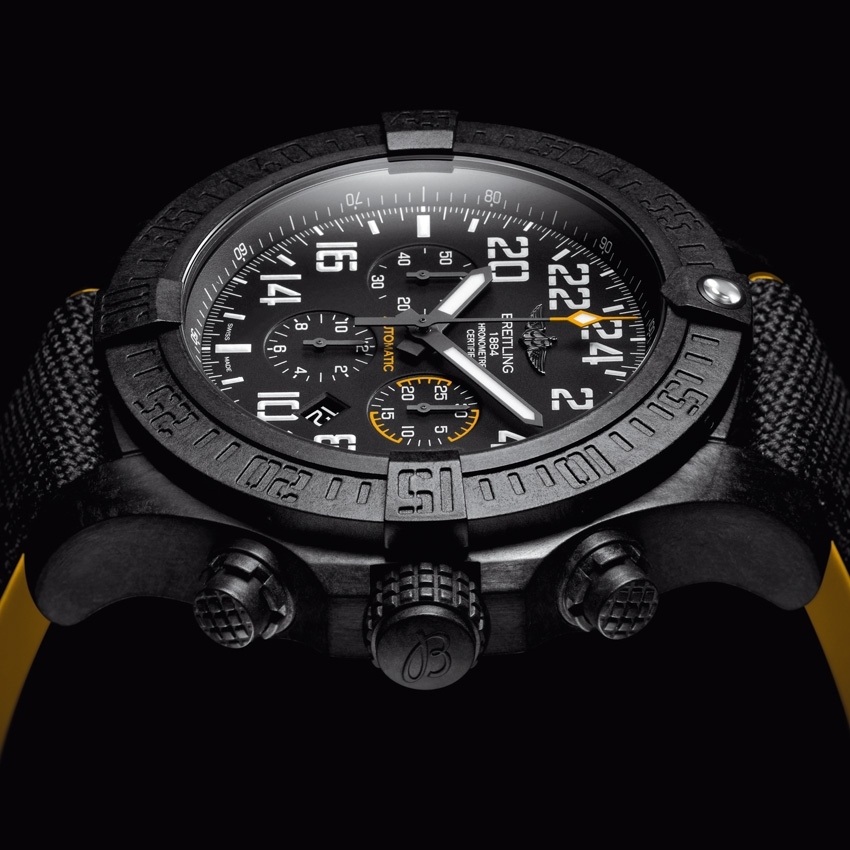 BREITLING Avenger Hurricane watch
Featuring a 50 mm XXL diameter, a sturdy construction equipped with lateral reinforcements and an all-black technical look enhanced by yellow accents and aviation-inspired stencil-type numerals, it is designed to share every challenge. The Avenger Hurricane case is entirely made out of Breitlight. This high-techmaterial exclusive to Breitling boasts a number of functional qualities. It is anti-magnetic, stable inrespect to thermal variations and above all ultra-resistant to scratches, traction and corrosion.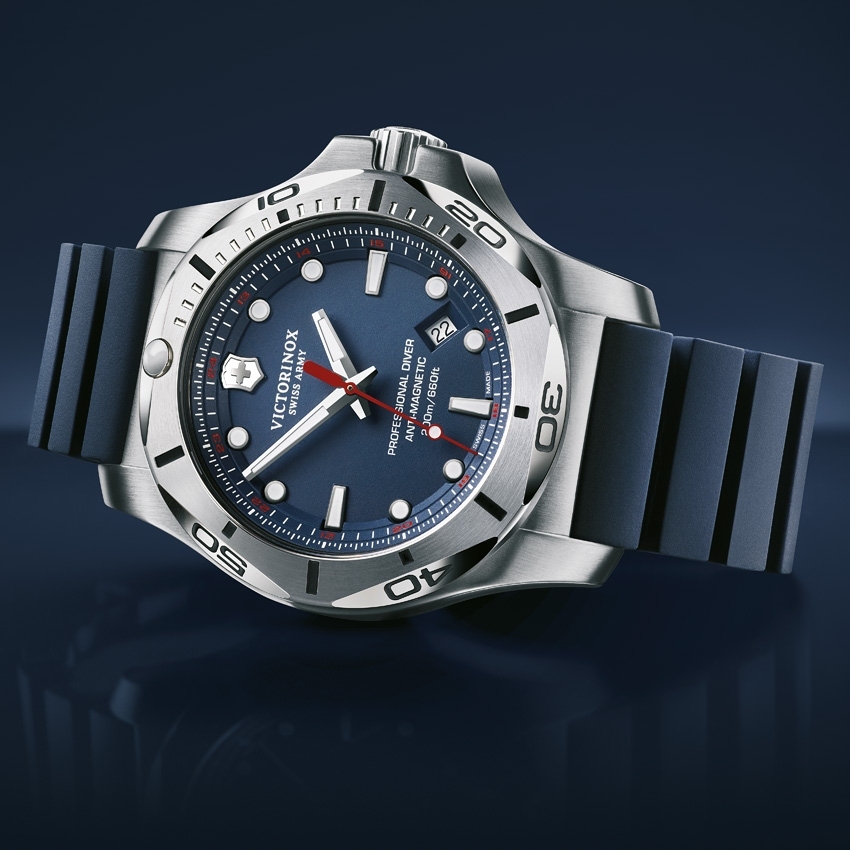 VICTORINOX SWISS ARMY I.N.O.X. Professional Diver watch
A certified diving watch in accordance with the rigorous NIHS 92-11 Swiss watch industry norms, Victorinox Swiss Army INOX Professional Diver watch goes beyond the criteria imposed by these standards. In all, it has been subjected to 130 tests specifically developed to ensure its sturdiness and its functionality. This anti-magnetic model ensures maximum visibility from a 25 cm distance in the darkness prevailing in the ocean's depths. It can withstand divesto at least 200 metres. It is perfectly resistant to thermal shocks, condensation and vibrations.

HYT Skull Bad Boy watch
The opaque black liquid took around 12 months to develop. Like the four other colours developed by HYT, theblack version has its own properties relating to its viscosity, expansion coefficient and UV resistance.For the first time, the skull is made from Damascus steel, an ancestral technique creating a mottled pattern that makes each model unique.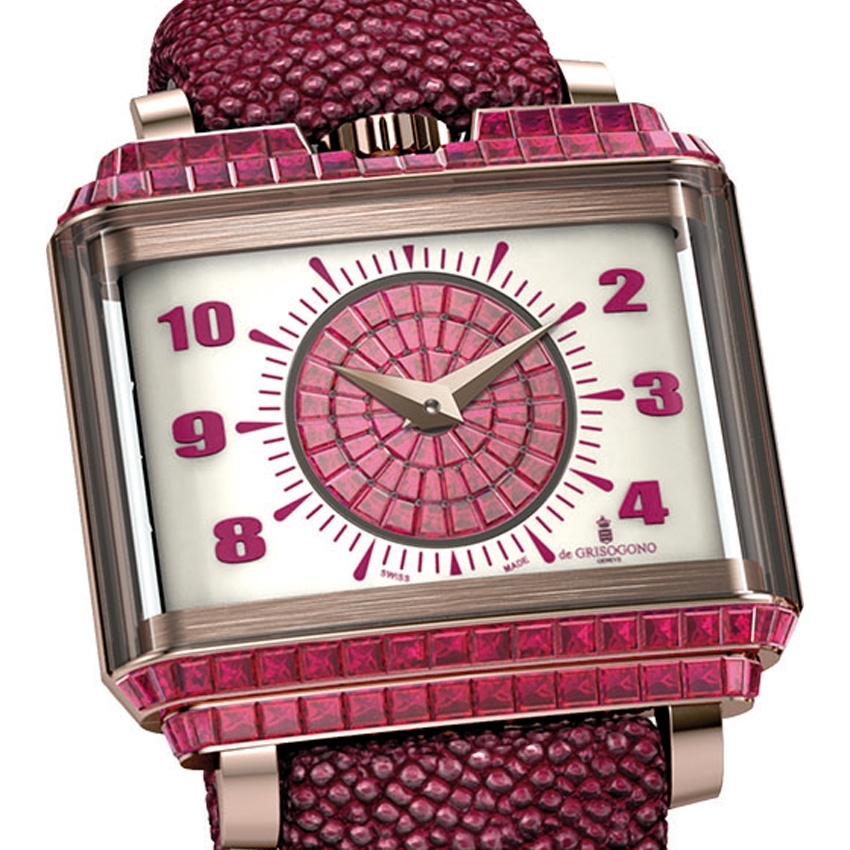 DE GRISOGONO New Retro Lady Taille Baguette watch
Elegance meets opulence in DE GRISOGONO's New Retro Lady timepieces unveiled at Baselworld 2016. Inspired by Fifties fashions, the two versions of the New Retro Lady glow with an atypical retro-chic look. The widerectangular-shaped pink gold case is paved with two rows of baguette-cut gems and adorned with a crown
cleverly placed at 12 o'clock.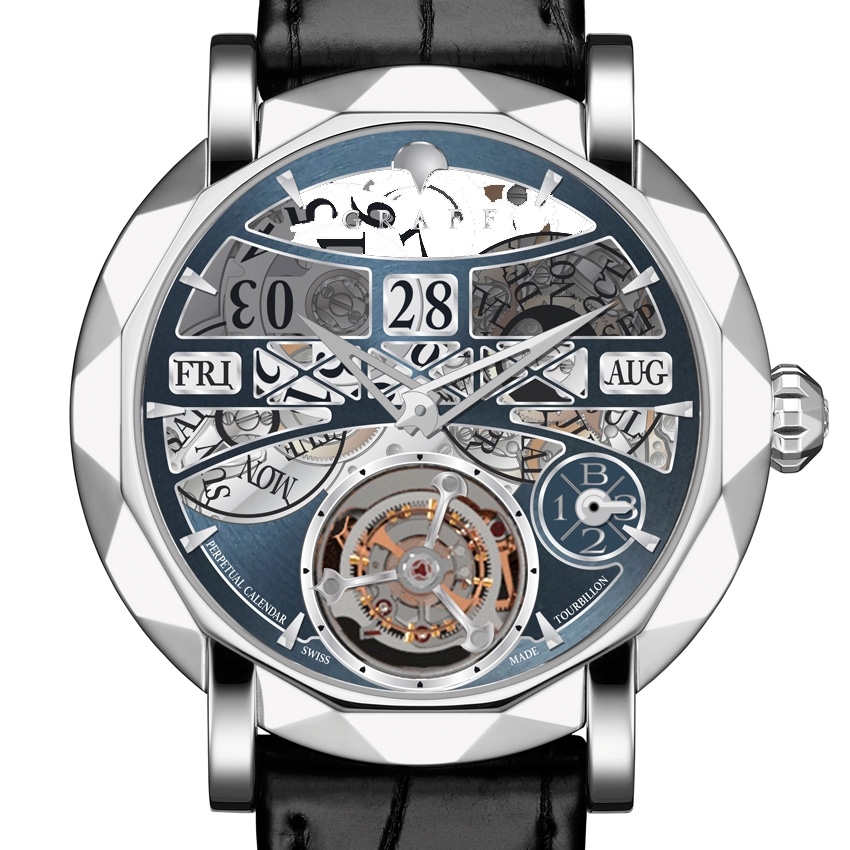 GRAFF DIAMONDS MasterGraff Perpetual Calendar watch
Intricacy and transparency characterise the movement and the entire watch to ensure a powerful visual impact. The skeletonised Calibre 7 allows the automatic winding system with micro-rotor to be clearly viewed. The dial alternates openwork and translucent windows to create an even more powerful aesthetic.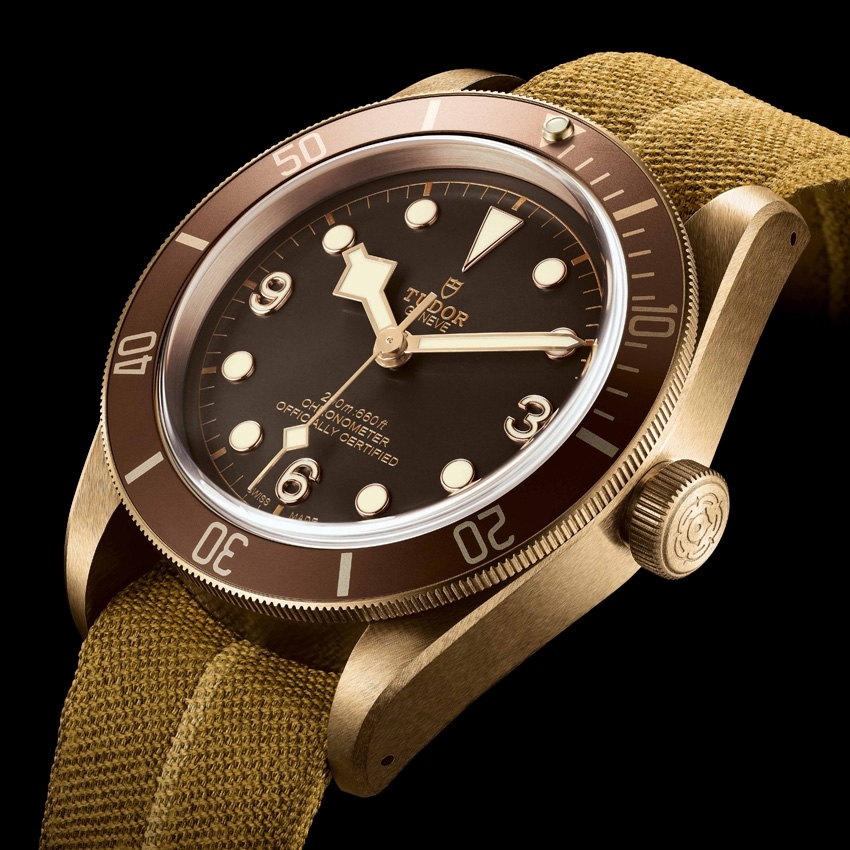 TUDOR Heritage Black Bay Bronze watch
This piece inherits the most characteristic elements from Tudor's eloquent history in dive watches: the domed crystal, the prominent winding crown from the 1958 model, dubbed Big Crown, the angular "snowflake"hands from the 1970s, and the beige woven jacquard strap, a nod to the French sailors who made their own
straps from elastic recovered from rescue parachutes. The bronze case is a reminder of the bronze used for the helmets in the heroic early days of diving.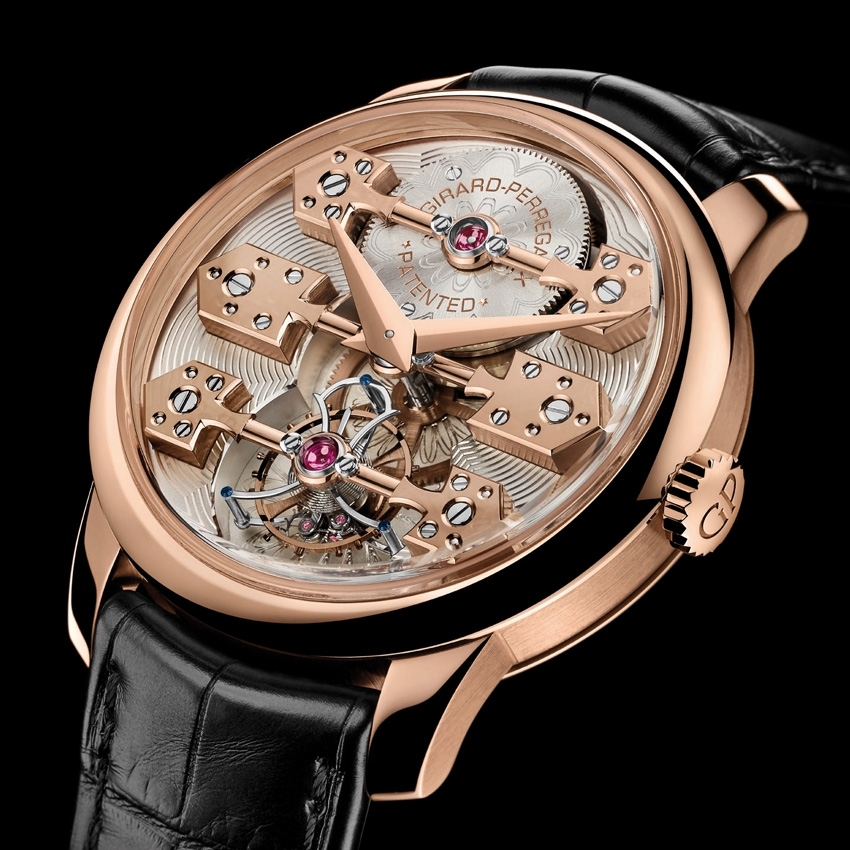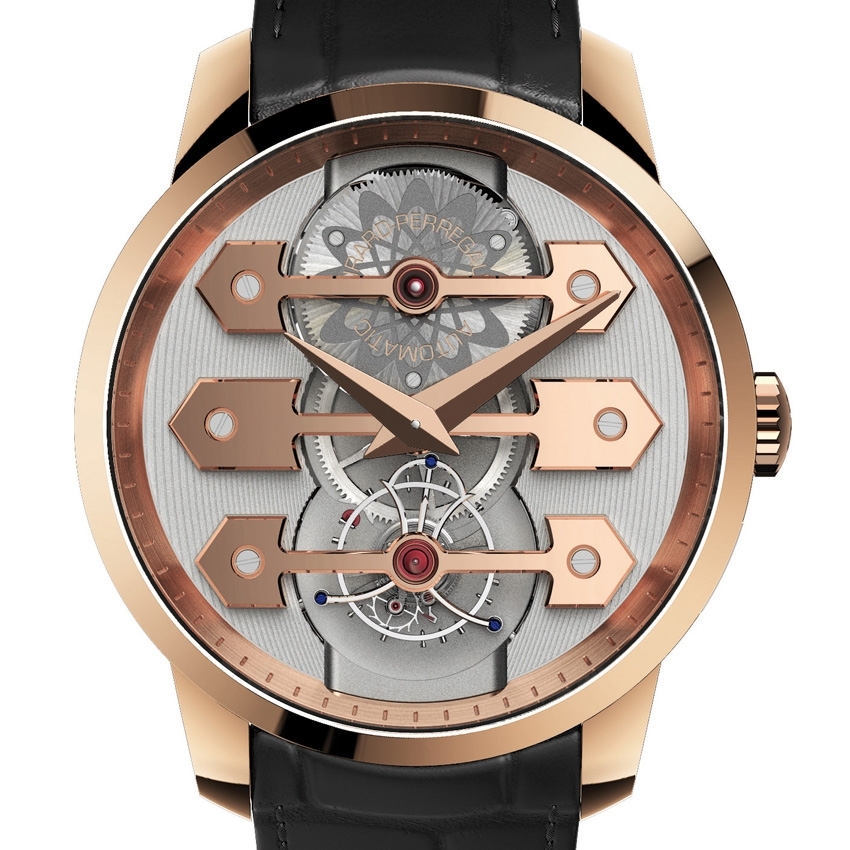 GIRARD-PERREGAUX La Esmeralda Tourbillon watch
Distinguished by a Gold Medal at the Paris World Fair in 1889, the La Esmeralda pocket chronometer secureda place in watchmaking history for the refinement of its architecture, its precision, and for theincomparable quality of its finishing. The La Esmeralda Tourbillon transposes these qualities to the wrist, as a version of the Tourbillon with Three Gold Bridges which has come to represent the extraordinaryexpertise cultivated by the Manufacture Girard-Perregaux.
CARL F. BUCHERER Manero Peripheral watch
With the automatic movement equipped with a peripheral oscillating weight, the watchmakers of the Lucerne-based company achieved a major breakthrough in the field of technical innovations. For the first time, Calibre A2000 is now associated with the Manero collection, synonymous with Grand Complications. An evolved version of this latest movement, the CFB A2050 calibre also features a small seconds display at 6 o'clock.