The fascinating Swiss Manufacture L'Epée 1839 is now introducing two new limited editions : B4 and B5 – respectively the fourth and fifth, final editions of Balthazar.
Unlike Star Wars' robots, these new editions may not be fluent in six million forms of communication, but they can indicate the moon phase with extreme accuracy: all he needs is a single day of adjustment after 122 years! They will also unfailingly tell you the time.
Whether you absolutely love, moderately appreciate or just hate the Star Wars saga, we all have in common the never-ending search for a hero, says L'Epée 1839, the high-end horological manufacture. For over 175 years, L'Epée has been at the forefront of watch and clock making. Today, it is the only specialised manufacture in Switzerland dedicated to making high-end clocks.
L'Epée's hero is without a doubt a robot from Tatooine – an adventurer despite himself, who lost an arm on the battlefield and was built by Anakin himself: C-3PO. Inspired by this gold humanoid robot, L'Epée has developed a very special gold edition of Balthazar: 'B4', limited to 20 pieces. His brother, straight out of the dark side, Balthazar B5, features a fully black PVD armor and a light palladium-plated movement. The balance between light and dark side is respected.
Balthazar B4 and B5 are respectively the fourth and fifth, final editions of Balthazar: after blue, black and green editions, the B4 / B5 limited editions are now fully gold plated, from head to toe and fully black (except movement that couldn't be PVD due to technical reasons).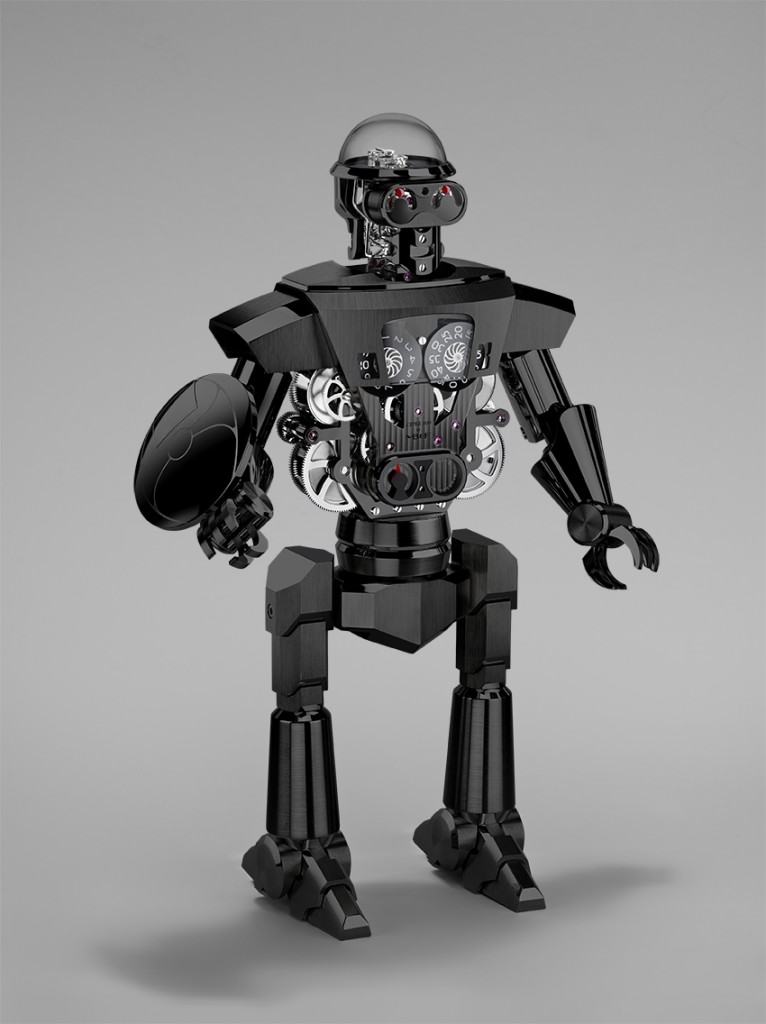 Standing nearly 40 centimetres tall (16 inches), Balthazar is composed of 618 beautifully finished, micro-engineered components. More
specifically, Balthazar is a sophisticated high-precision robot clock displaying "slow" jumping hours and trailing minutes via two discs on
his chest. A power reserve indicator is located on his belly – he boasts an impressive month-busting 35 days of power reserve. His
friendly face may seem serene, but he remains nonetheless always on guard: his red eyes, which continually scan the surroundings, are
actually 20-second retrograde displays.
But beware, says its creator – L'Epée 1839, … there is also a dark side to Balthazar, as there is in all of us.
Balthazar rotates around the hips like the high-precision machine that he is; you can feel the miniscule bumps of each micro-roller as he turns, and each distinct notch when he rotates the full 180°. Then everything changes: smiling Balthazar becomes rather terrifying. To  quote another Star Wars figure, the infamous Darth Vader: "If you only knew the power of the dark side."
On this side, the nature of Balthazar's darkness is revealed by the cold hard skull with menacing teeth and deep-set ruby-red eyes.  Fortunately, it's not all threat here as Balthazar's chest also contains the moon phase display. You can adjust the moon phase manually,  providing one of many of Balthazar's tactile pleasures.
Balthazar does more than display horological events: as well as rotating around the hips, his arms articulate at both the shoulders and
the elbows, and his hands can clasp and hold objects.