Command Star Wars Inspired Show Vehicles in the unique experience using hand gestures alone.

Nissan has collaborated with Lucasfilm to create seven unique, Star Wars: The Last Jedi inspired Show Vehicles geared up with laser cannons, s-foils, thrusters and more.
Fans can now take control of the Nissan-created "Star Wars: The Last Jedi"-inspired show vehicles using the gesture-based 'Command Your Craft' experience. The 3D experience recognizes and responds in real-time to hand gestures.
At the start, users must choose their path – the Resistance or First Order. Those who join the Resistance will meet the 2018 Nissan Rogue – Poe Dameron's X-wing with BB-8. First Order sympathizers are met with the 2018 Nissan Maxima – Kylo Ren's TIE Silencer. Once the vehicle is presented, hand gestures are used to summon, raise and rotate the vehicle on screen.
Command Your Craft is possible through the magic of Google's TensorFlow, an open-source software library trained to recognize images and categorize them accordingly. Find this first-of-its-kind use of this technology only at NissanUSA.com/StarWars.

SPECIAL FORCES TIE FIGHTER
This 2018 vehicle features custom body enhancements – like the stand-out cockpit window that brings the multi-paned look of the Special Forces TIE fighter to the Altima's windshield. Custom wheels, a full-body wrap as well as speakers at each corner recreate the iconic TIE Fighter look, feel and blaster sounds, creating a realistic sense of motion. Each wheel features the centerpiece of a TIE Fighter wing applied through a hydro-dipping process.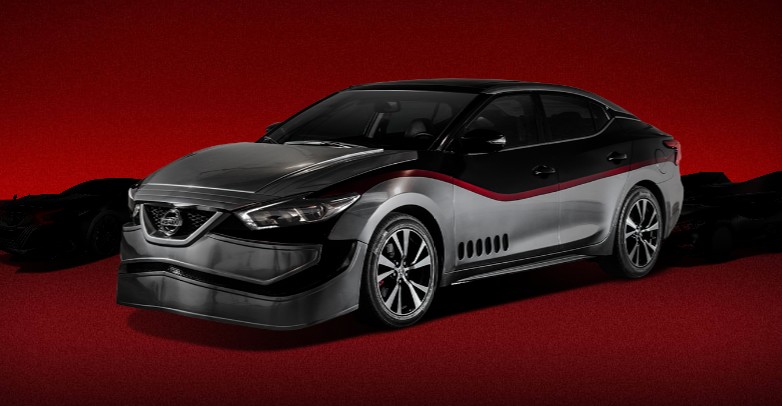 CAPTAIN PHASMA
Also joining the ranks of the First Order, the Captain Phasma Maxima is covered in high-gloss silver armor, and bears the unmistakable mask of this strong female character. The fascia and hood are each hand-crafted from aluminum, and a red accent line runs the length of the car furthering its intimidating look with ground effects. The Captain Phasma Maxima is also a  celebration of female strength and ingenuity, as the engineer, designer and director on this team are all women.

KYLO REN'S TIE SILENCER
Engineered for speed and astute handling, this Nissan Maxima replicates Kylo Ren's TIE Silencer – a new crafts to appear in Star Wars: The Last Jedi. This one-off TIE Silencer is customized to Kylo's specifications with laser cannons and missile launchers affixed to the vehicle's distinct wings, which stretch the entire length of the car. Crimson lighting in the grille as well as underneath grant this concept car an amazing true-to-life feel. Sound effects pulled directly from the film launch this craft to the next level – blurring the lines between fantasy and reality.

AT-M6
Considering the AT-M6 is the largest vehicle in the First Order's arsenal for Star Wars: The Last Jedi, Nissan fittingly created its show car replica with a Nissan TITAN – the biggest vehicle in Nissan's fleet. This show truck features a massive mega caliber cannon affixed to its back, and a custom body wrap reminiscent of the film's massive First Order walker. Wheels with hydro dip graphics mimic the walker's leg joints, and a 1-foot lift kit adds to its destructive appearance. A custom sound system mimics the walker's ground-stomping movements, and an 18-inch bed-mounted subwoofer with companion surround sound produces a planet-thumping 5,000 watts – capturing the reverberation of a First Order Walker.

KYLO REN
Drawing on the Maxima's aggressive design, the Kylo Ren show vehicle has been transformed into an intimidatingly sinister sedan. Using a single block of milled aluminum, Nissan's designers merge Kylo Ren's signature black and silver facemask with the Maxima's V-motion design. A custom front lower spoiler, impactful hood and sleek body are coated to exacting character color-matching specifications. Completing the craft is a set of red signature headlights and underbody lighting designed to pulse at random – similar to Kylo Ren's cross guard lightsaber.