'Best Cheese in the World': Bavarian Blue tops 2013 World Cheese Awards.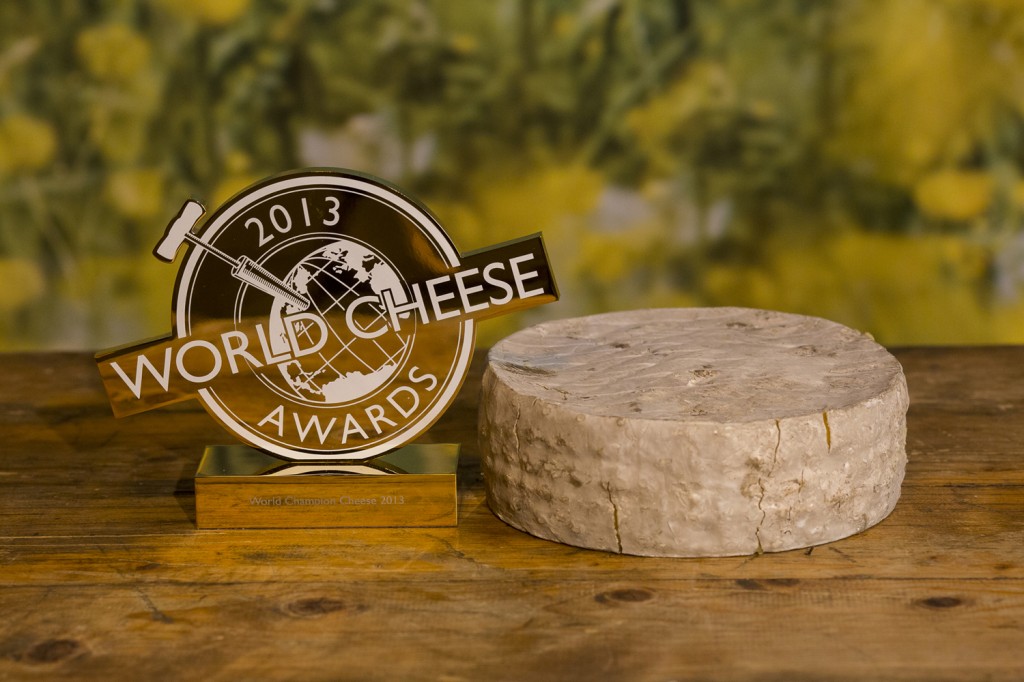 Creamy blue Montagnolo Affiné made by Kaserei Champignon in Bavaria was awarded World Cheese trophy. The cheese beat two English Stiltons that had made it into the final 15 out of more than 2,700 entries in this year's awards, staged on at the BBC Good Food Show in Birmingham.
It is the first time a German cheese has taken the top prize in the 25 year history of the World Cheese Awards, which is run by the UK's Guild of Fine Food and is the biggest international competition of its kind.
More than 250 cheese experts gathered at the NEC to whittle 2,777 entries down to just 58 'SuperGold' cheeses in the space of a morning's judging, as well as awarding bronze, silver and gold medals to nearly 700 well-crafted cheeses. The SuperGolds were then re-tasted by a panel of 16 expert judges representing 13 nations, including Australia, France, Mexico and the US before they voted to select the Supreme Champion.
David Gremmels of Rogue Creamery in the USA, one of the final judges, described the Montagnolo Affiné as "a brilliant blue". "You get a sweet, creamy flavour, a medium spiciness from the blueing, and the rind melts beautifully into the paste."
Louis Aird of Canada's Saputo Dairy Products said it was a blue for people who don't think they like blue cheeses. "We are blue cheese producers ourselves, and I would love to be able to make a blue like this. As soon as I put it in my mouth I thought, 'Wow, this is a champion'.''
Third place this year went to a Le Gruyère AOP Premier Cru from Cremo Von Muhlenen, which was just one point behind Montagnolo Affiné in the final voting. Le Gruyère AOP is the only cheese to have topped the World Cheese Awards on three occasions.
However, the hopes of the organisers were totally cheesed off when the organisers claimed a new Brussels directive prevented Japan, South Africa and Brazil from competing in the Olympics of cheese, says Tim Hampson, one of the judging panels for this year's World Cheese Awards.
Controversy surrounded this year's awards after the Guild of Fine Food, was refused permission to bring in cheeses from countries including South Africa, Brazil, and Japan, apparently on public health grounds.
Despite this, 2013's competition attract a near-record level of entries, with 79% coming from overseas.
 Best Cheeses of the world – World Cheese Awards 2013:
Best Le Gruyère AOP – Gruyère Premier Cru – Cremo SA – von Mühlenen
World's Best Unpasteurised Cheese – Gruyère Premier Cru – Cremo SA – von Mühlenen
Best USA Cheese – Chevre Up in Smoke – Rivers Edge Chevre
Best British Cheese – Blue Stilton – Colston Bassett Dairy
Best Canary Island Cheese – Pastor Isleño curado Pimentón – Grupo Ganaderos De Fuerteventura S.L
Best Australian Cheese – Bellingham Blue – Berrys Creek Gourmet Cheese
The Artisan Cheese Exchange Trophy – Best USA Cheese – Chevre Up in Smoke Rivers Edge Chevre
Best Central & Eastern – European Cheese – Dinarski sir – Sirana Gligora
Best New Cheese – Grand Noir – Elite Imports Limited
Best Welsh Cheese – Extra Mature Cheddar – Creamery – Sweeter Flavour No 1 – Arla Foods Llandyrnog Creamery
Best French Cheese – St Mont des Alpes – Monts & Terroirs Entremont Renard Gillard
Best Italian Cheese – Caciocavallo Stagionato in Cantina di Pietra – Caseificio Di Nucci
Best Spanish Cheese – Cancho Roano – Queseria Tierra De Barros S.L.
Best Irish Cheese – Yeats Country Mascarpone – Green Pastures Donegal
World Cheese Awards Exceptional Contribution to Cheese – Eurwen Richards
Big Cheese Challenge – Le Gruyère AOP Best Cheese Counter – Andy Swinscoe The Courtyard Dairy