The pinnacle of chic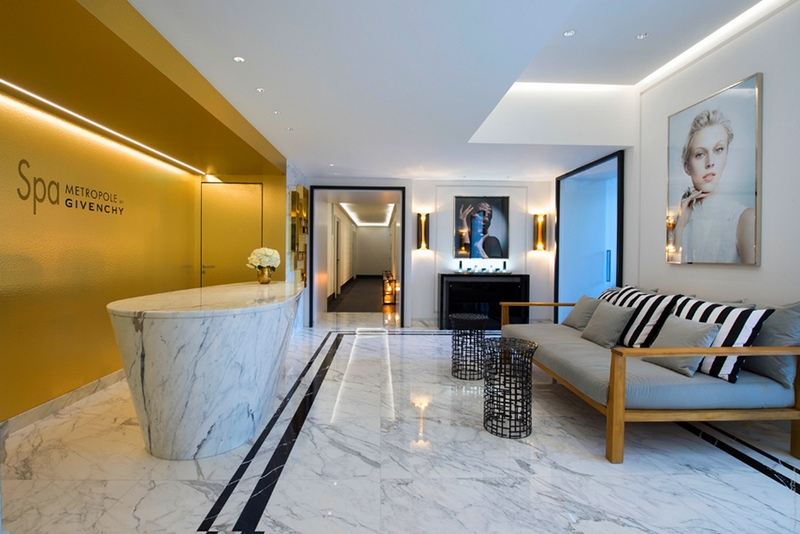 For over 20 years, Givenchy Spas have shared the same philosophy: exceptional locations, selected for their exclusivity; treatment rooms designed to reflect the House's distinctive and elegant style and to suit the architecture of each hotel; carefully selected staff and personalised treatments conceived as veritable rituals of pleasure.
In collaboration with Givenchy Fragrances & Beauty, the Hotel Metropole Monte-Carlo announced the opening of the new Spa Metropole by Givenchy which perfectly embodies the same philosophy shared in the House's venues: exceptional location, luxurious spaces, sophisticated care treatments, and absolute pleasure and well-being.
The result of scientific research and advanced formulas, Givenchy skincare products such as Le Soin Noir, Hydra Sparkling and L'Intemporel combine sensoriality and cutting-edge technology to meet the specific needs of each skin type. L'Atelier de Givenchy, the Haute Parfumerie collection combining fragrance and couture in unison, can be discovered in exclusivity at the Spa Metropole by Givenchy.
Founded in 1952 by Hubert de Givenchy, the House of Givenchy has created elegant and singular designs for over 60 years. In 1957, the Maison launched L'Interdit, a fragrance initially intended for the designer's close friend and muse, Audrey Hepburn, signalling the birth of the Givenchy Parfums company. Other notable fragrances followed as well as cosmetics, with skincare and makeup lines starting in 1989.
Composed of lush ingredients, Givenchy perfumes are timeless classics that assert the wearer's individual style. Each creation offers a unique olfactory signature that leaves behind a memorable impression.
Created by Givenchy's Artistic Director for Makeup and Colours, Nicolas Degennes, the Givenchy Le MakeUp range has one mission: enable women to enhance their natural beauty. With innovative formulas, vibrant colours and Couture-inspired packaging, Givenchy makeup embodies a resolutely modern and distinctive style of luxury.
Ideally situated in the Carré d'Or, within walking distance of the Casino, Hotel Metropole Monte-Carlo overlooks the Mediterranean Sea. The sumptuous Belle Epoque property was built in 1889. It was fully renovated in 2004 by famous French designer Jacques Garcia, who transformed it into a palace of 126 rooms and suites.
Three restaurants, run by Joël Robuchon and Christophe Cussac, offer a unique and varied culinary experience for the discerning palate. With two Michelin stars, "Restaurant Joël Robuchon Monte-Carlo" specialises in refined dishes with Mediterranean flavours. "Yoshi", Joël Robuchon's only Japanese restaurant in the world, has one Michelin star and offers traditional Japanese cuisine in a bold and contemporary setting designed by Didier Gomez.
Finally, Joël Robuchon's third restaurant "Odyssey" unveils its charming setting by the pool, with an Haute Couture décor designed by Karl Lagerfeld, and a menu inspired by the Mediterranean that celebrates fresh seasonal produce and light cuisine.
For dinner, starting May 24th, Italian Chef Heinz Beck will exercise his talent at Odyssey, haute couture restaurant designed by Karl Lagerfeld.