Techrules turbine-recharging EV supercar production design to be unveiled at 2017 GENEVA MOTOR SHOW.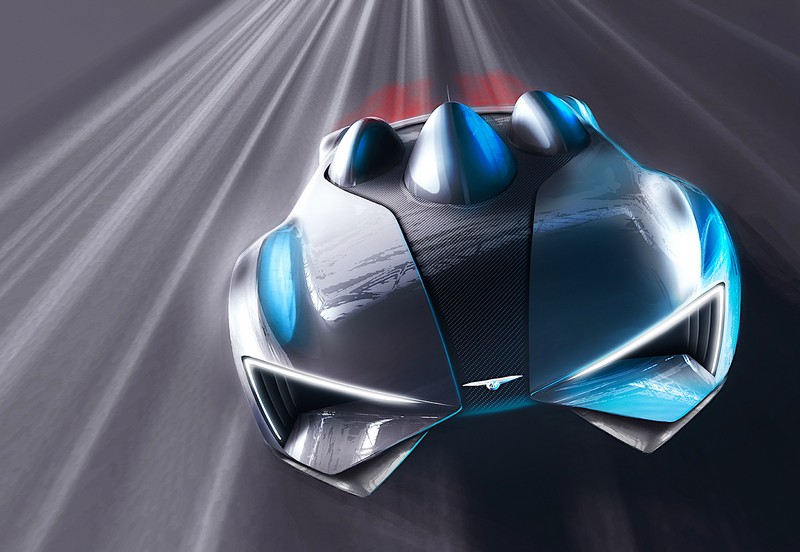 Chinese automotive research company Techrules reveals aerospace-inspired design details of its production supercar, set to debut on 7 March 2017 at the 87th Geneva International Motor Show.
This latest rendering reveals how the China-based automotive R&D company will combine its innovative proprietary Turbine-Recharging Electric Vehicle (TREV) powertrain with a dramatic, aerospace-inspired design crafted by world-renowned automotive designers, Fabrizio and Giorgetto Giugiaro. Techrules new concept includes the futuristic front laser headlights and 'star-burst' reversing LEDs and integrated rear-view cameras.
Form follows function with modular design and technical elements that provide various configurations around the centrally-positioned driver. A theatrical arrival at any destination is assured, with occupant entry and exit enabled by the fighter jet-style canopy dramatically rising from the body. The aircraft-inspired cockpit is designed to provide occupants with exceptional visibility and are finished with premium quality materials.
The chassis is engineered to the highest standards by international motorsport specialist, L.M. Gianetti. Using top-grade components, Techrules' advanced supercar will deliver a unique blend of ultimate performance, brutal power and unparalleled efficiency from its innovative powertrain.
The new design showcases distinctive Techrules styling characteristics and technology that will be seen across a family of models in the coming years.
"We have been working tirelessly with the Giugiaro team on the design of the GT96 for many months, and it will be a proud moment when we present the production design of China's first supercar in Geneva in March. Our dream of seeing turbine-recharging electric vehicles on the roads is getting closer to reality," said Techrules CTO Matthew Jin.

Techrules' engineering and production partner L.M. Gianetti will handle production of up to 25 units per year beginning in late 2017 at its facility in Turin, Italy. The track model will be made first, with a fully homologated road version and other yet-to-be-revealed TREV cars in other market segments set to follow in later years.
"Because turbines have always been a very inefficient way to convert chemical energy into useful wheel turning mechanical energy, only a few have tried to use a turbine in the powertrain system, and none have ever succeeded commercially," said Jin, quoted by autocar.
"But, with electric vehicles, an electric motor is used to drive the wheels, which effectively frees the combustion engine to exclusively convert chemical energy into mechanical energy and finally into electric energy. This is a major breakthrough, making it possible for us to use the highly efficient turbine engine as a superb range extender on our vehicles."
Techrules is a subsidiary of Txr-S, a research and development as well as an investment company which has other subsidiaries operating in the fields of bearing engineering, electromagnetic engineering, powertrain development, bioenergy and aerospace.