The champagne house continues its artistic reinterpretations with Jaume Plensa.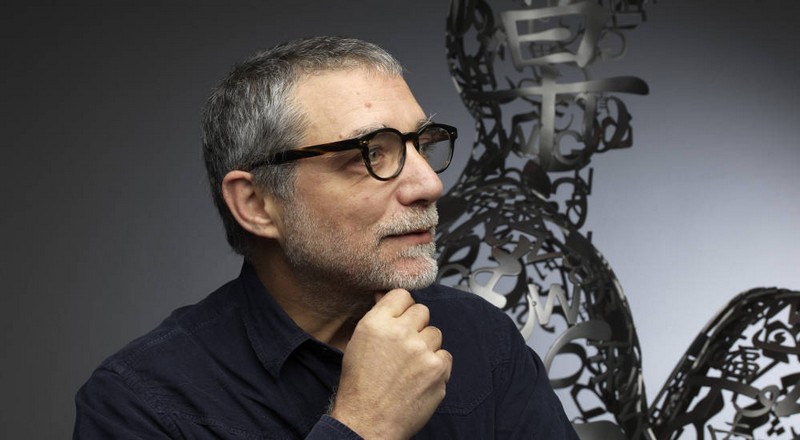 You can't spell Ruinart without 'art'. Ruinart chooses sculptor Jaume Plensa for new artistic reinterpretation.
Catalan sculptor Jaume Plensa is known for his exploration of the relationship between the words and the body. His silhouettes of seated or kneeling human bodies are composed of letters. After working with Erwin Olaf, Hubert Le Gall, Georgia Russel, Piet Hein Eek and Maarten Baas, Ruinart continues its artistic reinterpretations.
The Catalan sculptor presented his vision of the Maison with a tribute to the work of Dom Thierry Ruinart, the scholarly Benedictine monk and uncle of founder Nicolas Ruinart.
Ruinart has always had a special relationship with art, an affinity that dates all the way back to 1674, when Thierry Ruinart became "Master of Arts" at the age of just 17. He published an impressive number of works in Latin and French, some of which became references. Artistic reinterpretations between the celebrated Champagne house and artists began in the 19th century when Ruinart called on the talent of art deco illustrator Alphonse Mucha in 1896.
The work he created for Ruinart is a sculpture that deconstructs the polyglot works of Dom Thierry Ruinart, combining signs and letters from eight different alphabets. Each stainless steel letter has been assembled by hand, imparting a soul to this silent witness, anchored in the ground like the vines…or like Dom Thierry Ruinart's deep roots in Champagne.
The artist has also created a new box for the Ruinart Blanc de Blancs in a limited edition of just 20 units. The frame of the box lets light through to reveal a magnum of Ruinart Blanc de Blancs, an homage to the sparkling brilliance of Chardonnay, the legendary grape celebrated by Ruinart.
Jaume Plensa has received numerous national and international distinctions, including the Medaille de Chevalier des Arts et des Lettres, awarded by the French Ministry of Culture, in 1993, and the Government of Catalonia's National Prize for Fine Art in 1997. In 2005, he was invested Doctor Honoris Causa by the School of the Art Institute of Chicago. In Spain, he received the National Prize for Fine Art in 2012 and the prestigious Velázquez Prize for the Arts in 2013.
Actually and until late September 2017, the MAMC-Musée d'art moderne et contemporain, Saint-Étienne Métropole, shows Plensa's latest works.