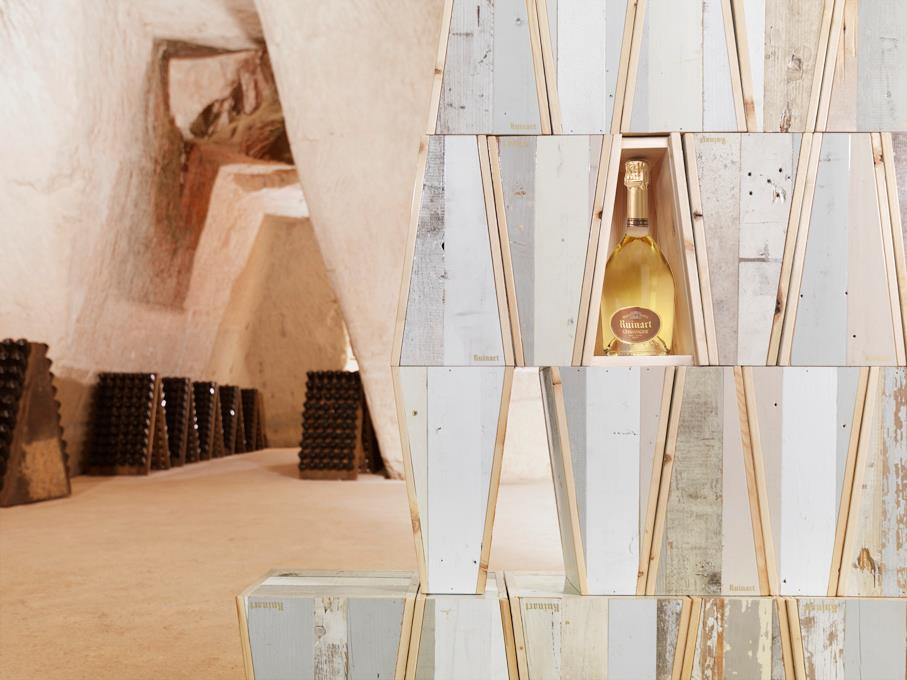 The champagne boxes are the playground of many designers. Closely involved with Contemporary Art, Ruinart, the oldest established Champagne house, gave carte blanche to Dutch artist Piet Hein Eek to reinvent the box for its Blanc de Blancs champagne, Ruinart's golden nectar.
Inspired by Ruinart's history, Piet Hein Eek created individual wooden cases for each bottle, made entirely in his workshop. The wood chosen for the bespoke creations is a disregarded wood, considered imperfect by the industry. The result is a new breed of geometric and ecological marquetry. Individually signed and numbered, the Ruinart Blanc de Blancs were integrated in an imense arch sculpture made from the same recovered wood.
Vaulted like Ruinart's cellars, Piet Hein Eek's champagne sculpture is an homage to the chalk cathedrals that protect the champagne bottles.
Ruinart's artistic collaborations include: India Mahdavi's "Champagne Spoon" bottle stopper created in 2006, Christian Biecher "Flower" bottle stopper (in 2007), Patricia Urqiola's "Fil d'Or" bottle stopper (2010). Maarten Baas, named "Designer of the Year" at Art Basel Miami 2009, created the "Bouquet de Champagne" in 2008 and the "Melting" ice bucket in 2010.