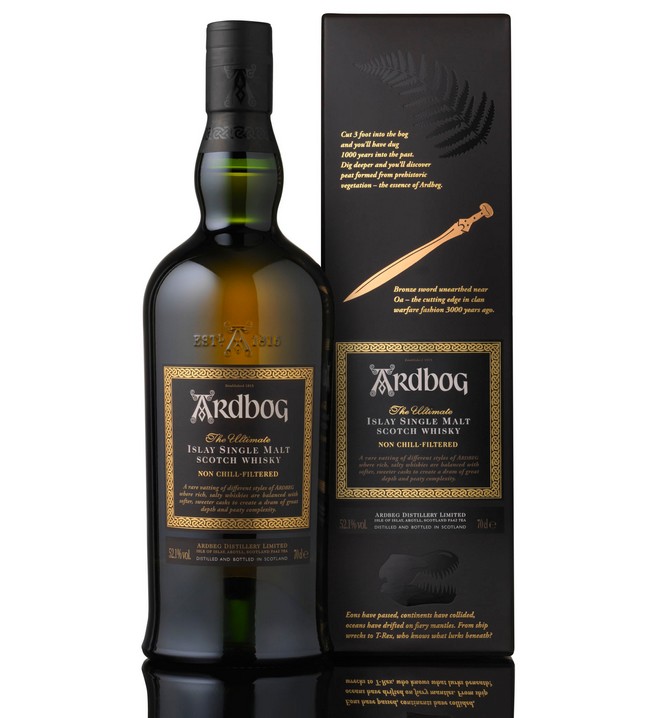 Every year from the end of May through early June, the Scottish island of Islay welcomes hundreds of Scotch-lovers for its Festival of Malt and Music. This weeklong tribute to everything whisky culminates in Ardbeg Day when the distillery opens its doors to Ardbeg lovers from around the world. Recognizing that not all Ardbeg fans can make the pilgrimage to the Land of Peat, last year Ardbeg launched Ardbeg Day celebrations worldwide along with a limited edition Ardbeg Day bottling.
For 2013, Ardbeg launches the newest limited edition release – Ardbog, honouring the peat bogs of Islay! and renames the open doors event in "Ardbog Day". Crafted from ex-Manzanilla matured Ardbeg and bottled at 52.1% ABV, Ardbog is expected to be as well-received as last year's Ardbeg Day and Galileo, which each won impressive accolades from the 2013 Jim Murray Whisky Bible and the 2013 World Whisky Awards, respectively.
Ardbog's aroma is a mix of deep, enticing waves of pecan nuts, salty toffee & caramels, fudge, leather and a distinct whiff of herbs, lavender and violets. The smoke is soft and aromatic, and is interwoven with salty, savory notes, like Iberico ham (de bellota) and olives. Some water brings forth herbal, perfumed notes, smoked rhubarb, aged balsamic vinegar and some salty, 'graphite' notes reminding you of the Manzanilla cask element.
Ardbog tasting notes bring a powerful, salty, savory burst of flavors – salted cashews and peanuts, clove, aniseed flavored toffee, green olives and a curious hint of anchovy.