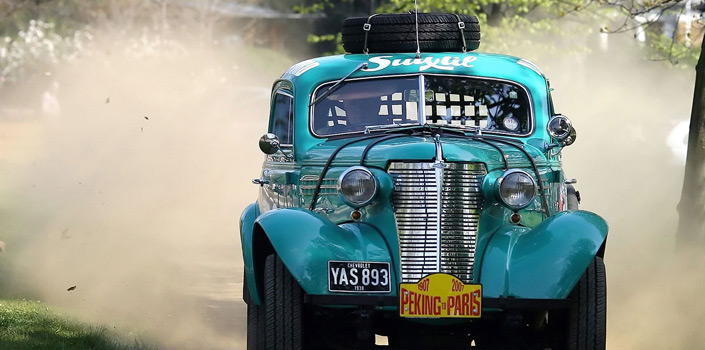 Billed as the greatest motoring adventure, the fifth Peking to Paris Rally started from China's capital on 28th May with the goal of crossing the finishing line on 29th June. Organised by the Endurance Rally Organisation (ERA), 96 cars from various eras and manufacturers (Jaguar, Mercedes-Benz, Ford, Bentley, Citroen, Moskvitch and so on), representing 26 countries, will travel half way round the world in just 33 days before arriving in Paris.
The Peking to Paris Motor Challenge route is 8,000 miles driving half way around the world, taking in China, Mongolia, Russia and the Ukraine before entering Europe, with no less than 1,000 kilometres of competitive driving over 53 Time Trials. The cars were flagged away from the Great Wall of China, on May 28th and hopefully parading down the Champs Elysee in the centre of Paris to finally park up in Place Venodome on June 29th.
First car away is the 14 litre La-France, a chain-drive monster, built in 1912, driven by Ingo Strolz and Werneer Gassner from Austria. From the Great Wall the cars begin the arduous climb to the Mongolia plateau, where the real adventure begins, and where navigation becomes a challenge as crews head west through the fringes of the Gobi Desert and out into the vast Mongolia wilderness.
Thirty three days later the "survivors" will drive through the streets of Paris with girls on roller-skates escorting the cars across traffic-lights and roundabouts to Place Vendome, opposite the Ritz Hotel, where the square has been specially closed off for the finish.