The coolest L.A. girl, Jennifer Lawrence, bursts with shine and unlimited colours to reveal her new lip addiction: Dior Addict Lacquer Stick. Jennifer Lawrence is revealing a Los Angeles that's as color-saturated as the new lipstick's palette.
Dior Addict Lacquer Stick is the new-generation lacquer by Dior. It is as easy to apply as it is to wear. A stick with a "lip fondant" effect demonstrates all the colour and shine of a lacquer, plus the comfort of a balm, with 6 hours.
Through the lens of photographer David Sims, the face of Dior is eye-catching in her glitter dress, her lips lacquered in Turn Me Dior red by Peter Philips.
"For this new generation of lacquers, I wanted the comfort of a hydrating balm without compromising on colour intensity and shine. All this beauty can be found in one stick: our Dior Addict Lacquer Stick," said Peter Philips, Creative and Image Director for Dior Makeup.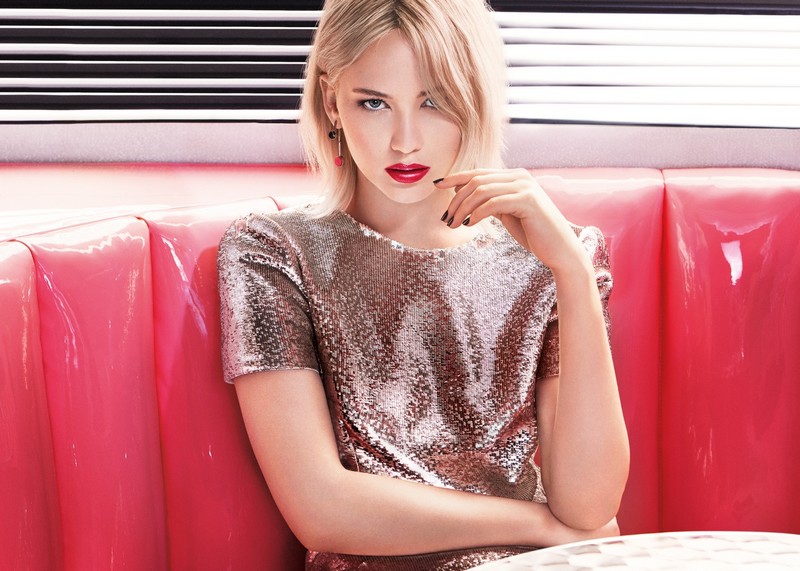 Peter Philips creates the season's four color trends as echoes of the four Los Angeles ambiances that have inspired him. First the Pastel trend, in which shades of pink, lavender, coral or peach nod to Melrose in the Fifties. The Néon pop colors evoke the cool energy of the city's heart. Comprising variations on the color associated with that most iconic of Hollywood carpets, the Classic red shades have a timeless elegance, as displayed by the Turn Me Dior raspberry red worn by Jennifer Lawrence in the campaign. Lastly, the almost grunge Wild shades revisit Nude by infusing it with brown, red and pink.
Adopt one of the season's 4 trendy looks: lacquer your lips in Turn Me Dior 877, a pure, almost carnal, raspberry red; or with Diabolo 684, a shocking neon pink; Sauvage 924, a wild chocolate that is striking on  the skin; or why not Tease 550, an effortlessly chic pink pastel.
The extreme shine procured by the "Lacquer cocktail" is an exclusive Dior mix of 5 of the shiniest, ultra- light oils, along with nourishing and long-wearing beeswax.The intense colour in one sweep of the stick with an almost crystalline base, 44% sheerer than a classic lipstick,for colour with unprecedented brilliance.
The "lip fondant" texture effect is derived from a new, softer and slower process of pouring the stick for a deliciously fondant core and a "liquid" shine effect.