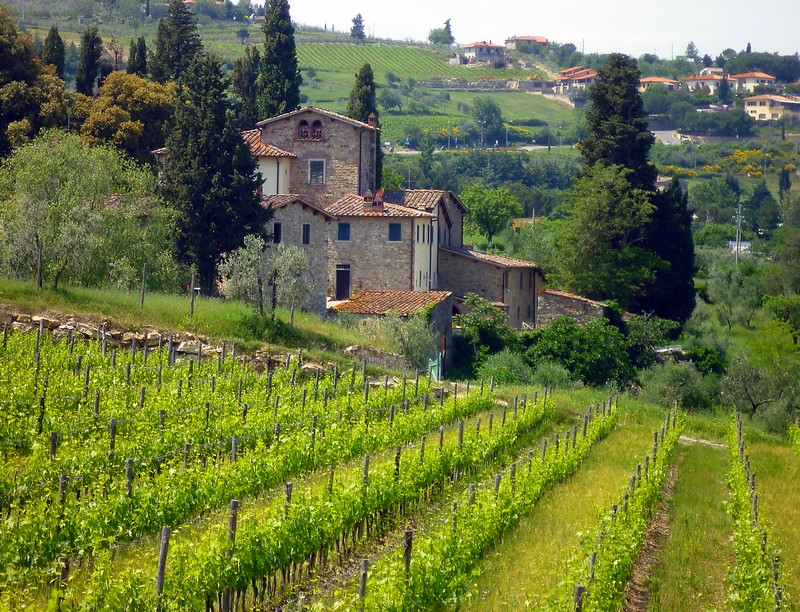 ---
This article titled "Romancing the bottle" was written by Jancis Robinson, for The Observer on Sunday 14th February 2016 10.00 UTC
What could be more romantic than a wine trip? A friend once went to enormous lengths to propose to his inamorata in an ideally bucolic setting. Napa Valley was the chosen location. No wine region offers a more attractive combination of glorious scenery, sophisticated restaurants and wineries that set their cap artfully at the visiting tourist.
The denouement of their trip was dinner at the world-famous French Laundry, where Thomas Keller's staff serve a multi-course tasting menu accompanied by handpicked wines. My friend had arranged that a waiter would suggest to them halfway through that they might like to take a turn in the garden. He proposed and his girlfriend said yes – the only problem was that the last thing she wanted to do was plough through endless more food and returning to the table was a bore. "I told the maître d' I'd got engaged," she said, "but he was so uninterested. Maybe people get proposed to there all the time."
My friend, 11 years on, remembers exactly how much the dinner cost: $897. Also that in the early hours of the morning the bride-to-be was violently sick. The truth is, "the Valley" is not a dream destination for romance. So popular is wine tourism that the traffic on its main artery, Highway 29, can be bumper to bumper in summer. And for anyone who has dropped in on welcoming cellar doors in Australia and New Zealand, the fact that many Napa Valley winery visits need to be booked – often at more than $50 a person – comes as a shock.
When it comes to travelling, the combination of wine and food can be a passion killer. The most deliberately romantic destination my husband Nick and I ever chose for a trip à deux was Alsace, the absurdly pretty wine region in the lee of the Vosges that combines French cuisine with half-timbered Germanic architecture. When we reached our hotel, carefully chosen on the strength of its restaurant's reputation, we discovered the chef had left the previous week. Miles from anywhere, in a forest, we now had little to look forward to but a long-planned dinner at the region's three-star restaurant, the Auberge de l'Ill. On the day itself Nick was feeling increasingly queasy – and as our neighbour at the next table was a German pipe smoker, he turned as green as the frog's leg soup.
If you're planning a romantic trip, in other words, I'm not sure that luxurious, ambitious food to which you are generally unaccustomed is ideal. Enjoying the good things with the love of your life shouldn't mean turning dining into a chore or being forced to waste the next day on a hangover. With the benefit of hindsight and experience, I would suggest Italy as a less gastrically challenging destination. The food is not rich but revitalising, and based on healthy raw ingredients. Venice and Rome may be clichéd for lovers, but quieter villages, towns and cities offer scope for beautiful meandering, and possibly uplifting cultural stimulation. Two wine-related favourites of mine are Verona in northeast Italy and Noto in southeast Sicily.
For romance to blossom you want some seclusion in, ideally, a stunning setting. Hotel rooms should be chosen with care, not to say fussiness. (Do not accept the first room you are shown if it doesn't feel right.) For those on a budget – and those who would rather spend their euros on food and wine rather than luxurious city-centre accommodation – I would recommend one of Italy's agriturismos. In the late 20th-century thousands of farmers, many of them vine growers, were encouraged by the government to convert spare buildings into visitors' lodging. Their locations tend to be splendidly private. They are often extremely stylish. And in my experience the Italians' innate hospitality comes into its own.
The estimable Chianti Classico estate Fontodi in Tuscany has two beautiful agriturismo properties on the wine property. Its Tenute di Pecille (Pecille Estates) include a very beautiful farmhouse at the top of the Conca d'Oro overlooking Panzano's famous butcher Dario Cecchini's ridiculously pampered cows. The owners, the Manetti family, are famed for the terracotta tiles they manufacture and even supplied them for the roof of Brunelleschi's famous dome of the Florence duomo. A favourite counterpart in Italy's other most famous wine region, the beautiful hills of Langhe, is the stylish small hotel the Palas Cerequio overlooking Barolo producer Michele Chiarlo's famous vineyard. Great restaurant, too – although it is almost impossible to eat badly in Piemonte.
In all our years of wine touring in Italy, my husband and I have only had one bad experience. In Friuli, staying at an agriturismo, we went looking for breakfast but couldn't find our landlady. Not speaking Italian well enough to communicate with her young daughters, we ended up sharing their breakfast of cellophane-wrapped industrial cakes in a small kitchen – only to discover that the reason their mother was nowhere to be found was that she was busy laying out a feast fit for a food magazine for us outside.
Essentials
For information about agriturismo – holidaying in a farmhouse or vineyard – go to agriturismo.it/en. The Fontodi estate has three agriturismo buildings (tenutedipecille.com). Palas Cerequio (palascerequio.it) overlooks Barolo producer Michele Chiarlo's vineyard
Jancis Robinson's The 24-Hour Wine Expert (Penguin, £4.99) is available from bookshop.theguardian.com at £3.99
guardian.co.uk © Guardian News & Media Limited 2010
Published via the Guardian News Feed plugin for WordPress.