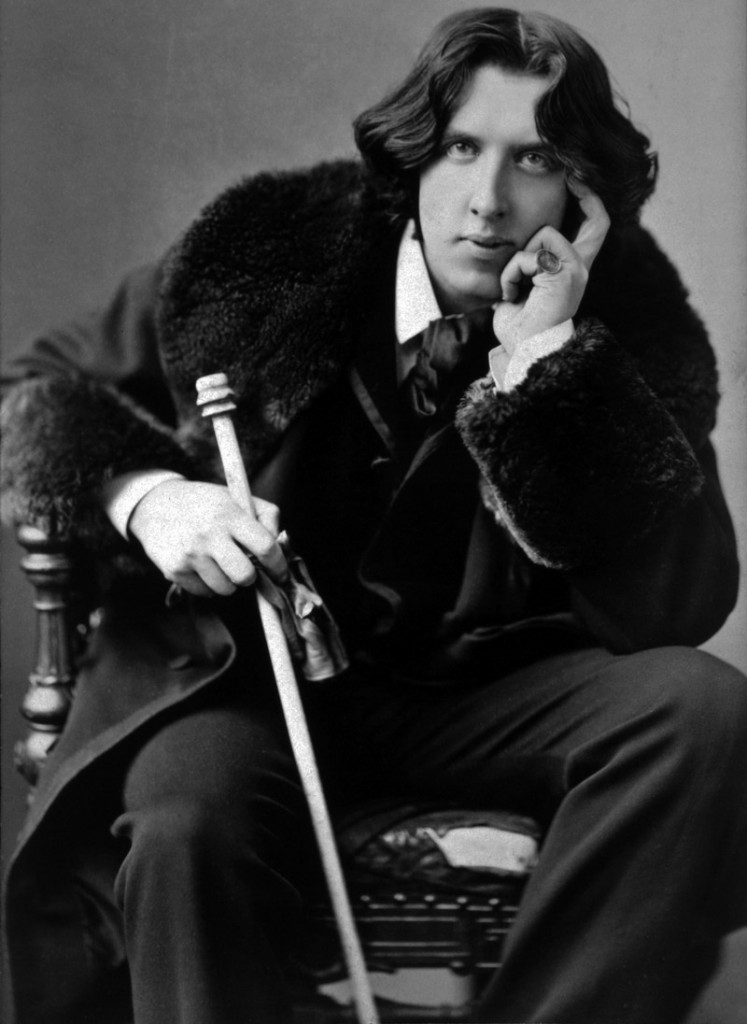 ---
This article titled "Are the 1890s the new 1990s in fashion?" was written by Lauren Cochrane, for theguardian.com on Wednesday 17th February 2016 06.08 UTC
Oscar Wilde's arch gag about fashion – that it is "a form of ugliness so intolerable that we have to alter it every six months" – has, like all of his quips, truth at the heart of it. Fashion's fickleness is essential, as moving things on each season makes us crave, and buy, the new. His bon mots have particular relevance now, however. Not because of the rise of fast fashion, but because Wilde himself is enjoying something of a style moment.
Forget the 1990s revival and, instead, look to the 1890s – the decade when Wilde became a celebrity, wore green carnations, wrote The Picture of Dorian Grey and The Importance of Being Earnest, and ended up in jail. His look was all foppish long hair, velvet, silk cravats, dressing gowns, capes, loads of rings and 10-gallon hats. Anyone who saw the autumn/winter 2016 menswear shows will find all of that strangely familiar.
The resurgence of sportswear from 25 years ago is all very well, but the luxurious decadence of Wildean chic is courting brands from Topman Design (all velvet layers and dressing gowns) to Gucci, where men in pyjamas and smoking jackets were standard on the catwalk and, backstage, creative director Allessandro Michele wore rings stacked on his hands.
Those designers might not be consciously referencing Wilde and his contemporaries (they're more likely to namecheck Insta-friendly 70s rock stars, just as partial to a bit of decadence), but they should be. After all, fashion has drawn on all of the decades of the 20th century to death – so much so that we're now reviving the 90s take on the 70s. The 1890s offer a whole new raft of inspiration when looked at through modern eyes.
Sometimes known as the naughty 90s, or the mauve decade, in reference to the popularity of the colour at the time, this was a decade of radical change – like the 20s or the 60s. Consider Wilde's affair with Bosey, a gay scandal that eventually landed him in jail; Aubrey Beardsley's erotic drawings; the early death and subsequent mythologising of the poet Arthur Rimbaud; the dancers at the Moulin Rouge in Paris and Charlotte Perkins Gilman's proto-feminist short story, The Yellow Wallpaper: plenty to stoke the imagination of fashion's current creatives.
It was also, supposedly, the decade when the term "ritzy" was coined, after the popularity of The Ritz in Paris – so an 1890s revival could be in the post. If JW Anderson has already plundered the leg-o-mutton sleeves, and the Gibson Girl up-dos were recreated by Lagerfeld for couture, a Christopher Kane collection based on the art of Aubrey Beardsley, with tweed jackets and boaters, can only be a matter of time.
guardian.co.uk © Guardian News & Media Limited 2010
Published via the Guardian News Feed plugin for WordPress.