SIHH 2016: Hippologia, the creation of an exceptional clock.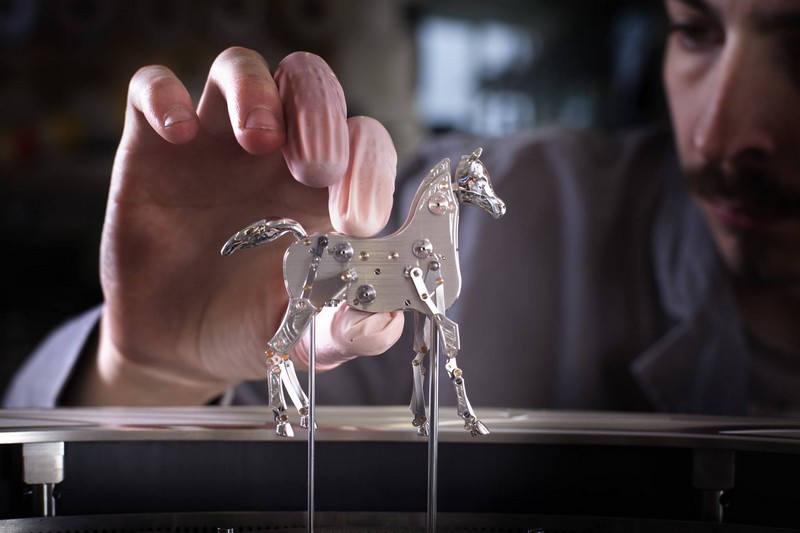 Is it an automaton or a table clock? When the horses start to gallop, the object comes alive, magic occurs and that question is
forgotten. The concept "tempus fugit" (times flies) provides an endless source of fascination for Swiss luxury watchmakers from Parmigiani Fleurier, the creators of an exceptional clock called "Hippologia" presented at 2016 Salon International de la Haute Horlogerie Genève (SIHH 2016). This clock features no less than 2200 components while its base houses two mechanisms side by side, one connected to the automaton, the other to the time display.
In the past, the manufacture has already created many table clocks decorated with sculptures reproducing a dynamic movement. This year, Parmigiani Fleurier wanted to dream bigger and go further with "Hippologia". Because the animal kingdom has long been associated with the history of Parmigiani, through the Maurice-Yves Sandoz Collection, the automaton takes the form of the noble Arabian thoroughbred, the desert horse prized for its courage and endurance. The automaton maker created a solid gold statue of a mare running with her foal. Silent yet larger than life, they move inside an oval glass cabinet representing the desert and its dunes, created by glassware specialist Lalique.
The system which triggers the automaton almost constitutes a third mechanism in itself. It was a year in the making. The window set with white and champagne diamonds shows the hours and minutes over three hours, as well as the scale which can be used to adjust the operation of the automata to the desired time. The mare and her foal are designed as a clock movement showcasing historical watchmaking expertise. The head, tail and hooves are cast in silver and hand-polished by a jeweller. The horses' powerful bodies feature a hand-engraved decoration while the finishes on the table clock mechanism are in the great classic tradition of Haute Horlogerie.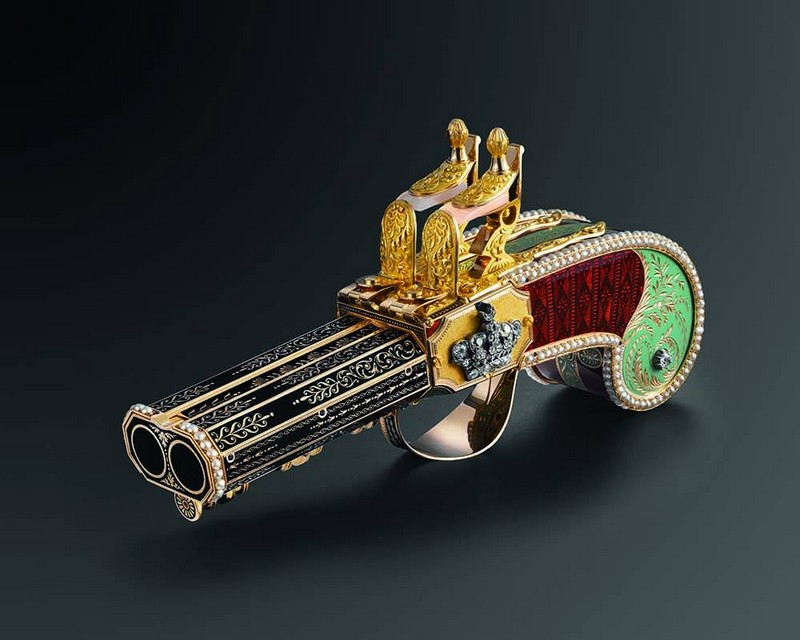 At this year's SIHH, the Swiss brand of luxury watchmakers presented also the restoration of The Pistol Songbird.
"The pistol and its songbird travelled 200 years to reach us. It went through the torments of time, through the faulty interventions of inexperienced watchmakers. When it got to us it was a shadow of its former self. Broken. "Beyond repair". With patience, skill and humility, Parmigiani restored the piece to its former glory," commented Parmigiani Fleurier artisans.