---
This article titled "Nicolas Ghesquière brings joy to Louis Vuitton at Paris fashion week" was written by Jess Cartner-Morley, for The Guardian on Wednesday 5th March 2014 12.52 UTC
The autumn/winter 2014 catwalk season ended today with the show everyone had been waiting for, as Nicolas Ghesquière closed Paris fashion week with his first collection for Louis Vuitton. Ghesquiere is one of the most revered, talented and innovative designers of his generation; Louis Vuitton is the world's biggest luxury brand. From both commercial and aesthetic perspectives this catwalk show was a hugely significant moment for contemporary fashion. And with Ghesquière stepping into the role previously held by Marc Jacobs, one of the great showmen of modern fashion, it was taken for granted that nothing less than a grand, theatrical debut would do.
In the event, instead of pyrotechnics, we got sunshine. Quite literally: after guests had taken their seats in a dimly lit marquee erected in an internal courtyard of the Louvre, the chrome slats lining the walls opened like Venetian blinds, allowing natural light to flood. It was a neat, palate-cleansing contrast with recent shows by Jacobs for Vuitton, which were held in the exact same spot, but whose marquees contained complicated secret worlds: a stage set of a hotel corridor one season, station platforms with models alighting from trains another.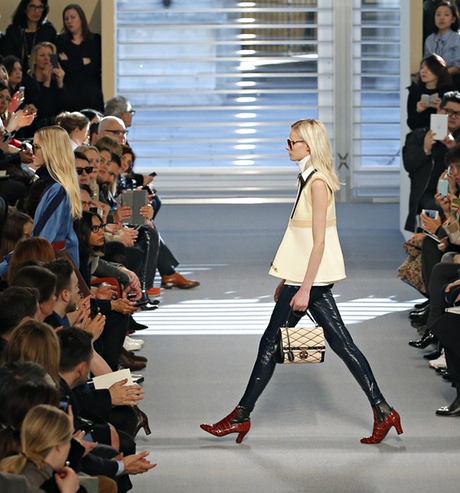 Everything about the presentation was happy, fresh and upbeat. Ghesquière seemed at pains to move on from the image that settled on him, during his years at Balenciaga, as a tortured genius creating clothes of savage beauty which only the bold would dare wear. That image was underscored, in the years since he left Balenciaga, by an ongoing dispute with his ex-employers, which will play out in a Paris court in four months' time. A letter was left on every seat, signed simply and informally from "Nicolas" and printed in a typewriter-style font, evoking a personal note rather than a business memo. "Today is a new day," it began. It expressed first the designer's "immense joy" on the occasion, and made warm mention of Jacobs, "whose legacy I wholeheartedly hope to honour." Tellingly, and highly unusually for a communiqué from a luxury powerhouse, the word "brand" did not appear once, with Ghesquière referring instead to "the Louis Vuitton philosophy". The natural light, the classically Parisian setting, the framing of the label as a home of great designers rather than as a brand: all these made a strong statement that Ghesquière's Louis Vuitton will hope to embody warmth and bring pride to French fashion. It is not incidental that Ghesquière's appointment has broken a run of plum design roles being awarded to foreign designers.
After the setting, came the clothes. Or rather, the bags, and the clothes worn by the models who carry them. Clothing accounts for only five per cent of Louis Vuitton sales, and even less of its profits, with leather goods alone accounting for 90%. The huge publicity generated by Jacobs' extraordinary catwalk outfits was channelled into generating desire not for the clothes themselves but for the more profitable handbags, wallets and suitcases. Analysts are watching with interest to see whether Ghesquière will try to raise the profile of ready-to-wear at Louis Vuitton as he did at Balenciaga, where the commercial success of It bags such as the Lariat was complemented by critical acclaim for clothes influential silhouettes and colours.
Ghesquière's first Vuitton bags were highly commercial. A cute miniature version of an old-fashioned suitcase, referring to Vuitton's heritage as a luggage label, was the key style for the season, appearing multiple times on the catwalk. The same style of bag also appeared worn in the front row, on the arm of Delphine Arnault, daughter of Bernard and second-in-command at Vuitton, and the supermodel Natalia Vodianova, who is engaged to Delphine's brother Antoine Arnault. Other tried-and-tested Vuitton shapes were prominent, including the cylindrical "Speedy", now with the Ghesquière touch of a futuristic prism print, and a scaled-down weekend holdall in panels of monogrammed and patent leather. Ghesquière has said of his time at Balenciaga that, contrary to the impression of him as an ivory-tower designer, "right from the start I wanted it to be commercial". At Vuitton, he appears to have the same plan.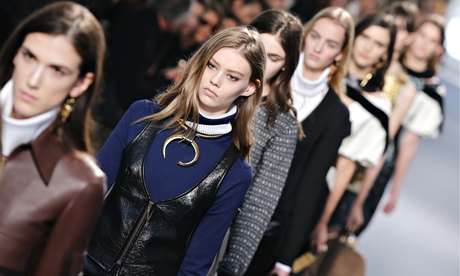 But when it came to the clothes – traditionally more of a strong point for the designer rather than Vuitton – Ghesquiere's Vuitton started to look more experimental and interesting. Leather featured heavily, linking the clothes to the bags, but there was an abundance of cracked patent leather, rather than the more obviously luxurious soft version. An artificially raised waistline, and jackets with chunky square collars reminiscent of 1960s car salesmen also brought a frisson of oddness to the collection. Silk-and-leather, panelled-and-zippered cocktail dresses were a delight, avant-garde in their conception but executed with a light and feminine touch. In the front row, three generations of Boulevard Saint Germain style aristocracy – Catherine Deneuve and daughter Chiara Mastroianni, Charlotte Gainsbourg and her toddler daughter Joe – applauded these warmly.
Backstage after the show, the mood was positively joyous. A throng of well-wishers surrounded Ghesquière as he posed for photographs with Delphine Arnault, who was key in hiring him and with whom he is said to have a strong relationship. Ghesquière has said of Balenciaga that "I never had a [business] partner, and I ended up feeling too alone." At Vuitton, he is doing everything he can to set the stage for happiness.
guardian.co.uk © Guardian News & Media Limited 2010
Published via the Guardian News Feed plugin for WordPress.