With fifty years' heritage in performance yacht production, Nautor's Swan has always offered high performance racing yachts to complement its classic range of cruising Swans.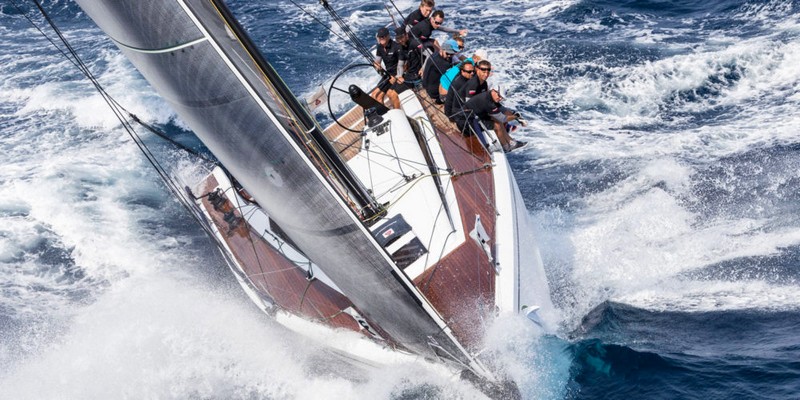 With the ClubSwan 50 presented at 2017 boot düsseldorf, Nautor's Swan presents a yacht that combines performance racing and pure pleasure sailing.
The ClubSwan 50, was conceived to officially celebrate Nautor's 50th anniversary and represents an innovative concept with class programme that will see the introduction of a new leading event: The Nations Trophy.
This is an extremely fast boat that is also easy to take to the limit, convertible into a sports cruiser with limited crew, with captivating looks and the natural elegance of a Swan. It had to be both competitive in class racing and conceived as a One Design. Naval architecture has been developed by Juan Kouyoumdjian, the Argentinean designer who also penned the winning Volvo 70  Groupama 4, Ericsson 4, ABN Amro 1 and the maxi Rambler 88.
The hull is modern and performance oriented with full sections forward and a beamy transom, reverse bow, reverse sheer, pronounced chines, concave aft sections and reduced freeboard.
Appendages are in the same philosophy, with a carbon blade keel with lead torpedo and twin rudders for maximum control at high speeds. Construction is light but structurally robust in full pre-preg carbon as are the mast, boom and fixed bowsprit.
The latest generation sail plan has also been designed with easy sailing in mind. A few touches transform the Nautor ClubSwan 50 into a docile cruiser, perfect for a couple. In moderate winds the running backstays can be stowed at the mast, whilst in stronger breezes the double reefed mainsail passes easily in front of the backstays that can be fixed in position and need no adjustment. The furling Genoa is easily handled in any condition, whilst in strong winds the generous J allows for a convenient staysail to be set.

Interiors in collaboration with Poltrona Frau
Man­ufactured from extremely lightweight structures, mainly in carbon fibre, the interiors of the ClubSwan 50 are finished with premium materials: carbon fibre itself, alternated with white lacquer and natural teak, embellished throughout by leather surfaces and details, treated to provide not only the best technical reliability but also the luxurious fragrance of leather.
"Luxury materials rarely stand up well to intense racing use. This is why at Nautor we have studied specific solutions that will combine the refined elegance of a cruiser with the rug­ gedness and weight saving required of a pure racer. To this end we have sought a part­nership with a company that is a leader in premium leather upholstery: Poltrona Frau," explained the shipyard.