Top 50 Cosmetics Brands: Find out what the best cosmetics brands are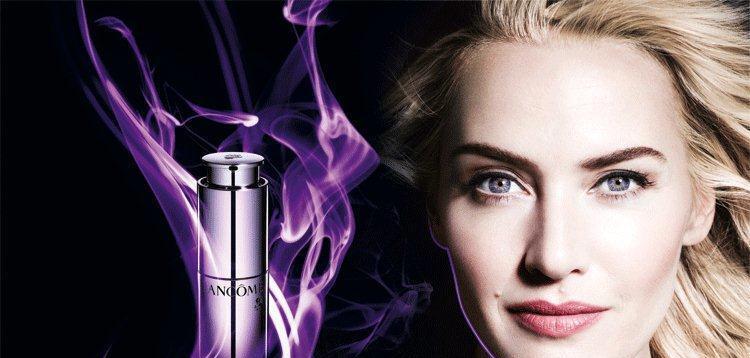 Despite the ongoing economic difficulties in many parts of the world, the beauty industry continues to defy the downturn. NPD, R&D and the creation of new brands in the beauty sector is outstripping many other consumer industries and the outlook from analysts is largely positive.
The beauty industry's ability to weather the financial storm can be attributed to a number of factors: burgeoning consumerism in developing markets is providing demand for personal care and cosmetic products, while in more mature markets spending on discretionary items such as beauty products has increased at the expense of the bigger ticket items.Procter & Gamble's supremacy of the global beauty market continues for a third consecutive year, with its Olay brand taking the top spot in Brand Finance top 50 brands.
Luxury beauty brands in particular have enjoyed a renewed uptake, which is reflected in this year's influential Brand Finance's 50 Most Valuable Cosmetics Brands league table. L'Oréal's Lancôme brand crept up to fifth place in the rankings, while Christian Dior jumped four places to come in at number ten. The beauty arm of French fashion house Chanel climbed six places to reach number 12, while Clarins comes in at number 17, a jump of two places.

"Lancôme's jump was a surprise," says Field. "The fragrances are not quite right but there is a very good offer for skin care and colour."
New Lancôme's launches include an extension to the Absolue franchise: Sublime Regenerating Oleo-Serum, an anti-ageing,moisturising oil/serum hybrid containing nutrient-rich citrus, babassu and camellia oils and L'Oréal's exclusive pro- xylane sugar derivative, extracted from beech wood that works on the skin's extracellular matrix and helps to boost the skin's regeneration abilities. The brand also extended its Visionnaire skin care range into colour, with the creation of Teint Visionnaire, a foundation and concealer enriched with LR 2412, the active ingredient found in the orginal skin care product. The foundation is claimed to provide coverage, while helping to reduce the appearance of wrinkles, dark spots, enlarged pores and other imperfections. In fragrance meanwhile, the big launch for 2012 was La vie est belle,  fronted by actress Julia Roberts.
Chanel meanwhile has increased its footfall with a number of new retail initiatives. Its temporary pop-up store in London's Covent Garden, which opened in 2012, has now become a permanent fixture in the tourist hotspot and features educational workshops, make-up consultations, facials and manicures, along with a number of exclusive products and sneak previews over its two floors. New products include Les Beiges, a line of lightweight powders that impart a healthy glow on the skin and are enriched with cotton flower, white rose plant cells and an SPF of 15 to protect. The campaign is fronted by supermodel Giselle Bündchen. The brand's Research and Technology arm has also entered into an exclusive partnership with French plant biology specialist Plant Advanced Technologies (PAT) to develop a line of pure active ingredients produced at the heart of plants.
Chanel  will launched its first regenerating anti ageing skin care product containing an active substance developed using the new PAT technology later this year. The technology now makes it possible for selection and purification processes to take place at the very heart of the plant. It involves stimulating the metabolism of plants, which then express compounds in concentrations that may reach 50 times higher than normal.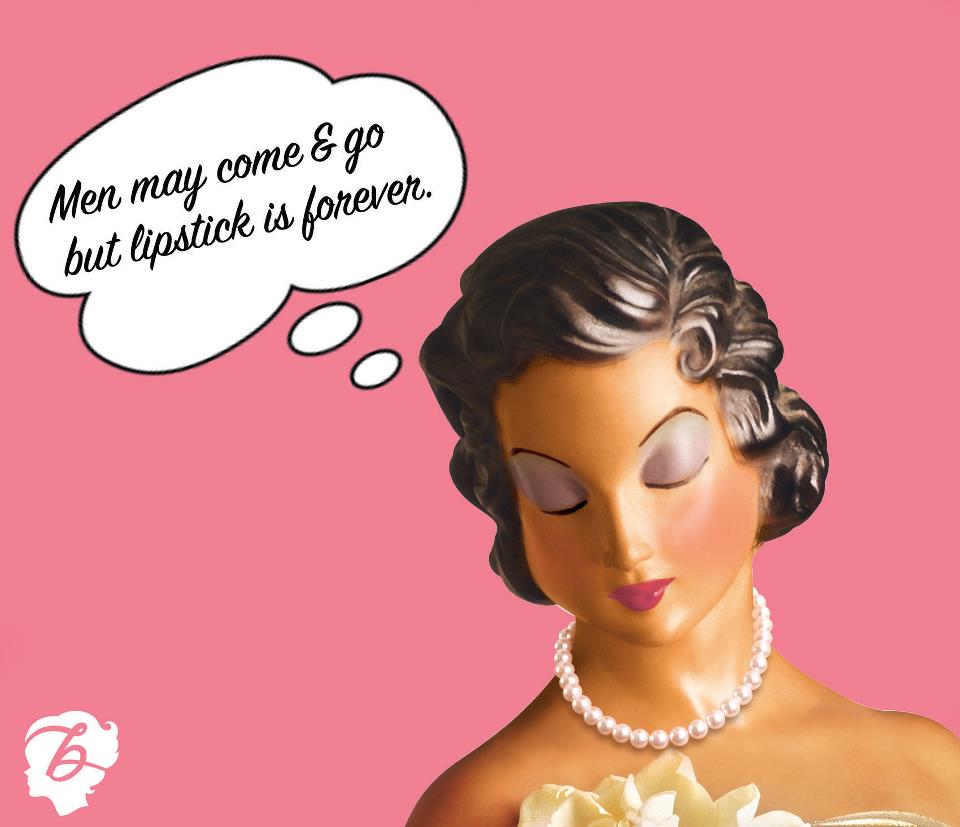 LVMH-owned colour and skin care brand Benefit prides itself on beguiling and delighting its customers with a combination of serious beauty know-how and a playful attitude towards make-up. It has ramped up its launch rate considerably over the last 12 months with new skin products and colour sets as well as, most recently, relaunching its core colour range of eyeshadows, lip glosses and lipsticks.
Geographically there has also been a big push and the brand is now available in over 2,000 locations worldwide. "We've seen a lot of growth from Benefit so I'm confident we will see them in the top 50 next year," says Field.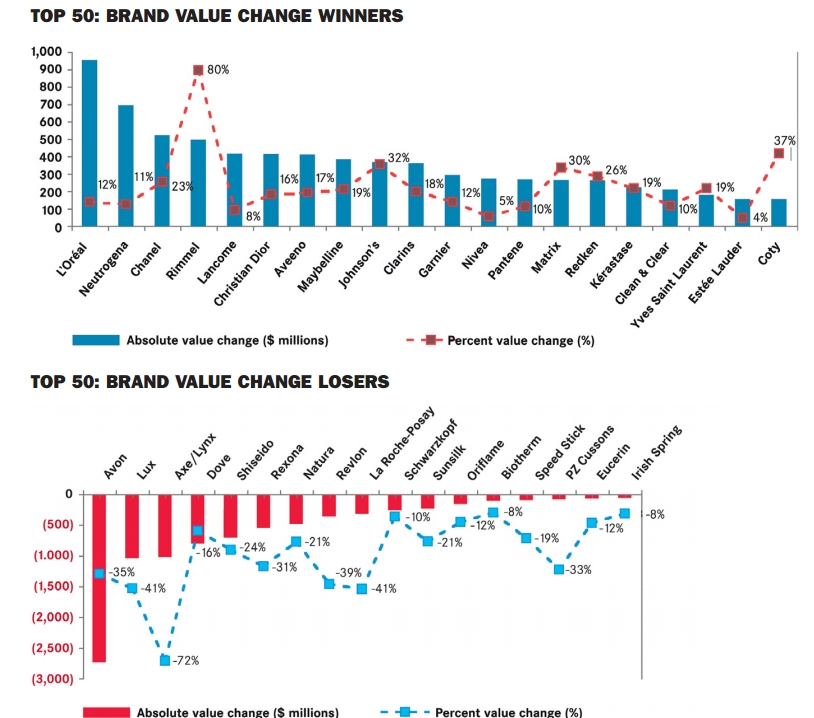 TOP 50 GLOBAL BEAUTY BRANDS 2013:
1 Olay USA
2 L'Oréal France
3 Neutrogena USA
4 Nivea Germany
5 Lancôme France
6 Avon USA
7 Dove UK
8 Estée Lauder
9 Biore Japan
10 Christian Dior France
11 Pantene USA
12 Chanel France
13 Aveeno USA
14 Garnier France
15 Schwarzkopf Germany
16 Maybelline USA
17 Clarins France
18 Shiseido Japan
19 Clean & Clear USA
20 Natura Brazil
21 L'Occitane Luxembourg
22 Johnson's USA
23 Lux USA
24 M.A.C. USA
25 Kérastase France
26 Redken France
27 Rexona UK
28 Biotherm France
29 Vichy France
30 Oriflame Luxembourg
31 Matrix France
32 Clearasil France
33 Rimmel USA
34 Yves Saint Laurent France
35 The Body Shop France
36 Pola Orbis Japan
37 Sunsilk UK
38 Clinique USA
39 Softsoap USA
40 Irish Spring USA
41 Coty USA
42 Revlon USA
44 Eucerin Germany
45 RoC USA
46 La Roche-Posay France
47 KOSÉ Japan
48 Head & Shoulders USA
49 Kiehl's France
50 Speed Stick USA
The valuation in the Brand Finance beauty brands puts a value on the intangible assets of a certain company, namely its 'trademarks, logos and associated intellectual property' on a specific date: 1 January 2013.