Meeting sustainable development challenges is a long-term undertaking: LVMH's Sustainable Anniversary. A look back on 20 years of environmental responsibility celebrated by the LVMH Group.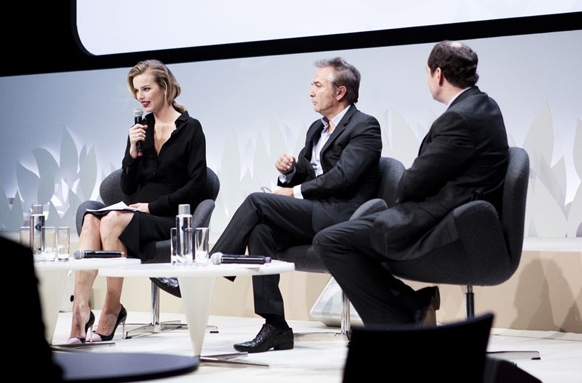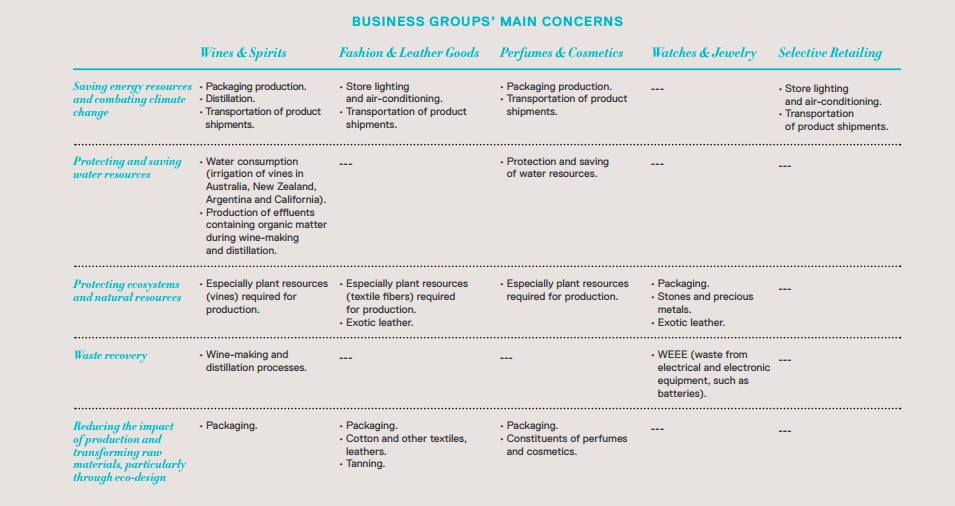 The LVMH luxury giant group celebrated 20 years of environmental responsibility with a special event attended by nearly 300 internal and external specialists in sustainable development. During two hours of panel discussions, the luxury Group presented the progress it has achieved over the past two decades. The presentations also included a look at future initiatives to protect the environment. The Houses are aware that there is room for improvement.
LVMH Managing Director Toni Belloni welcomed participants noting that "luxury is by definition intimately interlinked with the environment, and LVMH has long embedded environmental responsibility in all its activities." This approach was illustrated during three panel discussions which reviewed some of the many initiatives deployed by the Group and its companies.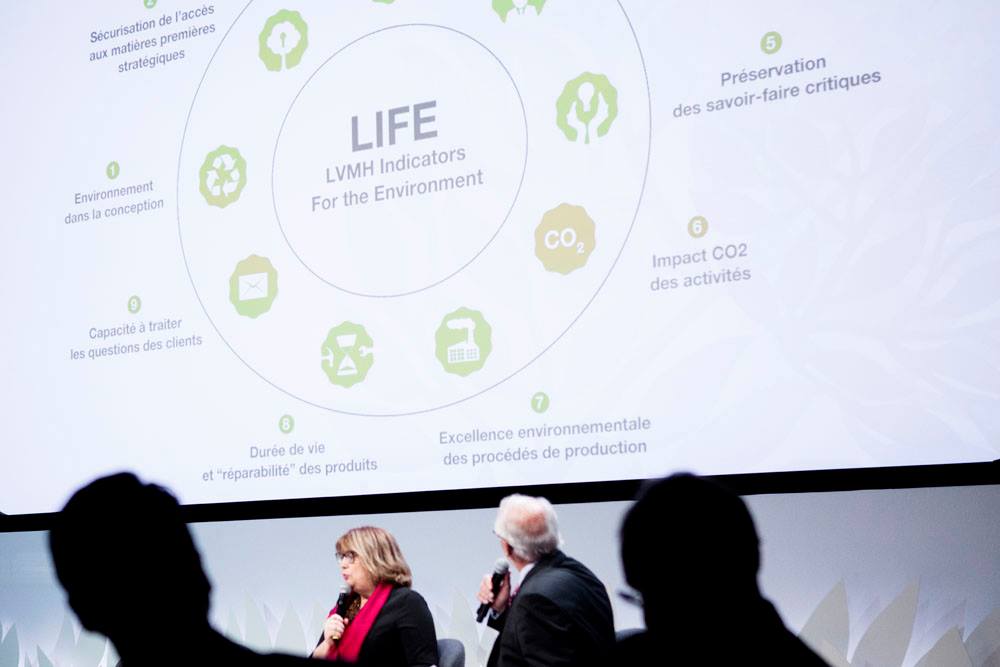 Speakers frequently cited the "LIFE—LVMH Indicators For the Environment" program, which is based on nine key drivers of environmental performance: eco-design; responsibly sourced raw materials and supply chains; material traceability and compliance; supplier relationships; know-how and expertise; reduction of greenhouse gas emissions; environmentally-friendly manufacturing processes; lifespan of products; and customer information.
Several LVMH companies shared examples of their environmental commitment. Laurent Boillot (President of Guerlain) and Jacques Mantz (CFO of Moët Hennessy) talked about the importance of sustainable sourcing. They were followed by Claude Martinez (President of Parfums Christian Dior) and Chris de Lapuente (President of Sephora), who addressed the subjects of environmental innovation and creativity. For the final panel, Lisa Montague (President of Loewe) and Eric Pradon (CFO of Louis Vuitton) shared their vision of the impact of sustainable development on company management and the corporate culture.
Among the guest speakers, model Eva Herzigova, the face of Parfums Christian Dior, talked about her strong personal engagement with environment responsibility and the importance of raising public awareness. Gilles Boeuf, Director of the French National Museum of Natural History and holder of the chair in sustainable development at the Collège de France, concluded the discussions. He noted that "dialogue among researchers, the public sector and businesses is essential to drive progress in environmental issues, and this is something that LVMH has clearly understood."
Sustainable developlment at Loewe
In 2012, Loewe introduced a sustainable development program featuring more than 25 action points in six diff erent areas of the value chain: product durability (design), supply and production of durable leather, responsible and cost-eff ective logistics, responsible retailing, employee engagement, and dialogue with stakeholders. These actions fall within the framework of the "LIFE" strategic program.
Each area is managed by a senior company executive who sits on a sustainable development executive committee that meets twice a year to monitor and support the program's progress. In addition, an operating committee meeting for each area is held quarterly and attended by the developer of the action points and all others involved.
Best practices Packaging
Moët & Chandon has developed a new range of cases, providing suppliers with Forest Stewardship Council (FSC)-certifi ed shipping crates.
– As part of a comprehensive project to develop the brand's visual identity, the Dom Pérignon box designed by MHCS has been completely revised to incorporate aspects of eco-design. The box is manufactured in France to limit the environmental impact related to transportation and to showcase French manufacturing know-how. The box is made of cardboard and fi ne paper produced from wood from sustainably managed FSC -certified forests.
The inserts that support the bottle inside the box are made from 100% recycled plastic. The synthetic materials typically used to give a
silky feel have been replaced by 100% natural eucalyptus fi bers. These inserts can be completely removed so that the consumer can either keep the box for another purpose or recycle it.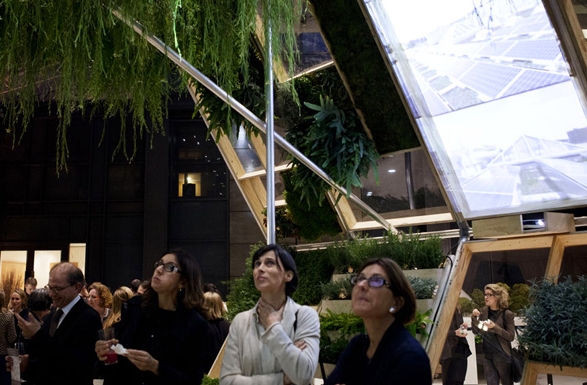 Best practices ECO-Design
The challenge of eco-design is directly linked to the transfer ideal.
– In 2012, Louis Vuitton introduced a new design of overall, eco-designed in its studios and featuring improved ergonomics, style and
environmental impact. It set up a facility where used overalls could be recycled through a defi bering process.
The Group is also optimizing the use of materials. Louis Vuitton's "Extenso" project, for example, aims to reduce the amount of material
used and destroyed by improving cutting techniques.
– Guerlain has played an active role in revising the EPI calculation tool. EPI has been used for every new project since 2008, the goal
being to make improvements to every new product.
– The huge 140 m2 La Petite Robe Noire advertising banner erected in place Blanche in Paris in May 2012 was passed on to Bilum, a company specializing in the repurposing and recycling of materials.
It was subsequently transformed into 120 collector's bags (the Petite Robe Noire de Guerlain "It" collector's bag) by a French non-profit
organization that helps disabled people return to the workforce (ESAT). Proceeds from the sale of these bags were donated to the Guerlain Support Fund, created to provide assistance to the winners of the Montfermeil "Cultures et Création" fashion show.
– Last but not least, as part of Guerlain's sponsorship of the European Institute for Packaging Technology (ESEPAC), Guerlain's director of business development helped this school/business create a new teaching track that focused on cosmetics. He gives regular classes that
include eco-design principles.
– Case manufacturer Terracotta has designed a new limited edition case, Terracotta Azzura, in FSC-certifi ed European beech with a water-based varnish. It is produced by a European supplier using a number of artisan techniques.
– In 2012, Guerlain launched Noir G, the first completely refi llable mascara.
– Guerlain has also embarked on an ambitious eco-design initiative, such as introducing Orchidée Impériale refills, which have been on trial at some Paris stores since September 2011. Still available in the Sèvres and Passy stores in Paris, the refi llsare
now available in Hong Kong and are expected to be marketed to further stores in Paris.
The volume of packaging used for the cases has been reduced by 15% and more recycled materials are being used for the box and thermoformed inner trays.
A label on the back of the box provides customers with further information about Guerlain's commitment to eco-design.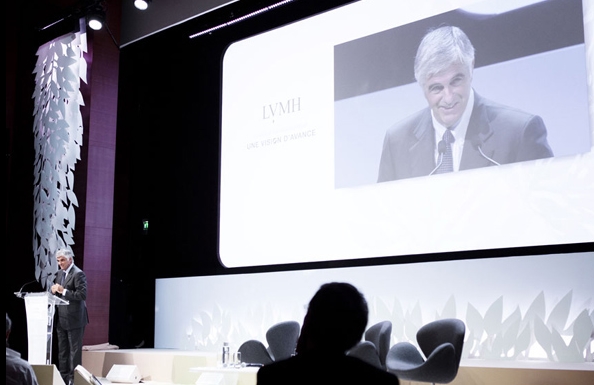 Best Practices packaging and transportation

Reducing the amount of packaging is an underlying transportation challenge. Less packaging means lower shipping costs and less impact on the environment. To this end, Louis Vuitton is paying special attention to packaging that accounts for the highest product volume. In 2012, it created a multi-disciplinary working group comprising the Logistics, Industrial, Purchasing, Environment and Quality Control departments to help the company reduce and streamline all of its customer and shipping packaging. This has led in particular to the elimination of certain packaging layers where possible. In terms of logistics, original packaging boxes are being used more frequently and optimally, particularly for small leather goods. Lastly, a number of other improvements have been made, such as modifying shoe box sizes so that they can be nested, resulting in a 50% reduction in the space needed for shipping and storage.
Best Practices
One of the three Château Cheval Blanc estates, Château Quinault L'Enclos, a Saint-Émilion Grand Cru, was awarded an "organic farming" label after the 2012 harvest. This label recognizes the major efforts made toward sustainable development since the estate was acquired in 2008: reduction in phytosanitary products, planting of hedgerows, and accreditation for "responsible viticulture" based on specifi cations of the non-profi t organization Terra Vitis.
– In Poland, Belvedere is spearheading a long-term partnership program with its pure alcohol supplier that focuses on cereal cultivation and the distillation process. The work performed in June 2012 concerned alcohol analysis, eco-production and the implementation of the REACH regulation.