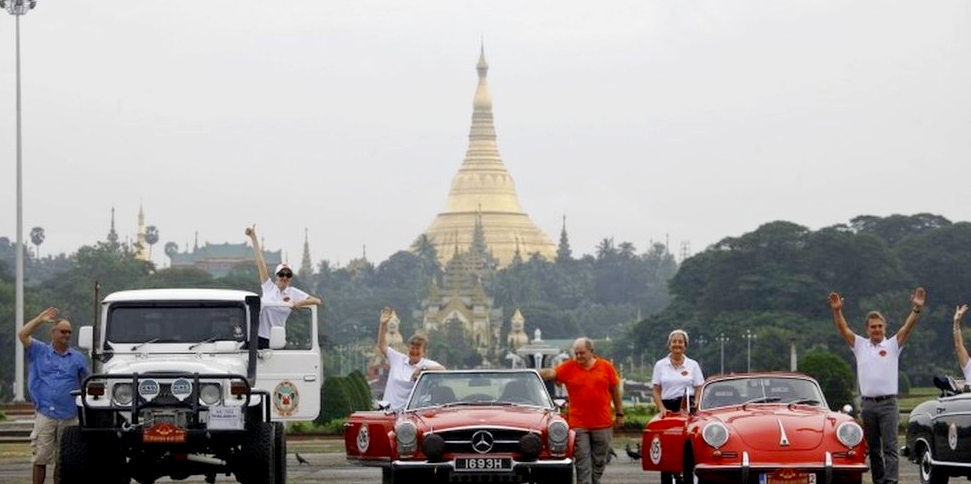 Under Burma's military rule, imported cars were a luxury reserved for people close to the government. But BBC correspondents say that the Myanmar authorities have in recent months allowed owners of ageing cars to trade them in for sought-after permits to buy imported used vehicles.
To help save some of the Myanmar's ageing but less prestigious vehicles from being consigned to the scrapheap, a group of classic car
enthusiasts began a trip around Burma – also known as Myanmar (officially the Republic of the Union of Myanmar).
Twenty cars, including these made by Mercedes-Benz, Rolls-Royce and Chevrolet, left Rangoon on a two-week, 1,429km (889 mile) journey that will take them to Inle Lake, the ancient temple city of Baganm and Ngapali Beach.
The Burma Road Classic is thought to be one of the first of its kind in the country. Nine of the vehicles are owned by foreigners and havebeen shipped over especially for the rally, informed BBC. The 11 other cars taking part are kept in Burma. Organisers say it is important to preserve the handful of classic cars in Burma because many are part of the country's history – having rattled along its famously pot-holed and fumed-filled roads for several decades.
From 1962 to 2011, the country was under military rule. During this time, the United Nations and several other organizations have reported consistent and systematic human rights violations in the country. The military junta was officially dissolved in 2011 following a general election in 2010 and a nominally civilian government installed, though the military retains enormous influence.