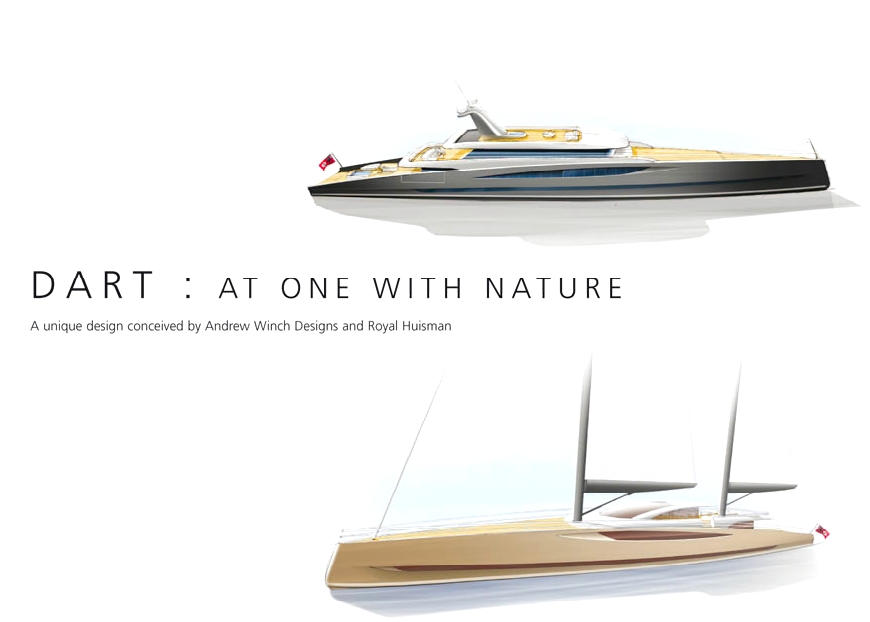 Dramatically innovative DART80 yacht by Royal Huisman shipyard is a stunning collaboration between Royal Huisman and Andrew Winch Designs. With both sailing yacht and motoryacht interpretations, DART is a revolutionary 80m/262ft yacht that celebrates an intimate relationship with the spirit and the beauty of the blue planet.
"Where some yachts project an image that is alien to their marine environment, DART has sleek and sinuous lines in harmony with the
surrounding," explained the family-owned, custom yacht builder.
Aesthetically inspired by the arc of a leaping dolphin, this is a yacht for the discerning, offering distinctive styling and a luxurious
lifestyle that is truly "connected" with the marine environment. It is a yacht that employs state of the art technologies for unsurpassed
energy efficiency, exceptional performance and cleaner, leaner, more efficient operation.