For its inaugural contribution to Only Watch charity watch auction in Geneva (SATURDAY 11 NOVEMBER 2017, 2:30PM (GENEVA TIME), Louis Moinet has reached across 380,000 km to our lunar satellite, so as to offer children a brighter future. Only Watch has become a world-renowned charity event, of which the success is based on the generosity, altruism and willingness expressed by the luxury watch brands. All participating brands offer their watches, partners offer their services, logistical or organisational supports.
For its first contribution to the Only Watch charity auction, Ateliers Louis Moinet has summoned the very essence of its knowhow. The luxury watchmaker has produced a unique timepiece, "Metropolis for Only Watch" – a most worthy successor to Mr Louis Moinet's own Compteur de Tierces from 1816, the first chronograph in history, which was also used for observational astronomy.
The unique timepiece sports a gold-plated dial, for which the firm has performed another first in terms of decoration: its face is first gilded – and then hand- punched to form lunar 'craters'. And to complete the metaphor, Ateliers Louis Moinet has filled these craters with genuine fragments of lunar meteorites.
The 43.2 mm diameter steel case reveals the entire underside of the movement through a sapphire crystal caseback, around which the words "Pièce Unique – Only Watch" are engraved. The watch is wound by means of an oscillating weight decorated with a concentric Clou de Paris pattern and a fragment of lunar meteorite – another finishings first for the Ateliers.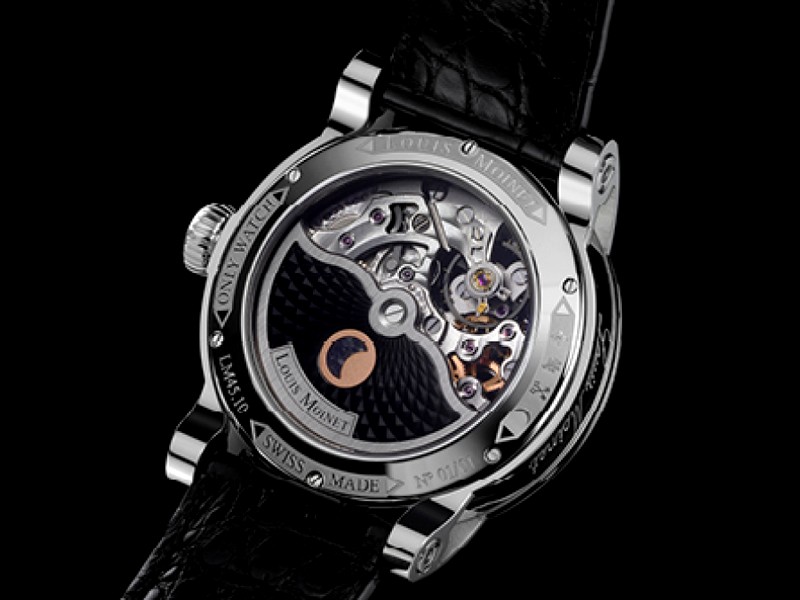 "We thought long and hard about how best to reach for the Moon and help children suffering from myopathy," explains Jean-Marie Schaller, Ateliers Louis Moinet's CEO and Creative Director. "The legacy left by Mr Louis Moinet himself helped guide us in the creation of this timepiece. As a watchmaker, he was one of the pioneers of observational astronomy. This piece demonstrates our commitment to Only Watch – and also offers a fitting tribute to an outstanding inventor and committed humanist."
Only Watch is a biennial charity auction of unique timepieces created by the finest luxury brands united for research on Duchenne Muscular Dystrophy.
The Metropolis Only Watch comes with a hand-sewn Louisiana alligator leather strap, and a folding clasp with "Fleur-de-lys" motif.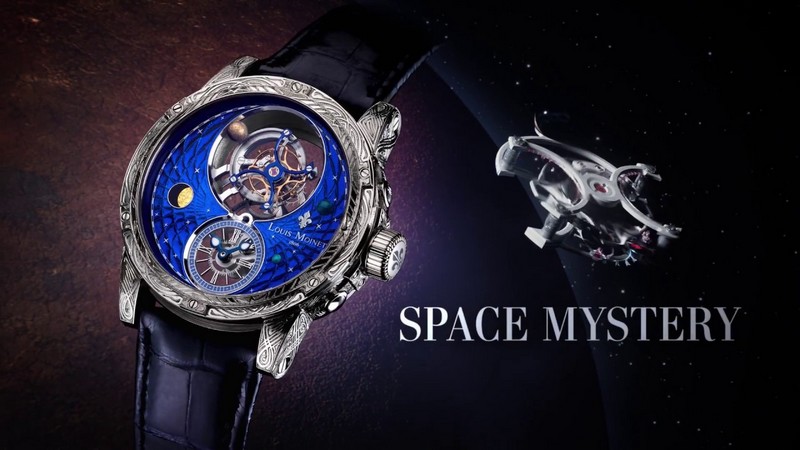 The Metropolis Only Watch watch is not the first Louis Moinet horological creation to feature extraterrestrial fragments. Louis Moinet Space Mystery is the world's first "satellite tourbillon": the cage is balanced by means of a planet that rotates around it. Space Mystery also includes authentic fragments of a mysterious  meteorite from the far-flung regions of space that holds traces of amino acids – possibly one of the first forms of life in the universe. This unique Fine Watchmaking composition is showcased on a dial in Magic Blue – a colour whose exact composition remains one of Louis Moinet's closely-guarded secrets.