Kenzo closed Paris Men's Fashion Week with Fall-Winter 2017 looks for both sexes.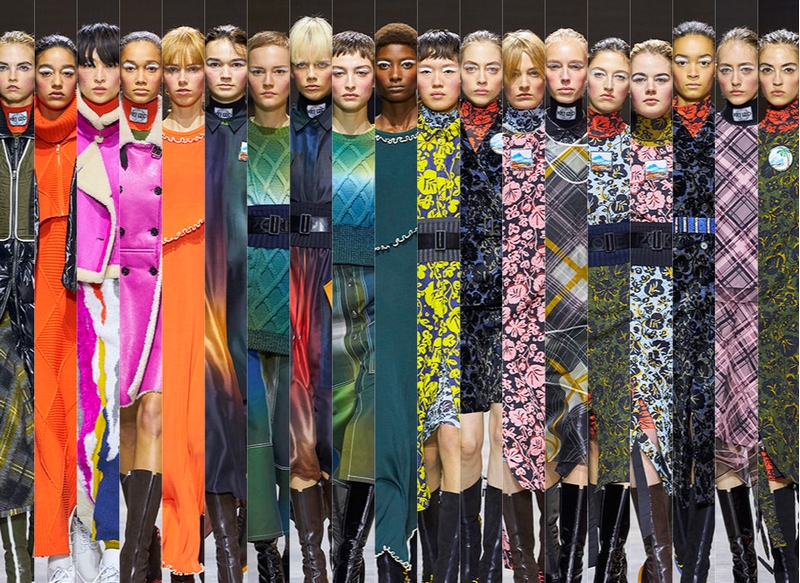 Kenzo Creative Directors Carol Lim and Humberto Leon imagined a Fall-Winter 2017 collection "for people who experience as raw an environment as it gets and hope for it to continue forever."
In reaction to climate change, the KENZO team explores an utopic metaphor: next winter, they are going surfing in the Arctic Ocean. Kenzo people are going to ride glaciers rather than waves and lay on the snow rather than the sand. Their outfits follow this new fusion of codes and needs. In this powdered landscape where the night never falls, Kenzo men and women are getting ready to party under the midnight sun.
Last June, Kenzo announced that its shows would now mix men's and women's collections on the runway. The Maison unveiled its silhouettes for Fall-Winter 2017 at the recent Men's Fashion Week in Paris.
Kenzo will in the future show its men's and women's collections together in January and June, while maintaining a presence during Women's Fashion Weeks in March and September with special projects and events, introducing a new concept called "Memento".
Evoking the aurora borealis/ the Northern Lights and climate change, the collection is featuring vivid colors (winter blue, raincoat yellow), prints (geo tiger prints, checks and arctic floral motifs) and color gradations.
"A discovery of an arctic surfing subculture led us to a wardrobe that combines wild protection with an urban sensibility," explained Kenzo's Creative Directors.
"The use of our backstage as the set for this show was a conscious decision to create dialogue with Ideas For Us (an environmental organization involved in the fight against climate change) and to contribute financially to their cause. In addition, for Fall 2017 we have partnered with Earth Guardians to create products that will further push their message," added Carol Lim & Humberto Leon.
Bomber jackets shimmer like an aurora borealis in the arctic. Pants and jackets are padded, matching and worn with a belt, like a revisited ski outfit. Backpacks nod at sleeping bags for a trompe l'œil effect.