Make ready for fun, magic and wonder in the mystical land of chocolate.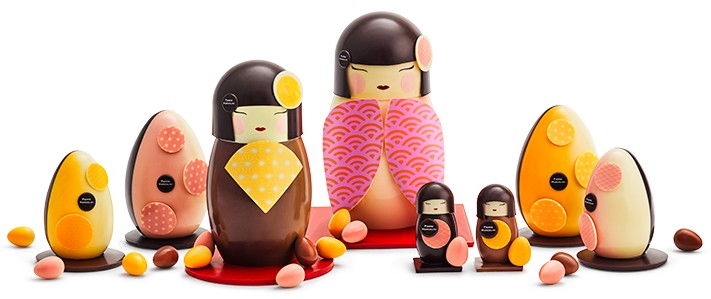 This Easter, famous Belgian chocolatier artist Pierre Marcolini has conjured up a world of mesmerizing tricks.
Kawai Easter collection includes Japanese dolls that magically morph into Easter eggs, where hand fans are made of chocolate, and miniature eggs resemble shimmering pearls. A world where everything is beautiful and irresistible. Japanese chocolate dolls are more than sweets, they look like decorations.
A world of merry spells where the kokeshis transform into Easter eggs, ranges in chocolate and small eggs take the appearance of pearly pearls, beautiful to be crisp …
Rabbits, bells and other animals of fables turned into sweet subjects of chocolate in this casket composed of rabbits caramel milk chocolate and white chocolate, ducks Dark Chocolate Caramel, white chocolate bells and snails caramel milk chocolate. Delicious, right?
The largest Easter Egg is Kimono measuring 30 cm. Kimono is accompanied by 30 small eggs of six different flavors (pistachio praline white chocolate, hazelnut praline milk chocolate, almond praline white chocolate, nougat praline milk chocolate, double fondant, and double milk) and 30 candy animals and bells in white chocolate.
Pierre Marcolini received the first national prize of artistic merit in 1988. In 1991, he was named "premier pâtissier glacier de Belgique" (best Belgian cake-and-icecream maker). In addition to the "coupe du monde de la pâtisserie" in 1995, Marcolini won the coupe européenne de pâtisserie in 2000. The tourist office of Brussels has named him "Ambassadeur du Tourisme" (tourism ambassador). In January 2015, Pierre Marcolini received the honorary title of "Officier de l'Ordre du Mérite Agricole" (officer of the order of agricultural merit).