---
This article titled "Jane Birkin handbags Hermès – but can she get her name back?" was written by Hannah Marriott, for The Guardian on Wednesday 29th July 2015 17.25 UTC
Like all truly desirable designer handbags, the Hermès Birkin comes not only with a dust bag and a certificate of authenticity but with a creation myth.
In 1981, the legend goes, Jane Birkin was on a flight from Paris to London when the contents of her handbag spilled over the aisle. The man sitting next to her commented that she could do with a tote with pockets. He happened to be the CEO of Hermès – such things can occur in first class – and the pair started brainstorming ideas on the back of a sick bag.
The holdall they created has become fashion's ultimate status symbol. Demand is kept high with exorbitant costs (£146,000 if you want yours diamond-studded), long waiting lists and obsessive fans (Tamara Ecclestone keeps her 30-strong collection in a glass case; Kate Moss used hers as a nappy bag).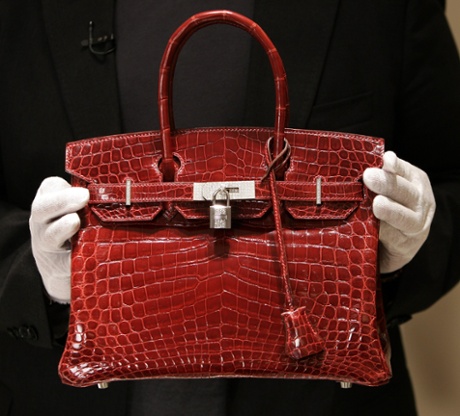 So it must have been a blow to the French luxury house that Birkin has asked for the Birkin Croco to be "debaptised" until "better practices in line with international norms can be put in place". Her statement followed claims from Peta that some of Hermès' suppliers are treating the crocodiles and alligators who provide the bag's leather with appalling cruelty.
Fashion companies have long named products after celebrities. In 1977, Hermès renamed its "Sac à dépêches" as "the Kelly", after Grace Kelly used it repeatedly, notably to hide her pregnancy bump from the paparazzi. It's a strategy Mulberry has employed, too, most famously with its Alexa satchel. But can Birkin get her name back?
Mike Gardner, head of intellectual property at law firm Wedlake Bell, thinks not. "I suspect Jane Birkin would struggle to compel Hermès to stop using the Birkin name," he says. One of the problems is that Birkin does not have the term trademarked for leather goods – but Hermès does.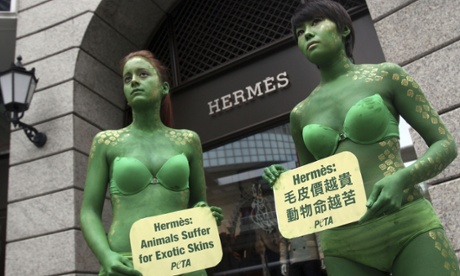 "If Birkin had given some kind of licence to Hermès to make use of the name over the years, she might be entitled to object or even terminate," he adds, but details of a formal agreement between them have not come to light. Rather, their relationship is described as a "friendship" – Birkin has said that Hermès gives her around £30,000 a year, which she donates to charity; the actor is seldom photographed without a Birkin on her arm. Falling out with a muse is far from chic, however, and Hermès will be keen to smooth this over quickly; the company has issued a statement reassuring Birkin that investigations are in hand.
All of which explains why so many celebrities – from David Beckham to Jamie Oliver to Rihanna – are trademarking their names. Alexa Chung, for example, applied for one in 2010 for everything from "preparations to the hair, scalp, skin and nails" to leather goods – the same year the Mulberry Alexa became fashion's favourite bag, funnily enough. Because it is only by making it official that celebrities can truly control their own hard-won cachet.
guardian.co.uk © Guardian News & Media Limited 2010
Published via the Guardian News Feed plugin for WordPress.