Dom Pérignon x Emirates.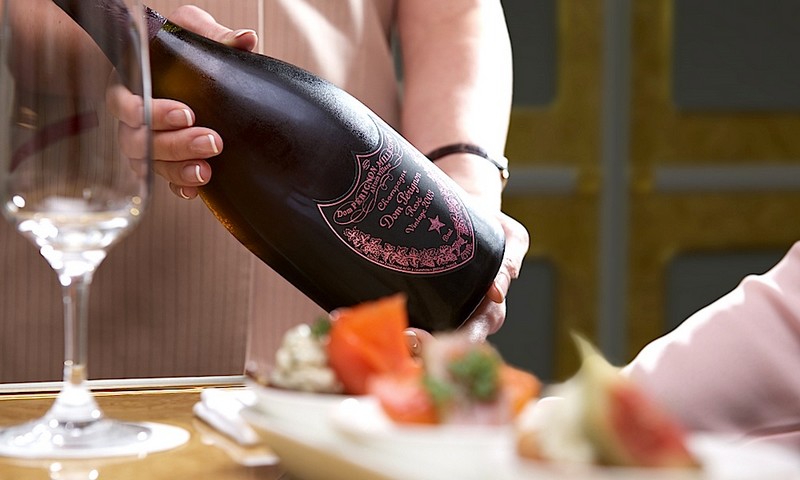 This July, Emirates' culinary team introduced the recently released Dom Pérignon Vintage 2005, and the Dom Pérignon Vintage Rosé 2003, across different routes.
Emirates also introduced a pairing menu developed by its team of chefs in collaboration with the gourmet team at Dom Pérignon headed by Pascal Tingaud, Chef de Cuisine at Dom Pérignon and two-Michelin star chef.
Exclusive vintages – Dom Pérignon Vintage 2005 is the current vintage of Dom Pérignon. Due to the limited production linked to the challenging nature of the 2005 harvest, access to this vintage is carefully curated.
Emirates has introduced for the first time, a pairing menu of six carefully designed canapés, intended to complement and enhance the experience of the Dom Pérignon Vintage Rosé 2003. Now First Class customers can sample canapés of Cured duck with saffron poached peach; Walnut baguette with Persian feta cheese, fresh fig, and truffle infused honey, and, Wild smoked salmon, lemon and cumin cream cheese on Norlander Bread, on flights from Dubai.
Tourists travelling to Dubai can look forward to a menu comprising Charcoal cracker topped with ash goat's Cheese and quince jelly, Teriyaki-marinated duck breast with a curried apricot and apple chutney, and finally, Mixed sesame coated tuna with wasabi mayonnaise.
"Using the finest produce, these gastronomic innovations and unusual food combinations are meant to heighten the flavour of the Champagne and elevate the overall fine dining experience of Emirates' First Class cabin," explained Emirates.
"Food and wine pairing has reached its tipping point, in that it is now an expected part of the fine dining experience. We have a likeminded partner in Dom Pérignon, who also strives to bring the dining experience to life and help elevate the rarity and richness of their product," said Joost Heymeijer – Senior Vice President, Catering at Emirates.