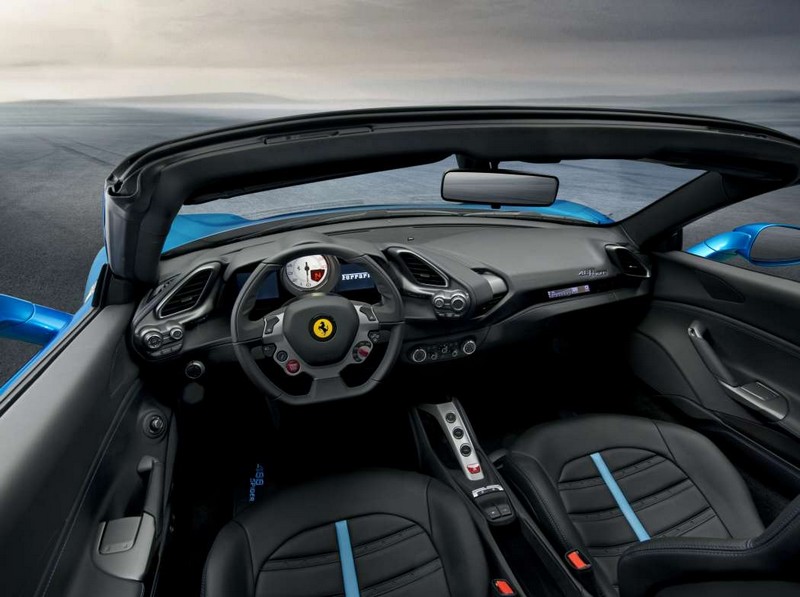 Ferrari unveiled a convertible counterpart to the 488 GTB. According to Ferrari, the 488 Spider is the "most powerful ever mid-rear-engined V8 car to feature the patented retractable hard top ".
The latest addition to the Prancing Horse range combines the prowess of the 488 GTB's mid-rear turbo-charged V8 and the thrill of open-air motoring with the added excitement that comes from hearing the unmistakable soundtrack of that engine. Beneath the engine cover throbs the 3902 cc turbo-charged V8 that debuted just a few months ago on the 488 GTB.
In line with Ferrari tradition, this model has its own absolutely distinctive soundtrack created using solutions such as exhaust headers with longer, equal- length piping and a flat- plane crankshaft.
"This is also the most aerodynamically efficient Ferrari spider ever built, thanks to a series of complex aero solutions designed to guarantee optimal downforce whilst reducing drag, two normally mutually-exclusive objectives. Maranello's engineers managed to achieve both goals simultaneously by introducing several innovative devices, including a blown spoiler and an aerodynamic underbody incorporating vortex generators," announced Ferrari in a press release.
The world premiere of the 488 Spider will be at the Frankfurt International Motor Show in September.