Jaeger-LeCoutre Atmos Marqueterie inspired by Gustav Klimt's The Waiting, a marquetry masterpiece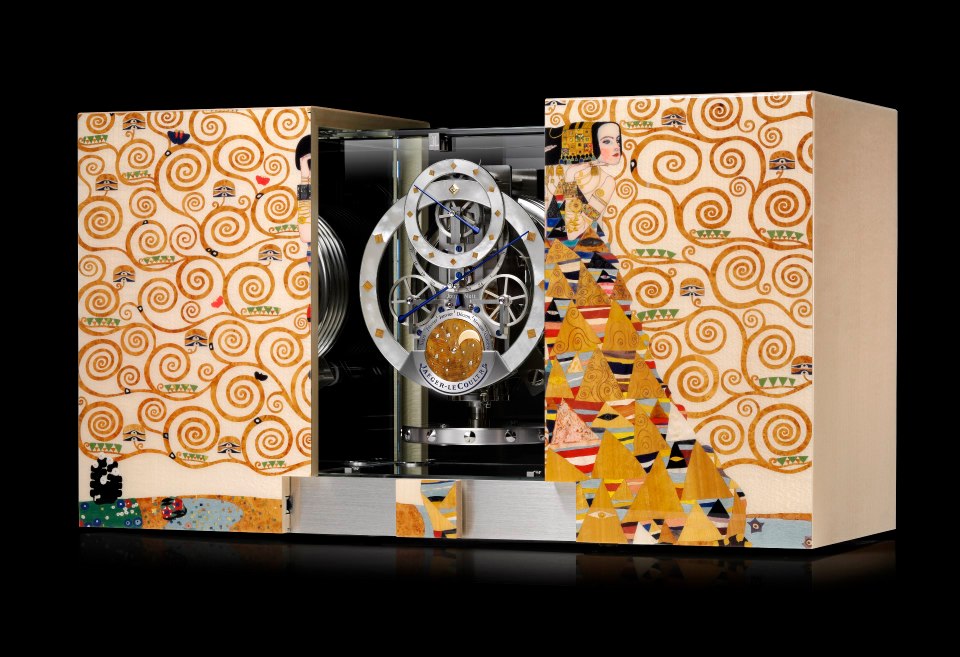 On the occasion of the International Salon of Haute Horlogerie (SIHH 2013), Jaeger-LeCoultre presented its luxury watch revelations. The Grande Maison is also celebrating its 180-year anniversary, and has dedicated the Jubilee collection to its founder: "Tribute to Antoine LeCoultre". One of the higlight of the new line was the fifth work in the series of Atmos clocks created in tribute to Gustav Klimt. Tribute to Gustav Klimt Atmos Marqueterie was inspired by The Waiting marble and coloured stone mosaic.
With no battery, electric current or winding, the Jaeger-Le Coutre Atmos clock has been running on air since 1928. Inspired by the regulators of the past, Atmos Marqueterie clock displays the hours and minutes on two separate dials. Housed in either a traditional or futuristic wood cabinet, it is said that Atmos clock allows a glimpse into eternity.
The Atmos clock is designed so that no excessive resistance opposes this minimum power. The Atmos' balance wheel oscillates slowly, its diaphragm moves in perfect harmony with temperature variations and its heart calmly beats twice every minute, in other words, 60 times more slowly than that of a traditional clock, 240 times more slowly than the movement of a wristwatch and 1,966,000 times more slowly than that of a quartz watch.
"To get an idea of just how delicate this infinitesimal transfer of energy actually is, consider that 60 million Atmos clocks together would consume no more energy than a humble 15 watt bulb" says Jaeger-Le Coutre.
The Atmos clock marks the time for Heads of State and numerous sovereigns, because in this country, which is world renowned for the perfection of its watches, it is a tradition to present guests of honour with this Swiss masterpiece of timekeeping. This has been so for decades now, and the eminent recipients include J.F. Kennedy, Winston Churchill, General de Gaulle and Charlie Chaplin.