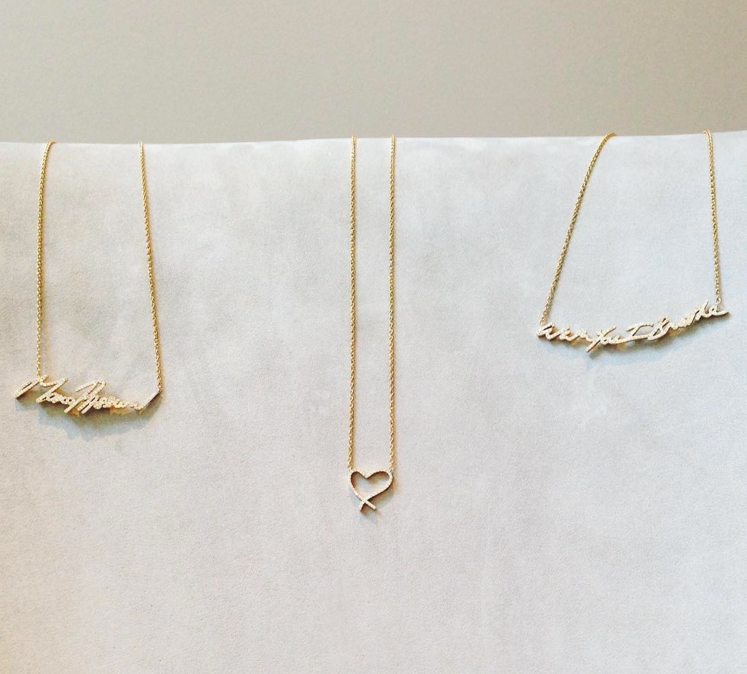 The work of British artist Tracey Emin was translated into jewellery in a new project made in partnership with jewellery brand Stephen Webster. "I promise to love you" collection of 18-karat gold necklaces, rings and bracelets is pure wearable art imbued with collectible appeal. The pieces can be layered together to create a custom look.
The collection takes inspiration from Emin's iconic neon works and series of hand drawn woodland creatures. For the opening of Stephen Webster's first flagship store in Beverly Hills in 2010 Tracey Emin created a bespoke 'I Promise To Love You' neon heart installation – a signature aesthetic for which she is famed – and the idea for a collaborative jewellery collection was born.
"When I started to look at Tracey's work, I knew that so much of it would translate perfectly into jewellery," said Stephen Webster.
Baring the words "love", "more passion," and "with you I breathe" in her inimitable scrawl, the collection features plain gold rings, bracelets, earrings and charms as well as more elaborate cuffs with the script picked out in white diamonds.
"Working with Stephen was a dream. He interpreted my drawings and my work in a very natural, graceful way," added Tracey Emin.