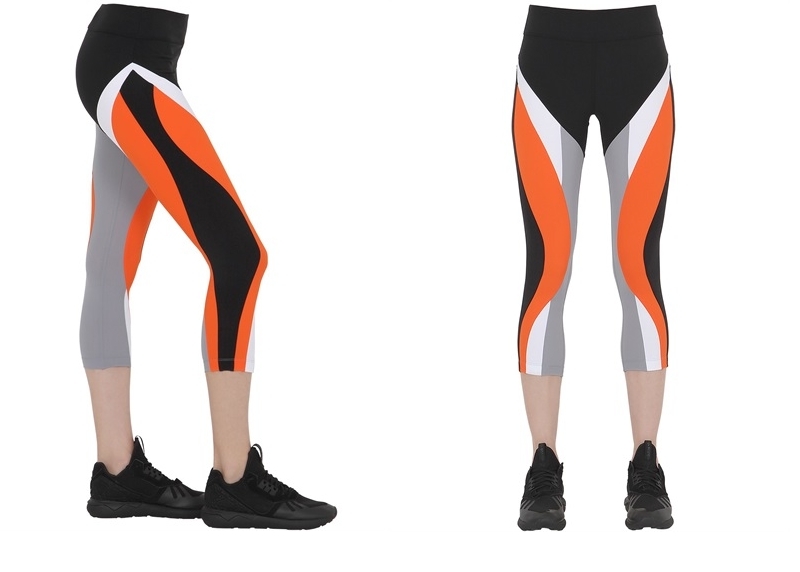 ---
This article titled "How workout leggings set the pace in fashion" was written by Jess Cartner-Morley, for The Guardian on Monday 15th February 2016 16.07 UTC
Around 2004, somewhere between the Balenciaga Lariat and the Chloé Paddington, we reached peak It bag. It is funny to think about, now that the handbag market is all about cross-body comfort and accessible price tags, the obsessive worship once directed at bonkers-looking handbags. Back then, Vogue described the handbag as "that totemic accessory that announced you were owner of all that was desirable in the world".
The status of the It bag soared sky high, entirely unmoored from the practical notion of a handbag as a vessel for stuff. The tiny Fendi Baguette – "foolish, a treat, anti-functional", according to Silvia Fendi, who designed it – but still became almost a character in its own right on Sex and the City. The Chloé Paddington weighed 3lb even when completely empty, thanks to the hefty padlock (hardly optimal, you would think, for an object designed to be filled and then carried around all day) but this did not deter the 8,000 women who were on the waiting list before it arrived in stores.
At the Baden-Baden World Cup, the first instinct of the Wags, faced with an onslaught of paparazzi, was to advance bags-first, their designer trophies held in the crooks of their arms like shields, or totems.
Every decade has an It. There will always be a cult item that we invest with undeserved meaning and obsess over until we drive the price up. And if you think the It bag craze was ridiculous, consider the fact that this decade's It is the workout legging. Yes, the leggings we wear to the gym, or to yoga. Performance leggings, to give them their proper, trophy title, are the new It bags. Net-a-sporter – the booming fitness spin-off from the grand dame of internet shopping – currently has Fendi stretch-jersey leggings for £300, and no fewer than seven other brands, whose leggings cost more than 100 a pair.
Just as the demand for and hoopla around handbags drove the expansion of luxury shopping – which went from being something rich ladies did in Mayfair after lunch to being a completely normal thing to do at Gatwick on the way to Majorca – so the mania for performance leggings is fuelling the expansion of "athleisure". The word "athleisure" did not even exist until 2014, but it is now used to describe a market for worn-to-be-seen workout clothes that was worth £6.4bn in the UK alone last year, a figure expected to grow to more than £8bn by 2019. Trainers are still the prime product in this category, but leggings come a close second. Mark Parker, CEO of Nike, has described leggings as "the new denim". In November last year, the fashion editor of the New York Times wondered, after watching that city's marathon, whether the event should be renamed the World's Biggest Legging Show. There is certainly no shortage of glamour around: Kate Hudson has her own fitness brand, Fabletics, while in their bid to expand into the lucrative female market, Under Armour has recruited Gisele Bündchen and ballerina Misty Copeland as brand ambassadors.
It is leggings that we have zeroed in on, rather than vest-tops or sweatshirts, because these tight, snazzy leggings are the part of fitness wear that has changed the most. The bottom half of your look is what makes it current or not. You can wear the grey marl Gap tank top you bought 10 years ago, but you will be laughed out of barre class for tracksuit bottoms. The graphic prints (Sweaty Betty) and diagonal stripes (Outdoor Voices) that characterise top-of-the-range leggings are as instantly recognisable, and as tribal, as the Nike swoosh once was. So important is design that cult brand Lululemon sued Calvin Klein for allegedly copying its Astro yoga pants.
Fitness now is see-and-be-seen, with upscale athleisure marketed as all-day weekend wear. And the actual exercise is increasingly social, too. Running is no longer just a solo affair, but structured around workplace lunchtime runs, 10k winter races and half marathons. Going to the gym on your own is over: it's all about pilates or spinning or Barry's Bootcamp – or, of course, yoga. Women who do yoga are really into looking at each other's trousers. Fun fact: last summer, the median price of yoga trousers in the USA was $87.29 (£60).
Look at a page of paparazzi photos in 2016 and you will see many more Lululemon leggings than mink coats, these days. The looking-fly-as-you-exit-the-gym look is as aspirational now as walking into San Lorenzo with your special-order Balenciaga once was. Fitness is not a seasonal trend, it's a shift in how we live our lives. A shift in how we live our lives: or, in other words, fashion. That's It.
guardian.co.uk © Guardian News & Media Limited 2010
Published via the Guardian News Feed plugin for WordPress.