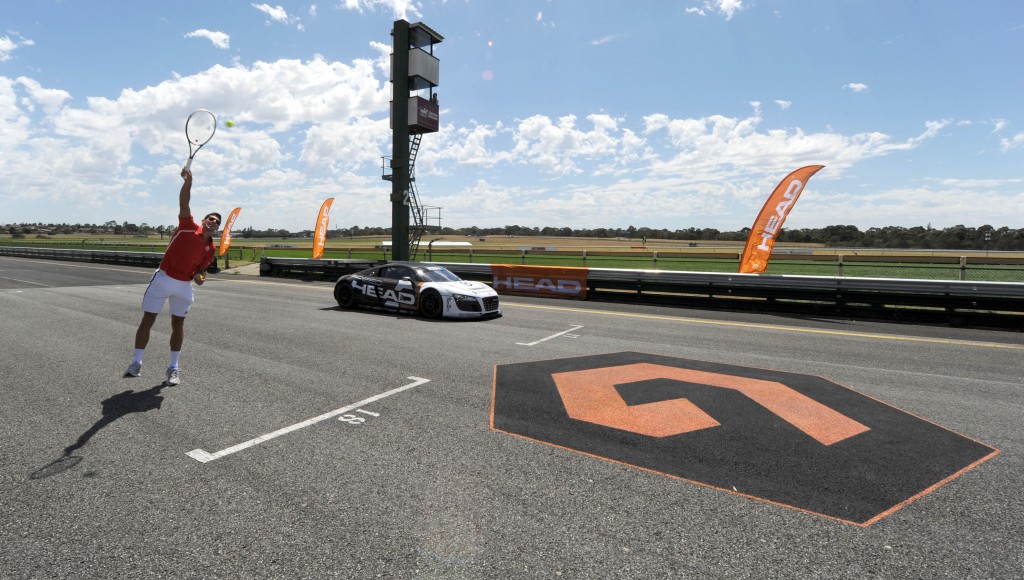 Serbian professional tennis player Novak Djokovic took the ultimate speed challenge at the world premiere of the new HEAD Graphene Speed Racquet. The top-ranked ATP star showcased the benefits of his new HEAD Graphene Speed tennis racquet by hitting a HEAD ATP tennis ball that travelled faster than an Audi R8 LMS GT3 race car, driven by Australian GT racecar driver, Dean Grant, at Melbourne's Sandown racetrack.
As the Audi R8 sped towards Novak Djokovic, he simultaneously served the ball. The ball crossed the finish line with split seconds to spare before the race car followed.
Graphene is a unique material consisting of a single two-dimensional layer of carbon atoms with exceptional properties. Although it's extremely lightweight, it has a breaking strength 200 times greater than steel. The integration of Graphene in the racquet shaft allowed HEAD engineers to reduce weight in the middle part of the tennis racquet and shift it to functionally more relevant areas in the grip and the head instead. As a result, the racquet becomes easier to swing, and with less effort more power is generated.
"I look forward to play my new racquet at the Australian Open. It feels lighter but provides me with maximum speed and control on each swing" Djokovic said. "And I love the new design, too!" said Novak Djokovic.