Rodriguez ♥ Bottletop: Narciso Rodriguez collaboration With Bottletop bags.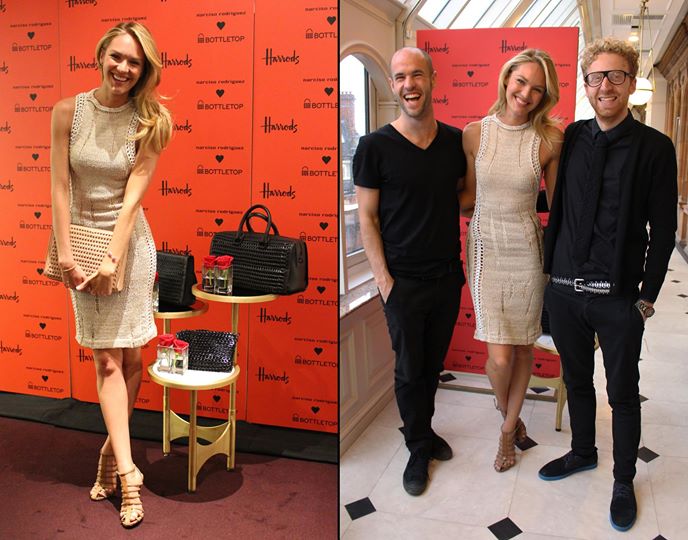 Bottletop fashion label wants once again to empower women and young people with an exclusive design collaboration, which offers an opportunity to support critical education and empowerment programs for women in Brazil.  Bottletop Foundation was launched in 2002 to support young people in Malawi, Mozambique, Rwanda, Brazil and the UK. The Foundation was launched by Cameron Saul and his father Roger (Founder of British luxury fashion brand Mulberry) through a design collaboration with Mulberry. At the heart of the campaign was a handbag made from recycled bottle tops in Africa that was lined with Mulberry leather in Europe.
This February, the fashion brand launched a collaboration with New York fashion designer Narciso Rodriguez with muse and Bottletop ambassador Candice Swanepoel. Rodriguez ♥ Bottletop include braiding techniques developed at the Bottletop atelier, hand painted pull tabs and Amazon-friendly Brazilian leather.
Finished with a unique braiding technique and embellished with silver pull tabs, the Candice tote and the Jessica clutch were handcrafted in Bottletop's atelier in Salvador, Brazil.
'The Candice' handbag takes its name from the face of the collaboration Candice Swanepoel, while 'The Jessica' clutch references Jessica Alba who introduced Bottletop to Narciso Rodriguez. Both styles will available in two colors – 'classic black' and 'nude blush.'
The collaboration is exclusively available at Harrods (UK), Jeffrey (US), Holt Renfrew (Canada) and Mares (Brazil) through February and March 2014.