Shopping with one of the most beautiful artworks above the heads.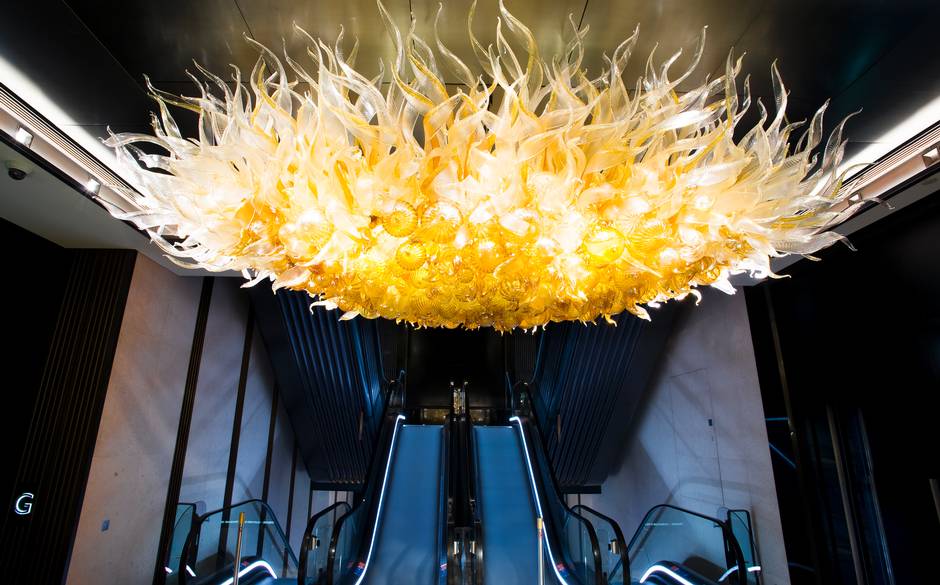 An elaborate Chandelier by American glass sculptor and entrepreneur Dale Chihuly, known for redefining glass as an artform, is now gracing the ceiling of the Basil Street entrance in London Harrods' new Grand Hall. "Amber and Gold" is the first ever commissioned piece of art by London's luxury department store. We hope we will see many more in the future.
The 1,400 hand-blown glass elements, which form the impressive sculpture, have been flown in from Seattle, where Chihuly Studio is based, and were assembled on site taking seven days to complete, informed Harrods. Artist Dale Chihuly is renowned for his architectural installations and environmental artwork around the world in historic cities, museums and gardens.
Dale Chihuly's largest permanent exhibit can be found at the Oklahoma City Museum of Art. The artist maintains two retail stores at the Bellagio on the Las Vegas Strip, and the other at the MGM Grand Casino in Macau. His glass pieces adorn Chihuly Lounge at The Ritz-Carlton Millenia Singapore and Victoria and Albert Museum's main entrance.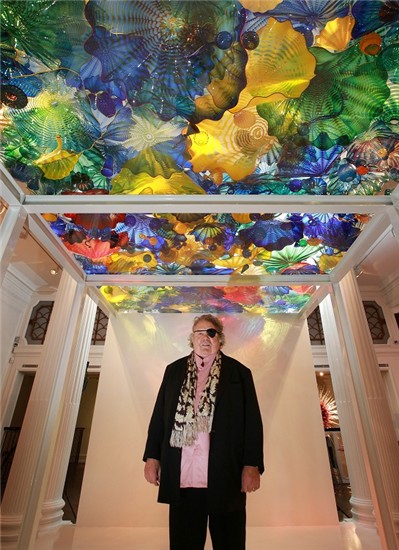 Through April 5, 2014,  the Halcyon Gallery in London. is hosting "Dale Chihuly: Beyond the Object," an exhibition focused on the artist's architectural installations including Chandeliers, Towers, neon and new Fiori elements.
Visitors who enter the gallery will walk beneath Persian Pergola Ceiling, an immersive canopy of color, form and light. This is the first time he has created a Persian Ceiling for a gallery setting. It forms the centerpiece of a Persian series focus that includes Persian Walls and his new Persian Crescent artworks.
"What I've always really been interested in is space. Even when I made a single Cylinder or Macchia, my interest was always in space. I was thinking not of the object itself, but how the object would look in a room." said Chihuly. Other artworks on view include Basket sets, Ikebana, Macchia, Seaform sets, Soft Cylinders and Drawings.