World UHNW Population Loses US$480 Billion: Wealth-X Released World Ultra Wealth Report 2012-2013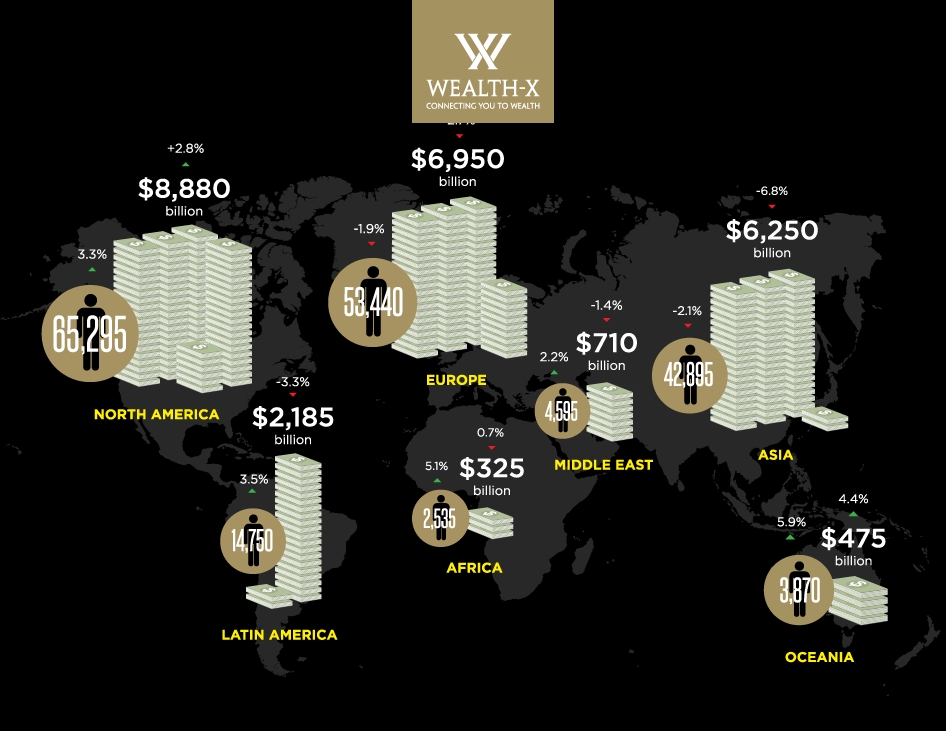 The world's ultra wealthy population grew by 0.6% to reach 187,380 and their combined wealth shrank by 1.8% to reach US$25.8 trillion, according to the latest edition of "World Ultra Wealth Report" released by Wealth-X, the ultra high net worth (UHNW) business development solution. The study of the global ultra wealthy population shows that the world's billionaire population grew by 9.4% to reach 2,160 individuals. Combined wealth attributable to billionaires grew by 14% to reach US$6.2 trillion.
Asian UHNW combined wealth is expected to overtake that of the United States by 2025, seven years earlier than previously expected. Collectively, wealth attributable to global ultra high net worth individuals (UHNWIs) surpasses the combined GDP of the world's two largest economies, the United States and China.
"Billionaires outperformed the markets while the rest of the world's UHNWIs struggled to keep pace. There are clear opportunities for advisers to replicate investment strategies of billionaires for their UHNW clients," said of the report Mykolas D. Rambus, CEO of Wealth-X.
Key Indicators Change (in %):

Combined wealth of billionaires: 14%
World UHNW wealth: -1.8%
Global Real Estate: -0.3%
S&P Global 1200 Index: -3.3%
Gold: -0.3%
Global GDP: 2.4%
HFRX Global Hedge Fund Index: -5%
Morningstar Global Government Bond Index: – 1.1%.
In the next five years, Wealth-X forecasts that the world's UHNW population will grow by an annual average of 3.9% and the wealth attributable to the UHNW population is expected to grow by 5.5%. Of all the regions, Africa's UHNW population is expected to grow at the fastest rate, expanding by an average of 6.9% each year. The North American UHNW population, in contrast, is expected to grow at the slowest pace, expanding at 2.4%.
The combined wealth attributable to the Latin American UHNW population is expected to grow by 12.1%, a rate that surpasses that of Africa. In terms of wealth growth, North America lags the other regions, seeing wealth growth at an average rate of 3.4%. Based on the forecast growth projections, the Asian UHNW population will surpass the same measure for the U.S. by 2025, ahead of the 2032 prediction made in the 2011 – 2012 World Ultra Wealth Report. Total Asian UHNW wealth is forecast to surpass the U.S. combined wealth by 2020.
The study focuses solely on persons with a net worth of US $30 million and above (after accounting for shares in public and private companies, residential and investment properties, art collections, planes, cash and other assets).