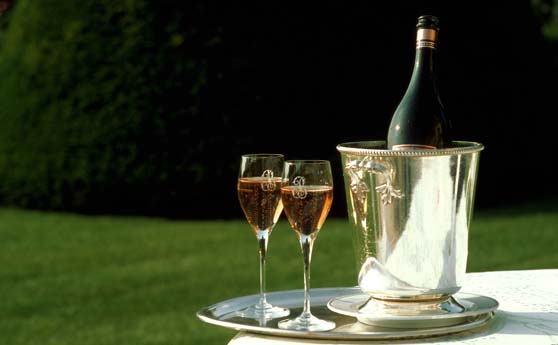 Over the centuries man's talent transformed the wines' characteristic effervescence into the purest expression of a very special dedicacy.
The ever-increasing speed of transport, particularly the spread of railways, allowed Champagne to be at festivities everywhere, but it was in Paris that it became indispensable. It was served in the cafés on the Grands Boulevards – at the Café Anglais, at the Tour d'Argent, at the Jockey Club and at the Olympia Tavern. It was ordered by everyone and was called simply "Champ".
The grape-growing area of the Champagne appellation encompasses some 34,000 hectares, accounting for 3.4% of France's total vineyard area. Champagne is one of the iconic symbols of France.
Champagne expert Thibaut Le Mailloux, spokesperson for Comité Interprofessionnel du Vin de Champagne (CIVC) in France, offers his tips for buying Champagne. Whatever the occasion, we have adopted the habit of celebrating with Champagne.
1. The word "Champagne" must appear on the label
"First of all, you have to identify the 'Champagne' appellation on the label to make sure that this wine actually comes from the Champagne region."
2. Decipher the code on the champagne bottle to know where the wine comes from!
"Another mandatory piece of information that reassures the consumer on the quality of a Champagne bottle is the code inscribed in front of the label in small letters. It can read "NM", "RM" or "CM" for example (either a big producer (NM), a vintner/grower (RM), a wine cooperative (CM) or a merchant …"
3. Different bottles of Champagne for different occasions
Whatever the occasion, we have adopted the habit of celebrating with Champagne that can accompany any dish from aperitif to dessert. Champagne brut is well adapted to the aperitif, while older bottles will suit meat dishes better.
4. Choose the right champagne flute
"Every flute is not adapted to every Champagne. Some are too cylindrical and certain Champagnes require a tulip-shaped glass to open up, while older vintages are always better when served in wine glasses."