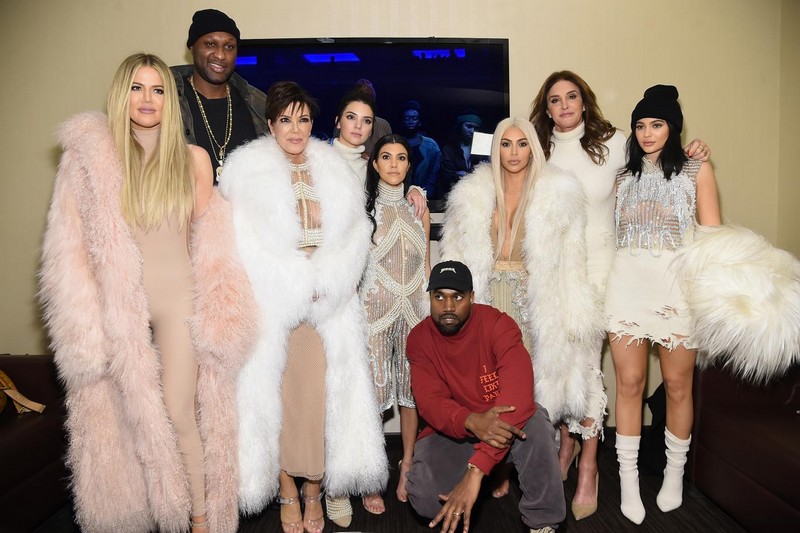 ---
This article titled "How social media are killing the notion of the old-fashioned catwalk" was written by Karen Kay, for The Observer on Sunday 14th February 2016 00.05 UTC
A barometer of the fashion industry right now shows the outlook as unsettled at best and volatile and stormy at worst, but with a long-term forecast for brighter times. An area of high atmospheric pressure from consumers has swept in just as cataclysmic changes are taking hold in the digital space, and the combination means the world of high fashion is at a tipping point.
Kanye West opened New York fashion week with a Madison Square Garden spectacle, launching his Yeezy Season 3 collection and releasing his latest album, to an audience of 18,000 editors, buyers, celebrity pals and paying members of the public.
The result? An uncomfortable juxtaposition of the doyennes of high fashion, Anna Wintour and Carine Roitfeld, and the reigning royals of reality TV – West's wife Kim Kardashian and her extended family – modelling a capsule collection styled by Balmain's Olivier Rousteing. The extravaganza was reportedly watched by an audience of 20 million people, via live stream.
And Diane von Furstenberg will ditch the traditional runway presentation in favour of a more personal "drop-in" experience at her Manhattan HQ. Guests will watch intimate vignettes acted out by social media modelling titans including Gigi Hadid and Karlie Kloss, while chatting with the designer over a cocktail.
So is this the end of the fashion show as we know it? It certainly seems changes are afoot. "Everyone drank the Kool-Aid for too long, but it's just not working any more," said von Furstenberg, who is also chair of the Council of Fashion Designers of America. "We are in a moment of complete confusion between what was and what will be. Everyone has to learn new rules."
Navigating the fashionable way forward is complex. London fashion week begins on Thursday, with new initiatives aimed at engaging with the public. Footage of the shows will be screened at 60 outdoor locations around the UK, reaching an estimated audience of 35 million.
The future of the fashion show is being redefined on the hoof, with more brands shifting their focus from private trade-only presentations to consumer-driven entertainment marketing events, inspired by the success of the annual Victoria's Secret runway extravaganza and the successful formula of the in-store trunk show (where a designer puts on a special display of their work for a select group).
Earlier this month Christopher Bailey, the influential chief creative and chief executive officer of Burberry, announced plans to replace the brand's four annual shows with two, from September. Blending mens- and womenswear, the British business will make the collections "seasonless" and available to purchase immediately.
"The changes we are making will allow us to build a closer connection between the experience we create with our runway shows and the moment when people can explore the collections for themselves," said Bailey. "From live streams, to ordering straight from the runway, to live social media campaigns, this is the latest step in a creative process that will continue to evolve."
Scott Tepper, fashion buying and merchandising director at Liberty, said last week that Bailey had "probably singlehandedly" saved the fashion industry from itself. Alexandra Shulman, editor of British Vogue, agreed, saying: "Logistically looking at the fashion show construct, it makes very little sense now. If you put a business consultant in to look at what the fashion industry is doing, they would think it was insane."
Barclays' European retail equity team was quick to applaud Bailey's move: "This seems a very commercial and sensible move in today's society, where images and demand are created so widely on social media, but delivery is so far in the distance."
Fashion insiders have long been forecasting a seismic shift in the way clothes are marketed and sold, and Burberry's announcement has opened the doors to others.
After the Burberry's announcement, Tommy Hilfiger said it would from September be synchronising its vamped-up runway presentations with retail deliveries. Tom Ford, the American designer and film director, said he would also be changing the way he sells his eponymous collections.
"We have been living with a fashion calendar and system that is from another era," says Ford, who, as creative director of Gucci between 1994 and 2004, was credited with taking the Italian house from virtual bankruptcy to a turnover of $4.3bn. "We spend an enormous amount of money and energy to stage an event that creates excitement too far in advance of when the collection is available to the consumer."
With many high-street retailers offering fast-selling, fortnightly "drops" of new styles, teased with carefully targeted social media and digital mail shots, the idea of a designer behemoth that fails to make its product available at the moment of maximum hype seems an anachronism.
Many luxury brands know about the power of social media – Chanel has 9.6 million Instagram followers, and Burberry recently gatecrashed Brooklyn Beckham's 5.9 million followers by controversially commissioning the 16-year-old to photograph its latest campaign – but have no understanding of the pace of modern consumer culture.
Ken Downing, fashion director of the upmarket US department store Neiman Marcus, recently reported showing a client an $11,000 embellished jacket that had arrived in store the previous day, only for her to respond "but don't you have anything new?". The style had been visible online since October, and the customer already had fashion fatigue.
"The history of fashion shows was to show the buyers and the press the message of the season. But technology has utterly changed everything in our industry," says Downing. "That customer continues to follow Instagram and Twitter and watches the live streamed fashion shows. What they are seeing, they want."
A few designers have been experimenting with the see-now-buy-now model, including New York designers Thakoon and Rebecca Minkoff, Italian label Moschino and British brands Alice Temperley and Matthew Williamson, but the designer industry has largely been slow to keep up with changes in consumer behaviour. Henry Holland, the designer behind Britain's House of Holland, says there is a tangible spike in online sales when an edit of his collection is made instantly available, but the lesson has not been absorbed by his contemporaries.
"The fashion world has had its fingers in its ears for some time now," says fashion writer and consultant Melanie Rickey, who sees the future of the fashion show as an entertaining spectator sport and the ultimate selling tool. "I'm jaded by the time things appear in the shops, because they've been on the red carpet and on every blog. And I'm not alone. Making styles available immediately after revealing them on the catwalk will completely revitalise the industry."
But others are sceptical about consumer-focused catwalks. Brands take the temperature of a collection when they show it to the seasoned eyes of the fashion press and store buyers, and use this to guide order numbers for production. "As things stand, we need the lead time to make the garments in time for market," said a spokesperson for Belgian designer Dries van Noten.
Fashion historian Judith Watt also remains to be convinced: "Anything that stops the utter insanity of the current system, in terms of extravagant shows and rapacious buying, is a good thing. But I'm not confident this will make anything better. It won't reduce demand and will just be more of the same. We need a radical shift. The industry is on its knees: designers are having breakdowns because of the pressure to deliver new, new, new. The creativity has gone and we're resorting to churn. It is an industry broken by greed and insatiable consumption."
Fashion veteran Paul Smith is restructuring his business after four decades, describing an industry that has "gone mad" with a "horrendous disease of greed and overexpansion and unnecessary massive oversupply".
Christened the IWWIWWIWI (I want what I want when I want it) generation, young people have become accustomed to incessant purchase and instant gratification, heightened by a new generation of click-and-buy apps and shoppable magazines. But Iain R Webb, professor of design at Kingston University, calls this the fashion equivalent of a Pot Noodle: "It gives an unhealthy, quick fix without being truly satiating. You're always going to be left wanting more."
London-based designer Christopher Raeburn agrees: "The industry is moving faster and the immediacy cannot be sustainable long term. It's important to involve, understand and include your customers, but in a way that doesn't destroy the industry's creativity."
guardian.co.uk © Guardian News & Media Limited 2010
Published via the Guardian News Feed plugin for WordPress.