Pavillon La Montre Hermes at Baselwolrd 2013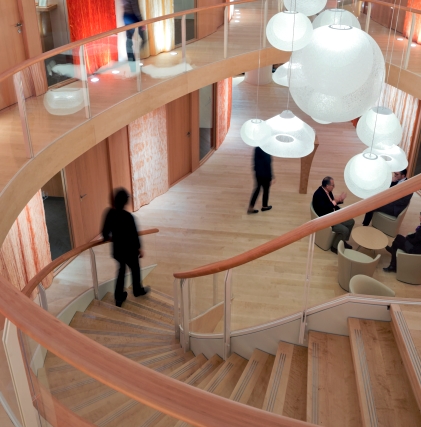 For Hermes's stand at Baselworld 2013, the biggest watch & jewelry fair of planet, the famous architect Toyo Ito, the 2013 Pritzker Architecture Prize winner, designed testament to Hermès' fundamental values: craftsmanship, a commitment to work carried out by hand and to the noble elegance of natural materials, and an appreciation of precision and innovation.
The Hermès pavilion is designed along the lines of traditional Japanese teahouses. Here, Toyo Ito's architectural approach bridges the gaps between different eras and forms, and between heritage, popular style and experimentation.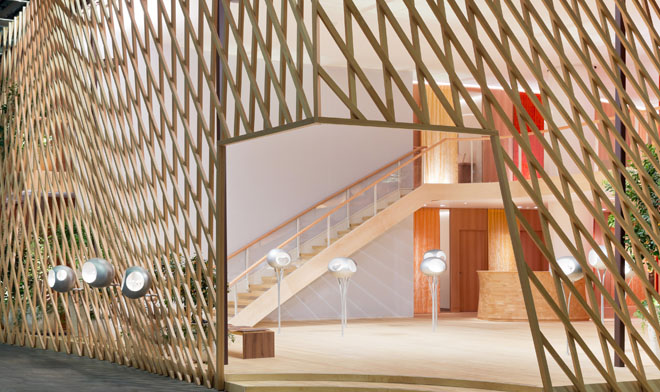 Designed to be both ephemeral and permanent, Hermes' construction can be dismantled, reassembled and thus rebuilt every year. Hermes was one of the few luxury brands that has exploited the olfactory side of the stand with the help of a jasmine and fruit trees garden. 167 plants of five different varieties were sourced in Switzerland and Italy including: Camellia japonica, Eucalyptus gunnii, Magnolia, Fatsia japonica and Citrus sinensis.
As they enter, you could sense the serenity of the atrium, at the end of which the more intimate offices and presentation and sales areas were located. A staircase in wood and metal took visitors up to the mezzanine. Naturally dyed fabrics, so evocative of the world of Hermès, lined the spaces like the bark of a tree, giving them a sense of warmth and intimacy.
Finally, glass cases dotted around the edge of the room and within display Hermès' latest watchmaking creations. Blossoming like metallic flowers, they took their place in the perpetual creative cycle, explained the luxury house.
Continuing to cultivate a long-established tradition of artistic craftsmanship, La Montre Hermès turned the spotlight on the goldsmithing profession. A skill that combines gold marquetry and hand engraving, now embodied in a unique piece: the Arceau Pocket Volutes presented at Baselworld 2013.
Hermès' artistic director Pierre-Alexis Dumas and Toyo Ito first met in late 2010 at the second Prix Émile Hermès event, a design prize awarded by the Fondation d'entreprise Hermès.
An environmentally aware approach which emphasises the value of expertise is something the two of them share, and it is what brought them together for this project. Pierre-Alexis Dumas describes Toyo Ito as "a man who is as meticulous, thoughtful and sensitive as he is wise – a genuine enthusiast who possesses a natural and gentle authority; for him, silence is as meaningful as words. And his company, like Hermès, has remained small and adaptable."
Toyo Ito was also the Commissioner of the Japan Pavilion at the most recent Venice Architecture Biennale, which took place in September 2012. The pavilion, which exhibited the work carried out alongside inhabitants of areas devastated by the tsunami to build temporary shelters, was awarded the Golden Lion for the best national contribution.
Most recently, in March 2013, Toyo Ito was awarded the Pritzker Architecture Prize for his entire body of work.